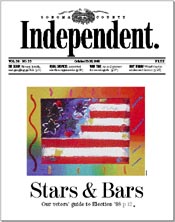 For the Week of
October 22-28, 1998
Cover: Stars & Bars
Our voters' guide to election '98 in Sonoma County.
A Governor for the People: Metro endorses Gray Davis.
The Guvs and God: Two Catholic boys are vying for California's top post, but they don't score equal points with the church.
Right and Fong: Public perception has run amok--but don't be fooled. Barbara Boxer is no flaming liberal, and Matt Fong is no moderate Republican.
The Fine Print: A voter's guide to the state's plethora of propositions.
Voters Cheat Sheet: The Independent's voting recommendations in a handy ballot box guide.
News: Power Play
Proposition 9 campaign produces some strange bedfellows.
The Scoop: Money, health and gargling gerbils.
Up to the Task?: See how your kids' school did in the state Standardized Testing and Reporting program.
Climbing Up on Capitol Hill: Check up on the your Congressional Representatives and U.S. Senators--where they stand, how they voted.



Road Rules: The Phoenix Theatre-bound alt-rock band Deftones gets candid about the trials and tribulations of life on the road.
Spins: A heavy metal reunion, a Gershwin tribute and a soul sensation.
For Whom the Music Twangs: Son Volt, Whiskeytown and Golden Smog pursue new takes on classic Americana



The Haunted: Talking Pix guest Opal Palmer Adisa finds the beat of love at Beloved.
Comedic Climax: Smut-fighting superhero rises to occasion in new film Orgazmo.
My So-Called Habit: Permanent Midnight is the slight story of a narcissistic heroin addict.



Wine Primer: An A-Z guide for fledgling oenologists.
Heard It Through the Grapevine: Get to the root of all things wine.



Bible Belt: Author Barbara Kingsolver's Poisonwood Bible reaps a grim harvest.



Cyber Celebs: Dead celebs get new lease on life in the digital age.



Please don't forget to write! The Sonoma County Independent welcomes letters commenting on our coverage or other topics of local interest. Please keep all letters at 300 words or less (we reserve the right to edit them for length and style) and sign them (unsigned letters will not be published). A local phone number must be included for verification. Postal: Sonoma County Independent Letters, 540 Mendocino Ave., Santa Rosa, CA 95401. Fax: 707/527-1288. Email: [email protected]. Emailers, please include name, city of residence and phone number. Letters printed will list email address unless otherwise specified. Letters to the editor are not currently published in the online version of this paper.