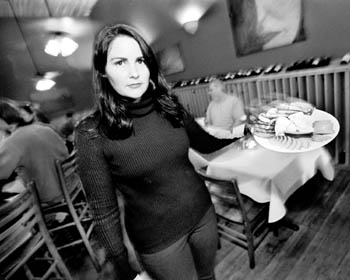 Photograph by Rory McNamara

A Vine Design: Owner Phaedra DiBono displays Twisted Vines' cheese plate.

Twisted, Sister

Swanky yet comfy, Twisted Vines is a great place to go and a good place to eat

By Sara Bir

Twisted Vines is a challenging restaurant, and not in the "pushing the envelope" sense. If you are oblivious to locations the way I am, it's challenging to find, but it's worth it. It's down a lane inside the Landmark Building in downtown Petaluma on Kentucky Street.

Amie du Jour, luckily, was waiting outside to meet me. Inside, a couple sat at the bar, talking and sipping wine contentedly, and about a third of the tables boasted diners--not bad for Petaluma on a low-key Tuesday night.

Twisted Vines is more or less the same Twisted Vines that diners and drinkers have come to know since the venue first opened in 1996, but new owners Joeseph and Phaedra DiBono have implemented a few strategic changes. First: the decor, now with rust-and-clay-toned paintings and walls that cast a warm, red hue, evokes a well-kept wine cellar--which is what Twisted Vines is, in a sense.

All along the long side of the galleylike dining area (key word: "intimate") stand racks of bottles. You can buy a bottle for home drinking or with dinner there (the corkage is now included in the sticker price, another change). The DiBonos have also added international wines to their list, which before consisted entirely of California wines.

The Beblenheim Pinot Gris from Alsace ($5.75 glass; $2.75 taste) was steely and bone-dry, with an up-front barrage of green apple quickly giving way to a soft mineral quality. It's a great sipping wine for an aperitif. The versatile 100 percent syrah Côtes du Rhône ($5.25 glass; $2 taste) was smooth and mellow, with muted red fruit and a playful level of tannins.

There's a gussied-up bistro Americano flair to chef Gary King's menu: lamb T-bones, 40-cloves-of-garlic chicken, cheese plates, the California cuisine entry of seared Hawaiian fish--that sort of thing. We started off with fig tapanade ($8.50), which came with grilled bread, goat cheese, and walnuts. Adding figs to the traditional olive-caper-anchovy-garlic equation is a novel idea that tempers the salty concoction. The sweetness of the figs brightened the spread, and the meatiness of the olives took a back seat, making for a much less tapanadey experience.

A presentation of goat-cheese buttons rolled in herbs or ground black pepper would have been more elegant than a rough scoop of goat cheese, though that wouldn't be in keeping with the casual, munchy spirit of the presentation. I wound up dipping the walnuts in the goat cheese and then drizzling them with the wonderful hazelnutty olive oil from the cruets on the table. Perhaps it is not the classiest thing in the world to create your own stoner food when eating out, but it speaks to Twisted Vines' comfort factor that you can feel liberated enough to mess around with your starters in such an enjoyably tactless way.

The house salad was perfect; it was a salad with integrity, which most house salads are not. Twisted Vines' house salad, nothing more than a lovely bed of mesclun greens tossed with thinly sliced red onion, cucumber, and a barely sweet balsamic dressing, is a minimalist medley. I could have eaten just a great big huge house salad and bread (from San Francisco's Pan-O-Rama, and it's excellent) with that wonderful olive oil and been very, very happy.

A half order of poor man's lobster (that's fancy food-industry talk for monkfish) and rock shrimp ravioli brought five generous ravioli burrowed in a rrrich pool of strikingly yellow spicy lobster cream sauce. Scattered across the top was a small handful of shaved parmesan, which was just too much. Gilding the lily!

After a meltingly intense first bite that rang of lobster the way a good bisque does, the sauce became cloyingly rich and parchingly salty. Monkfish, whose flesh is stringier and less meaty than lobster, couldn't hold its own in the filling under the sauce and noticeably undercooked sheets of pasta. Maybe this was just not ravioli's night. Minus the parm and the surplus salt in the sauce, and plus a minute and a half more pasta cooking time, this dish would have sung.

One of Twisted Vines' biggest plusses is the flexible nature of its menu. There are enough small plates to facilitate socializing over wine and snacks at the bar; the salads and half orders of risotto and the ravioli are perfect for a lighter dinner; and the full-blown entrées like rib eye with demi-glace and mashed potatoes and the Liberty duck breast with green peppercorn sauce, basmati rice, and vegetables ($18) are suited to a special-event dinner.

Plated without a grain of rice out of place, the duck breast--Twisted Vines' signature dish--looked grand. But the green peppercorn sauce was just kind of there, adding moisture but no flavor. The pretty little vegetable medley--carrots, zucchini, green beans, and red cabbage--flirted with the raw side of doneness just one degree too much (though Amie du Jour likes it that way).

As for the duck breast itself, it had the pinkish hue of a perfect medium rare but lacked that gamey duck taste. I suspect that the flavors of the whole plate were lurking in there somewhere, waiting to be released by a more attentive application of salt.

Decorated with random elementary school photos circa 1983, the dessert menus are more playful on the outside than the inside, which is fine. You can get unfussy treats like fruit crisp, rum raisin bread pudding, and apple spice cake with caramel sauce, which Pheadra herself makes.

Amie du Jour and I had our eyes on the eponymous Phaedra au chocolat (chocolate mousse layered with lady fingers), which was not available the night we went. Our unprofessional, contrarian natures led us to allow no substitutions, so no dessert reviews for you, dear reader! (Please address angry letters to [email protected])

Twisted Vines has a good thing going. It's stylish, casual, and comfortable. For easygoing wine lovers, it's a great place to just hang out and relax. All it needs is a kitchen that keeps better tabs on its salt.
---
Twisted Vines, 16 Kentucky St., Petaluma. 707.766.8162. Dinner Monday-Saturday, from 5:30pm (wine bar opens at 4:30pm).
---
[ North Bay | Metroactive Central | Archives ]