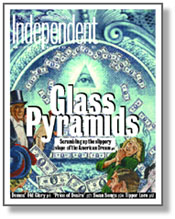 For the Week of
October 24-30
Cover: Glass Pyramids
Multilevel marketing is searching for a few good suckers.



Dress to Thrill: Your Sonoma County Halloween party and event guide.



Swan Songs: Songwriter brings death row to life.



Talking Pictures: Bay Area rock legend Greg Kihn recognizes the truth in Tom Hanks' bittersweet rock & roll fable, 'That Thing You Do!'



Come Together: Author Carolyn Baker, a self-described "veteran feminist," nonetheless castigates modern feminists for continuing to work in opposition to men.



Tipper Lore: Is 10 percent enough of a tip to leave for that latté? Does the 15 percent rule apply to tip jars? And what about those odd Chinese customs?