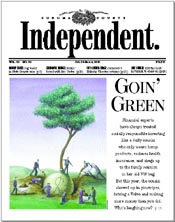 For the Week of
October 29-November 4, 1998
Cover: Goin' Green
Financial experts have always treated socially responsible investing like a daffy cousin who only wears hemp products, eschews health insurance, and chugs up to the family reunion in her old VW bug. But this year, the cousin showed up in pinstripes, driving a Volvo and making more money than you did. Who's laughing now?
News: Money Talks
Wine brat John Jordan has brought big money and an attack attitude to the North Coast state Senate race, but where are the issues?
Dog Pound: Hey, microwave your danged checkbook.
Up to the Task?: See how your kids' school did in the state Standardized Testing and Reporting program.
Climbing Up on Capitol Hill: Check up on the your Congressional Representatives and U.S. Senators--where they stand, how they voted.



Cut Across, Shorty: Blues legend Guitar Shorty blazes away on new CD.
The Whigs' New Party: One long sexy groove makes 1965 a treat for Afghan Whigs fanatics.



Talking Pictures: Wiccan High Priestess Phyllis Curott looks at Practical Magic, the new movie about love, sisterhood--and witchcraft.
School Daze: Evil comes a-knockin' in Stephen King film thriller Apt Pupil.
Why Be 'Happiness'?: Happiness and Pleasantville differ not in theme but in attitude.



Kneadful Things: Someone's in the kitchen with Brother Peter Reinhart.
Heard It Through the Grapevine: Get to the root of all things wine.



Off-Center Stage: Cinnabar's Eclectic Theater returns.



Lite Lunch: Political satirist P.J. O'Rourke's Eat the Rich leaves a bitter taste.



Please don't forget to write! The Sonoma County Independent welcomes letters commenting on our coverage or other topics of local interest. Please keep all letters at 300 words or less (we reserve the right to edit them for length and style) and sign them (unsigned letters will not be published). A local phone number must be included for verification. Postal: Sonoma County Independent Letters, 540 Mendocino Ave., Santa Rosa, CA 95401. Fax: 707/527-1288. Email: [email protected]. Emailers, please include name, city of residence and phone number. Letters printed will list email address unless otherwise specified. Letters to the editor are not currently published in the online version of this paper.