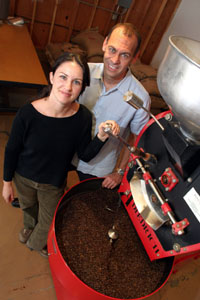 Photograph by Michael Amsler

Artisans of the Bean: Andrew Barnett and Giya Hannigan focus on small-scale production of fine coffees.

The Art of Coffee

Santa Rosa's Ecco Caffé proves there's more to coffee than meets the eye (and nose)

By Sara Bir

Bad coffee--diner coffee, served with a greasy heart-attack breakfast, or 7-11 coffee drunk to fuel a road trip--is like Pabst Blue Ribbon. It has its place, but as a pure expression of the integrity of the beverage, it's . . . well, it's embarrassing.

Though it seems that everyone drinks coffee, most of us have no idea what we are drinking. When it comes to coffee, people tend to think in terms of light or dark roasts, latte or au lait. There's no shame in that, though once the politically charged and deeply involved backstory of coffee production is taken into account, it gets pretty mind-boggling; a bean is no longer just a bean. Where was it grown? And, for that matter, how was it grown? Who grew it? How was it roasted, how was it brewed, and who brewed it?

Andrew Barnett is not a man who takes his coffee for granted. Less of a coffee snob than a coffee crusader, Barnett knows where his coffee comes from because, in some cases, he's actually been to the plantations and met the growers. In a region saturated with coffee roasters, Barnett's Ecco Caffé has carved out its own diminutive yet distinctive niche for coffees of note that are not just another hoity-toity cup of joe.

Ecco Caffé's smaller scale is one of the factors that define the company. In a tiny and very tidy warehouse off Sebastopol Road, Ecco Caffé's two-person team--Andrew Barnett and Giya Hannigan--roasts coffees from around the world in a 35-pound custom-built roaster.

"We're really a small, artisan boutique roaster," says Barnett. "And when I say small, during the course of the week, we'll roast five to six hundred pounds of coffee." Peet's Coffee, on the other hand, roasts 4,000 pounds of coffee in an hour--and they're not even a mega-corporation (yet). "I think in a month, we don't produce what they produce in an hour. But it's a different type of business."

Though trained as a chef, Barnett discovered his passion for coffee while working at an espresso bar as an art major at San Francisco State in the 1970s. From 1994 to 1995, Barnett and Hannigan ran the Western Café in the Railroad Square space that's currently Flying Goat Coffee.

In 1996 Barnett opened Centro Espresso, the espresso cart in Sawyer's Newsstand in Santa Rosa, with Susan Hoffman (now Susan Koshow). Centro Espresso and Ecco Caffé--formerly one business--became separate entities in 2002; Koshow now owns Centro Espresso, which serves Ecco Caffé and, to many devoted followers, makes hands-down the best coffee in the North Bay.

With few dreams of getting rich quick--and with the desire to have more control over the coffee they served at Centro--Ecco Caffé began roasting coffee in 2000 to separate the wheat from the chaff, or, shall we say, the bean from the swag. "Coffee has this wonderful aroma, and the smell--people love it, everyone loves coffee," explains Barnett. "But a lot of times, you drink it and it's bitter. The aroma's very inviting, but then you taste it, and it's 'why bother?'"

This makes it a challenge to find brewed coffee that tastes like true coffee, and espresso that's made to be enjoyed for what it is and not just diluted with obscene amounts of milk. "Espresso isn't a roast; it's just a method of preparing the coffee." Barnett is referring to the method of forcing steam through ground medium-roasted beans. "It's made immediately, and it's made expressly for your pleasure.

"Coffee has 1,200 different chemical compounds. Through this [espresso] process, you can probably get the most flavors out of it. In this country, it's kind of a mystery . . . espresso machines are ubiquitous--7-11, McDonald's--and they're not that special, but most places you get really awful-tasting espresso. And if you go through Northern Italy, coffee tastes good."

Barnett should know. He's been a judge for the World Barista Championships (yes, there is such a thing) in Italy, where coffee culture is treated differently. "A barista is perceived as a culinary artist, like a winemaker. It's a cool gig, and at a really good espresso bar that's hopping in Italy, a barista can make $60,000 a year." Here, the archetypical barista is working at Starbucks to make rent--not as a serious career move.

"With espresso preparation, if you really get it right, and you get the coffee roasted right where the sugars are caramelized, you get a lot of the sweetness," Barnett says. Coffee is a fruit--the beans come from what is called a cherry--"so a really good coffee cherry that's been developed right will have a natural sweetness in it. Part of our job as roasters is how do you capture that, because coffee doesn't have to be this bitter experience. If you were baking cookies, and you get to a point where the cookie's a golden brown, it's nice. If you bake it a little longer, it's a little crisper, a little darker. You keep that cookie in the oven long enough, it's going to get carbonized."

Barnett compares that dark, scorched cookie to French roast, the most popular roast in many coffeehouses. "What most people do to compensate for that is to put in a lot of sugar and a lot of milk," he says.
"I think they're missing a lot of the really great flavors and nuances in the coffee."

Ecco Caffé buys a large percentage of its beans from a Sumatran collective that is high in quality and consistent, so customers with larger accounts can have a product that will last their restaurant more than two or three days. "With the smaller estates, there can be more variance . . . but it's very subtle. How many people can tell the difference?"

Not me, for one. We taste four coffees, brewed in French presses, from four different small estates in Guatemala and Sumatra, and while they all have their own quirks and flavor profiles, they pretty much all taste like really, really good coffee to my untrained mouth. It's unusual to taste coffees as if you were tasting wine--that is, tasting critically instead of sipping and swallowing and thinking, "Gosh, that's nice." These samples are full of lively acidity, fruity and fresh.

Barnett notes that "coffee from India, coffee from Brazil, coffee from Sumatra--they each have different flavors, and if you go to different regions within the country, there are completely different flavor profiles. If you go into a coffee shop to buy a pound of coffee and you say, 'I want a pound of Sumatra,' that's great . . . but if someone went into a wine shop and said, 'Give me a bottle of your California wine,' there would be so many."

One of the programs to increase awareness of outstanding individual coffee estates is Cup of Excellence, a strict competition begun by Brazilian farmers to recognize the best coffees. Cup of Excellence now has competitions in Nicaragua, El Salvador, Brazil, and Guatemala. Last year, Brazil's winning coffee commanded $12 a pound. Earlier this month, Barnett went to Brazil to be a judge in the 2003 Cup of Excellence.

Cup of Excellence helps to bring growers the money they deserve, which is difficult in the present international coffee industry. "In the world market right now, coffee prices are lower than they were 40 years ago. In 1935, the price for coffee on the world market was 35 cents a pound. Now, 70 years later, it's 63 cents a pound. There's a glut, overproduction," says Barnett.

One of the solutions to the crisis for growers is fair trade. Fair Trade­certified importers pay a premium to growers. "They pay almost double, so that money's going directly to the farmers." Ecco Caffé sells several Fair Trade coffees, as well as shade grown, organic, and conventional beans.

Because of their size, Ecco Caffé can buy three bags of coffee--several hundred pounds--from a small family farm with the Cup of Excellence designation, while a larger company couldn't even fill half the cracks in their warehouse floor with that amount of beans. "I think Peet's buys great coffees. I think that's what separates them from other companies in the specialty coffee market," says Barnett. "But a company like ours can cherry-pick--five bags of this and five bags of that."

Barnett and Hannigan aren't in production to change the world, although they try to do their part to support their growers. They are in the business to offer high-quality, locally produced coffee. Says Barnett, "there are a lot of people who, when you think of coffee, you think of Starbuck's-- the same way when you think of tissue, you think of Kleenex. We're just trying to offer alternative choices and flavors."
---
Ecco Caffè beans are available for retail sale at Centro Espresso (in Sawyer's News, 733 Fourth St., Santa Rosa, 707.542.7449); Traverso's (106 B St., Santa Rosa, 707.542.2530); Oakville Grocery (7856 St. Helena Hwy., Oakville, 707.944.8802 and 124 Matheson St., Healdsburg, 707.433.3200); and at the San Francisco Farmer's Market at the Ferry Plaza in San Francisco.
---
[ North Bay | Metroactive Central | Archives ]