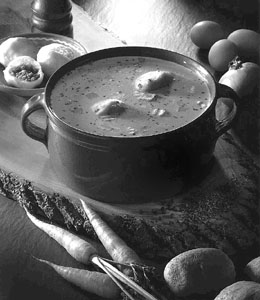 Artful Eating
Art pros chew the fat on fall foods
By Gretchen Giles
While a recent New York Times style section article breathlessly ran on about how laid-off young Manhattan investment bankers are turning down scarcely available jobs so that they can instead remain free to party away their severance checks on Monday nights, arts professionals generally spend more time around the kitchen table than the restaurant cloth. Utilizing the kind of supply-side economics taught at the Wharton School, visual and performing artists understand one simple truth: It's cheaper to eat at home. And given their proclivity for handiwork and style, it's often better food.
Inspired by that autumnal change in the weather that demands a hot, buttery swoon of fall comfort foods, we once again abuse the telephone system by calling up art makers and asking them what's for dinner this season.
Cazadero sculptor Pamela Holmes doesn't quite have as many Monday night restaurant options as a New York MBA, living--as she and her family do--way up in the middle of a beautiful nowhere.
A former caterer, Holmes in fact admits that she's "cooked [herself] out of cooking." But even she softens toward the terrible demands of a daily dinner this time of year, preparing a baked dish that she used to favor as a caterer. "Take a winter squash," she instructs, "and chop it up into chunks and steam it. Sauté chopped onions and garlic with lots and lots of herbs--oregano and thyme and parsley and any other nice herb you've got--and then place the squash in a baking pan and cover it with the herbs and onions and cook at 350 degrees for about an hour."
As for what she will be cooking that night (an unfortunate question aimed at all of our kind respondents), she sighs. "Halibut. Halibut is a fall season fish. It's the only time they fish for it around here in Bodega Bay."
Just fish, nothing else?
"Basmati rice," she laughs gamely, compiling her dinner menu on demand at 10am, "and sweet potatoes and something green--OK, a spinach salad."
This time of the year, Sebastopol painter William O'Keeffe favors the beef and Guinness stew of his Irish homeland. "Flour beef chunks and sauté them lightly to seal them," he advises. "Chop up lots of onions and caramelize those in butter with fines herbes. Place the whole lot in a nice heavy pot, add a can of draft Guinness--never use Guinness stout in a bottle, it's too bitter. I generally use a can and a half and then drink the rest. Bring the whole lot to a boil, let it simmer until the meat is tender. Then add a teaspoon of dry English mustard like Coleman's and a pinch of sugar to taste. Let it simmer. Then prepare a massive pan of mashed potatoes with no cream; they have to be dry, because the liquid from the stew is what softens them, and serve over the potatoes."
Can there be, he is meekly asked, a vegetable present?
"No veg," he retorts, "you never have veg with it."
And for that day's dinner table? "A cauliflower cheese in individual pots," he says.
Again, the notion of something green that once grew from the ground is mildly introduced. "Can you have a veg?" he snorts with rhetoric disdain. "No, you can't. Fresh bread--a ciabbata. And," he relents, "there can be a salad." Professional integrity dictates that this reporter indeed report that she her lonesome self will be making (and eating) the salad, for she shares the dinner table with Mr. O'Keeffe.
West County printmaker Micah Schwaberow may do well to take an insurance policy out on O'Keeffe, as he's bound to outlive him. The approaching chill reminds Schwaberow of the traditional Oden stew that he enjoyed while living for a year in Japan. "Take a big pot of water, start it boiling, and put some mirin in it--that's a cheap cooking sake," he recites. "Chop some onions, add some carrots for color, and some kabocha--it's a sweet orange squash with a thin green skin. If you don't have that, sweet potatoes are good. The kabocha should be cooked in advance and added at the end--if you throw them in the pot, which I do because I'm lazy, they lose their shape. Chop up some potatoes and some firm tofu, add some shitake mushrooms because they're good for you, some daikon, and a bunch of wakame, it's a kind of seaweed.
"Boil it for a while," Schwaberow continues. "Scoop [some of the broth out] into a measuring cup and throw in some big spoonfuls of red miso. Stir it all around in the measuring cup and then stir it back in, otherwise the miso would lump all up in the big pot. Taste it. What you want is for the miso to give it a hearty flavor without being too salty. Serve with brown rice and a cucumber salad so that you have a little crunch. It will make everyone be healthy for the winter."
Sounds wonderful. And what's on for his evening meal? "We have a friend from Fiji staying with us," he says, "and he's promised to make us a Fijian dal."
Like an Indian dal but from Fiji? "Like an Indian dal but from Fiji," he repeats reasonably, as if it were the most ordinary dinner served in the States.
Professional storyteller Georgia Churchill also cooks in the realm of the exotic. "I love to know what people eat from wherever I tell stories because food is important to me, and because it helps people get deeper into the tales, so I often weave in the flavors of foods when I tell stories."
Churchill then tells this story, a recipe from the Eastern European country of Georgia: "Take chunks of boneless lamb and brown them with a whole bunch of chopped onions, and then sprinkle it with cinnamon and put in just a little bit of broth and let it cook over low heat until tender. Then," she says, pausing for effect, "squeeze half a lemon over it. Meanwhile, in a side pan, brown slices of apple with butter. You join them all together and eat with rice.
"The Georgian people are very fussy with their rice and how it's cooked," she continues, noting that they only cook the rice halfway and then place it over raw pasta dough in a pan. "Cover it and cook until [the rice and pasta dough are] done over a low heat. The noodle dough becomes like a bread that you eat on the side."
This description sends up peals of near-erotic laughter as Churchill and the reporter contemplate such carbohydrate loveliness.
Composure regained, Churchill is asked about the more immediate meal. "I'm going to cook sand dabs tonight," she confides. "They have such a sweet delicate flavor. I might make sweet potato French fries in the oven. I just got fresh pimientos that I might roast and peel, with a little olive oil and those delicious niçoise olives and a little lettuce. It's so good!"
Sonoma County Repertory Theatre director Jim dePriest confirms that food is his "second passion." He's already dusted off his slow cooker for the season and has made big pots of soup. "I haven't purchased any winter squash yet," he says, "but I love to bake it with a little brown sugar and a little butter, and that will hold me for a whole dinner. I try to cook at home as often as I can, depending on where I am in a production."
With Wait until Dark now playing at his Main Street Theatre, dePriest admits that his "diet these last few days [has been] pretty bad." But he'll be preparing short ribs with herbs for dinner. "I don't do anything magical with them," he assures. "I cook them forever on top of the stove, and I just load it down with vegetables because we're so lucky with the abundance here."
Now thoroughly ravenous, the questioning for Natasha Boas, the executive director of the Sonoma County Museum, goes straight to dinner. "Lamb chops seasoned with lavender salt," she replies. "Various purées. I love to roast beets and eat those with goat cheese and a walnut salad."
Yes, please. And for autumn cooking overall?
"I'm hopelessly French when it comes to po au feu," Boas, who was raised between the United States and France, says. "And I always have a soup on the stove in the fall--a lentil soup or a carrot soup. I love pears and aged bleu cheeses. Boeuf aux carrottes. You sauté the carrots in olive oil," she begins to explain and then stops. "OK, I'll tell you: my mother makes it for me and brings it over."
Confession accepted. What else?
"I do lots of puréed root vegetables seasoned with fresh herbs and lots of butter. Lots of chestnuts roasted in the oven and pumpkin seeds for snacking. I used to, when I had more time, make bread, but that's not in my life right now. And of course, lots of good red wine is always flowing here."
Sounding uncharacteristically girlish, Boas finally proclaims, "It's fun to eat in the winter time!"
It's certainly fun to talk about.
[ North Bay | Metroactive Central | Archives ]