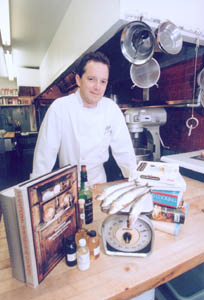 Old-World Charm: LaSalette chef/owner Manuel Azevedo.

Photograph by Michael Amsler





Tasty Tunes

Exotic cuisine and haunting music make a memorable meal

By Paula Harris

"We realize that a fado can be considerably more than just a song at midnight when the lights are low," writes author Lawton McCawl, in his 1931 tome Portugal for Two. "In fact, the fados are spontaneous poetry of the human heart, shared with an audience that feels and understands."

But you don't need to search out a dusky tavern in Lisbon to share in this soulful expression and partake in some Portuguese soul food. LaSalette restaurant in Sonoma will present two evenings with fadista Joana Amendoeira of Lisbon and the musical group Norberto Arruda on Nov. 8-9.

The fado night will include a four-course menu with lusty regional specialties, such as Portugal's national soup, caldo verde, a rich potato broth thickened with beef consommé and enlivened with collard greens and spicy linguica sausage; and bacalhau à gomes de sá, a briny combination of baked salt cod, melted white onions, garlic, potatoes, and olives.

The fado experience in this cheery, rustic bistro promises to be a mini-vacation treat for those wary of overpriced wine country cuisine accompanied by the usual canned Muzak. Fado, literally meaning "fate," is the haunting and woeful Portuguese blues popularized by Cape Verdean singer Cesaria Evora--a soulful folk music that reflects the richness, depth, and complexity of the Portuguese character itself.

The emotional sound of fado is an expression of "saudade," which has no direct translation into English, but encompasses nostalgia and yearning. It's been described as a measure of the depth of feeling that passes back and forth between singer and audience.

LaSalette dishes up flavorful Old-World recipes, using not only the cuisine of Portugal but also its former colonies in Africa, Brazil, India, and China. The restaurant is across from a Mary's Pizza Shack on Highway 12 (fortunately the road is hidden by the trellis surrounding the small outside patio), and once inside, the effect is distinctly relaxing.

The white stucco walls, diffused light, and bright artwork in mid-pastel tones achieve a sun-splashed rather than garish effect. The wooden chairs, visible wine racks, and display of ports add to the vacationlike atmosphere. Even without the live fado music, the sounds from the stereo stick to smoky-voiced Portuguese and Brazilian vocalists.

On a recent trip to sample the newly introduced menu, a cheese-tasting appetizer ($9) includes a creamy farmers cheese made by chef/owner Manuel Azevedo, and two tangy goat cheeses, accompanied by quince jelly, fresh green apple slices, and candied almonds. Any uneasy memories of tripe being just a rubbery blubberlike horror are erased with the tripas à Porto ($8), a hearty stew of tender honeycomb tripe (it actually melts in the mouth) baked with white beans, linguica sausage, and vegetables. It's yummy when sopped up with the warm sweet dinner rolls.

Although no vegetarian entrée is listed on the menu, Azevedo will whip up an exotic, African-inspired veggie plate with chunks of baked plantain and various vegetables in a piri-piri spicy tomato and peanut sauce around a mound of coconut-flavored white rice.

For newbies to Portuguese fare, I recommend the porco à Alentejana ($16), a classic, fragrant stew with marinated pork tenderloin, tomatoes, onions, and Manila clams.

Desserts include a stellar rice pudding with sliced dry figs and ground cinnamon in a caramel sauce ($6). The wine list includes a selection of 40 interesting Portuguese wines, plus what is possibly America's largest by-the-glass selection of ports, Madeiras, and muscatels.

Whether you come for one of the fado nights ($75 prix fixe), or visit anytime, LaSalette will enliven your taste buds and spice up your routine.
---
LaSalette
Address: 18625 Sonoma Hwy., Sonoma; 707/938-1927
Hours: Wednesday-Saturday, 5 to 9 p.m.; Sunday, 2 to 9 p.m.
Food: Portuguese rustic fare
Service: Friendly and competent
Ambiance: Like a mini-vacation to Portugal
Price: Moderate to expensive
Wine list: Lots to choose from, including huge selection of Portuguese wines
Overall: 3 stars (out of 4)
---
[ North Bay | Metroactive Home | Archives ]