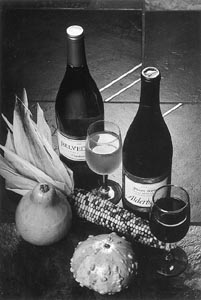 Photograph by Michael Amsler

Talkin' Turkey

Select the 'perfect' wine this Thanksgiving

By Bob Johnson

'TIS THE SEASON. No, not that season. Not quite yet, anyway. 'Tis Thanksgiving season. So let's talk turkey. And stuffing. Not to mention mashed potatoes, giblet gravy, cranberry sauce, candied yams, and corn bread. Selecting a wine for the Turkey Day dinner table is akin to selecting a wine in a smorgasbord. In a word, it's impossible. Take away all the side dishes and you still have a challenging decision to make. A roast turkey with corn-bread stuffing and a cream gravy calls for a chardonnay or sauvignon blanc. But that same formerly feathered friend with a sausage stuffing and pan gravy would be better complemented by a red wine such as syrah or zinfandel.

Toss in the flavors and spices and textures of the aforementioned sides, and you have a sensory explosion that no single wine could possibly stand up to. As this realization has solidified in my brain over years of fruitless searching for that "perfect" Thanksgiving wine, I've learned to think plural, as in multiple bottles of vino.

And since Thanksgiving is about family and hearth (not to mention girth), I also like to open homegrown wines on this special day.

See if this strategy would work for you . . .

Start with one bottle of white wine and one bottle of red. I recommend chardonnay and pinot noir because most people like these varietals, and some outstanding examples are crafted in Sonoma County.

Among chards, you can't go wrong with (in order of ascending price) Belvedere (Sonoma County), Geyser Peak (Russian River Valley), Sapphire Hill, Armida Reserve, Sonoma-Cutrer (Les Pierres Vineyard), or Kistler (Sonoma Coast).

For a pleasing pinot, look for Mark West, Alderbrook, Davis Bynum Limited Edition, Stonestreet, or Williams-Selyem.

Since the Thanksgiving meal is protracted, to say the least, figure on one bottle of wine for each two diners. If two bottles won't suffice, add two more, a sauvignon blanc and a zinfandel.

Superb sauvignon blancs are made by Taft Street, Quivira (the Reserve rendition is striking), Dry Creek, and Hanna.

Zesty zins from Sonoma County are too numerous to mention. A short list would include Seghesio, Rabbit Ridge, Murphy-Goode, Fritz, Nalle, and Deerfield Ranch. (Tip: If it says Dry Creek Valley on the label, chances are there's tasty juice inside the bottle.)

Wine Time: A can't-miss holiday four-pack.

IF YOU DREW the short straw and also are hosting the in-laws, you'll need still more wine. The next types to add would be a gewürztraminer and a syrah (a.k.a. shiraz).
The best gewürz in the county is made by Alderbrook, a contention supported by the sweepstakes award bestowed upon the '98 vintage at the recent Harvest Fair competition. Need more incentive to try it? You can buy it for less than nine bucks.
Syrah/shiraz shoppers should seek out releases by Cline (a Harvest Fair gold medal winner), Geyser Peak (always dependable), or Clos du Bois (which just released a Reserve Shiraz that is wonderful).
What about merlot? you ask.
What about it? I retort.
Yes, merlot is extremely popular right now. Yes, some people drink it daily. And, yes, local vintners (Mietz, Pezzi King, Lambert Bridge, St. Francis, and Matanzas Creek, among many others) do an excellent job with it.
But because it has become ubiquitous, it has lost some of its specialness. And the Thanksgiving table deserves to be populated by special wines for the special people who will be consuming them.
Need yet another red? Try a petite sirah, a grenache, or a mourvedre.
Still lacking a sufficient supply of white wines? Add a viognier, a chenin blanc, or a Riesling. With a little shopping, you can find local renditions of all three varietals, not to mention some enticing blends.
So when you set the Thanksgiving table, put two or three wine glasses at each place setting, uncork all the bottles you've selected, and let your diners have at it. Take the pressure off yourself, and let them make the food-and-wine pairing decisions.
And if you get any complaints, you'll know who not to invite next year.
[ Sonoma County | MetroActive Central | Archives ]