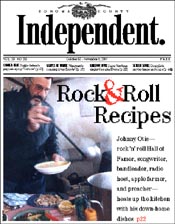 For the Week of
Nov. 6-12
Cover:
Rock & Roll Recipes
Johnny Otis--rock 'n' roll Hall of Famer, songwriter, bandleader, radio host, apple farmer and preacher--heats up the kitchen with his down-home dishes.
News: Get Out Your Arks
Sonoma braces for a predicted record rainfall.
Fuming in Forestville: The community turns up its nose to a proposed asphalt plant.
Homeless, not Helpless: With a bicycle and reusable materials, Roger Montgomery's invention could provide shelter and keep the streets clean at the same time.
Slave Trade: Is America ready to pay its debt of reparations to African Americans?
The Scoop: Want a job that will "challenge your deepest resources including fast-moving, ambiguous and unstructured situations"? Join the CIA.
Climbing Up on Capitol Hill: Check up on the your Congressional Representatives and U.S. Senators--where they stand, how they voted.



Queer to the Core: Gina Arnold finds the spirit of punk music alive and well in the queercore movement.
Spins: Reviews of CDs by Jimi Hendrix, Richie Havens and Everclear.



Free at Last: Local exhibit explores past African-American experience.



Talking Pictures: David Templeton talks to a team of genetic bioethicists about the disconcerting new techno-thriller Gattaca.



Dysfunctional Family: Amusement and perversion abounds in The House of Yes.



Heard It Through the Grapevine: Get to the root of all things wine.



The Kind Men Like: A new collection preserves the arcane art of the Tijuana Bibles.



Please don't forget to write! The Sonoma County Independent welcomes letters commenting on our coverage or other topics of local interest. Please keep all letters at 300 words or less (we reserve the right to edit them for length and style) and sign them (unsigned letters will not be published. A local phone number must be included for verification. Postal: Sonoma County Independent Letters, 540 Mendocino Ave., Santa Rosa, CA 95401. Fax: 707/527-1288. Email: [email protected]. Emailers, please include name, city of residence and phone number. Letters printed will list email address unless otherwise specified. Letters to the editor are not currently published in the online version of this paper.