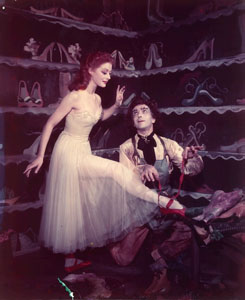 Happy Feet: Moira Shearer portrays a dancer who chooses love over art in 'The Red Shoes.'

Eternal Optimist

Director Michael Powell finally gets his due

By David Templeton

'Michael was always an optimist," says Thelma Schoonmaker of her late husband, the director Michael Powell. "He always saw the good in a bad situation, and he always saw the best sides of even the worst people."

Powell is the legendary British writer-director whose collaborations with German filmmaker Emeric Pressburger include the classic films The Red Shoes, Black Narcissus, The Tales of Hoffman, A Canterbury Tale, A Matter of Life and Death (released in America as Stairway to Heaven) and I Know Where I'm Going. Together, Powell and Pressburger wrote, produced and directed their films under the nom d'ecran "the Archers."

On his own, Powell wrote and directed grittier films, including The Edge of the World and Peeping Tom. With Schoonmaker's help, he wrote a massive, two-part autobiography, A Life in Movies and Million-Dollar Movie. Though the influence of his films on subsequent generations of filmmakers has been extraordinary, his own career effectively ended when his post-Archer thriller Peeping Tom became so widely hated by British critics and did so poorly at the box office that he was never again given the opportunity to make a film in England.

Powell made a few films in Australia, but for the rest of his life, the majority of his projects remained only dreams. He died in 1990 at the age of 85 and was buried in England. According to Schoonmaker (who met and fell in love with Powell when he was 75 and she was 40), a legend in her own right as the Oscar-winning editor of Martin Scorsese's Raging Bull, The Aviator and others, her husband's grave marker reads "Michael Powell, filmmaker and optimist."

With the advent of Powell's centenary, film festivals, universities and movie theaters all over the world have been honoring his contributions to cinema. In October, Schoonmaker appeared at the Mill Valley Film Festival to participate in a major Powell tribute and to kick off a two-and-a-half-month retrospective of Powell films at the Smith Rafael Film Center that continues into December. Though Schoonmaker is now hard at work editing The Departed, the latest film by Scorsese (who introduced Powell to Schoonmaker), she says she's been thrilled to see that, after years of neglect by the film community, Powell is finally receiving some of the praise and honors he deserves.

"It really is amazing," she says, "how many filmmakers have told me that Michael's films continue to teach them and inspire them. His influence was immeasurable, and his films continue to influence Marty [Scorsese]."

While critics and filmmakers continue to gather and discuss Powell's professional contributions Schoonmaker, who considers herself privileged to have shared Powell's final decade, is happy to remember the non-professional side of Michael Powell. They lived for a while in San Quentin Village, where Powell wrote his books and dreamed up new film projects, a time she recalls with special fondness.

"He would get up and immediately begin thinking up outrageously creative things to do," she says. "From the moment he woke up each morning, he'd be creating. He would write his book and spend some time with the local dogs, and if I called from work and said I'd had a hard day, he'd come up with some outrageous costume to wear so when I came home, I'd have no choice but to cheer up. He taught me so much, about film and about life, but what he mostly taught me about was how to love. He loved like he lived his life, the same way he made his films--he loved without holding anything back."
---

The Christopher B. Smith Rafael Film Center honors Powell's career through Dec. 7 with a retrospective and special events. Here are descriptions of the remaining films in the series, with comments by Schoonmaker.

'The Life and Death of Colonel Blimp' (1943)
Of this film starring Roger Livesey, Anton Walbrook and Deborah Kerr, Schoonmaker says, "I believe it's one of Michael's most remarkable films, especially when you consider that it was about a friendship between a German and an Englishman created as a collaboration between Emeric Pressburger and Michael Powell--a German and an Englishman--and filmed in the middle of World War II. The English government was very worried about the film, and would have preferred that it wasn't made at all. They were concerned it would undermine the war effort to show a sympathetic German officer." Screens Sunday, Nov. 13, at 3pm and 7pm.

'Peeping Tom' (1960) Presented by film critic David Thomson
An in-depth look at a disturbed photographer who murders women and photographs their deaths, this notoriously controversial thriller is the one that effectively ended Powell's career. Peeping Tom has since enjoyed a reversal of fortune, having been championed by Scorsese and film critic David Thomson, and is now widely considered a masterpiece. "Michael appreciated the attention and the praise that Peeping Tom began collecting in the late '70s," says Schoonmaker, "but I don't think even he thought of it as one of his best. He was proud of it, though, and never understood why it was so completely reviled. He always felt that if the studio had stood by it, had maybe even used the negative reviews in the advertising--'See the movie the critics call the most horrifying film ever made!' that sort of thing--then the movie might have done all right." Screens Thursday, Nov. 17, at 7pm.

'Age of Consent' (1969)
With Powell essentially blacklisted from working in England, he was forced to go abroad to make films. Age of Consent--filmed in Australia and starring James Mason as an aging painter, and the frequently nude first-timer Helen Mirren as the young woman who ignites his artistic and romantic passion--was one of the few post– projects he was able to see through to completion. Screens Sunday, Nov. 20, at 4pm and 7pm.

'The Thief of Bagdad' (1940) Introduced by FX artist Craig Barron
An Oscar-winner for best color cinematography, this special effects landmark still holds up. Powell was one of three directors who worked on The Thief of Bagdad. It's the film that Francis Ford Coppola has called his all-time favorite. Screens twice, on Thursday, Nov. 24, at 7pm and Sunday, Nov. 27, at 1pm.

'The Red Shoes' (1948)
Based on the fairy tale by Hans Christian Andersen, this lavish romance is easily the most famous and influential of the Powell-Pressburger collaborations. "It's the movie that not only inspired generations of girls to want to become ballerinas," says Schoonmaker, "it's the film that inspired--and continues to inspire--generations of filmmakers. Scorsese has said that The Red Shoes continues to inspire him, and recently Alexander Payne [Sideways] has become a fan of Michael's films. The Red Shoes is an incredibly inventive film." Screens Sunday, Nov. 27, at 4pm and 7pm.

'The Small Back Room' (1949)
One of the lesser-known Archer films, this black-and-white film noir about a self-loathing bomb expert called in to defuse German booby-traps during WW II is the polar opposite of spectacular, over-the-top eye-poppers like The Red Shoes, and yet it carries an undeniable emotional power that is pure Powell. Screens Thursday, Dec. 1, at 7pm.

'Black Narcissus' (1947) Presented by Los Angeles Times film critic Kenneth Turan
"There are so many things to love about Black Narcissus," says Schoonmaker. "Sometimes when I'm preparing to give a talk and am going through Michael's films to choose scenes, I'll start watching Black Narcissus, writing for a particular piece, and before I know it, I've become caught up and watched the whole thing." Screens Sunday, Dec. 4, at 4pm and 7pm.

'A Matter of Life and Death,' aka Stairway to Heaven (1946)
"This is the film that Michael called his favorite," says Schoonmaker. Starring David Niven and Kim Hunter, A Matter of Life and Death is the tale of a soldier marked for death who cheats fate and falls in love after plummeting from an airplane without a parachute, an unexpected act of survival that sparks an epic court battle in heaven to determine his fate. "It's an optimistic film," says Schoonmaker, "and Michael, as I've mentioned, was nothing if not an optimist." Screens Wednesday, Dec. 7, at 7:30pm.

Smith Rafael Film Center, 1118 Fourth St., San Rafael. 415.454.1222.

[ North Bay | Metroactive Central | Archives ]