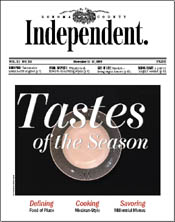 For the Week of
November 11-17, 1999
Cover: Food of Place
Blurring the borders of regional food. Or just what the heck is wine country cuisine?



Urban Garden: Stalking the wild persimmon.
On the Shelf: A quartet of engaging new cookbooks.
Dinner Date: Local restaurants unveil multicourse millennial menus for New Year's Eve.
Veg-Mex: Meatless Mexican cooking for the holidays.
Heard It Through the Grapevine: Get to the root of all things wine.



Organ Trail: Making a case for living-donor transplants.



Holy War: Filmmaker Kevin Smith skewers his Catholic faith in 'Dogma.'
Heady Stuff: 'Being John Malkovich' is a surreal cinematic tour de farce.



Bang the Drum: Newly revamped Healdsburg armory hosts Festival Africa.
SF Club Guide: Disco divas, hip-hop connoisseurs and salsa suaves to flannel-clad pinball players, jazz luminaries and more from the City by the Bay.



Taking Flight: A pair of local theater companies stage 'Angels in America.'



Field Manual: A handy guide to Napa Valley food-and-wine offerings.
Stiffed Upper Lip: Today's man is drifting and drifting, cut loose from the work that once defined him, according to author Susan Faludi and the creators of 'American Beauty' and 'Fight Club.'
A Beautiful Terror: Roddy Doyle's street-smart Irish killing machine doesn't give a 'shite'--but readers will.
Rush of Fortune: A young woman confronts cultural conflicts in Isabelle Allende's new novel.
Escaping From the Labyrinth: Robin Magowan recalls a life of leisure, verse and strife in 'Memoirs of a Minotaur.'
Emotional Baggage: Nick Bantock takes readers on a richly visual tour of 10 imaginary collections in 'The Museum at Purgatory.'
High Marx For Karl: Marshall Berman argues for a Marx better than the societies he begat.
A Human Hitler? In 'Hitler's Niece,' the terrible leader of the Third Reich is just a man--however dysfunctional.
Between the Lines: Iranian-Americans speak in verse and prose in new anthology.



Please don't forget to write! The Sonoma County Independent welcomes letters commenting on our coverage or other topics of local interest. Please keep all letters at 300 words or less (we reserve the right to edit them for length and style) and sign them (unsigned letters will not be published). A local phone number must be included for verification. Postal: Sonoma County Independent Letters, 540 Mendocino Ave., Santa Rosa, CA 95401. Fax: 707/527-1288. Email: [email protected]. Emailers, please include name, city of residence and phone number. Letters printed will list email address unless otherwise specified. Letters to the editor are not currently published in the online version of this paper.