Bah Humbug! Eliot Fintushel plays the title character in 'Scrooge: The Musical,' opening Nov. 16 at the Luther Burbank Center in Santa Rosa.





Gift Wrapped!

Wander through a winter wonderland of holiday events

By Paula Harris

Mistletoe, menorahs, and mariachis will all be out in full force to help make your holidays a little merrier this year. So don't shut yourself in with the TV Guide and your special, lethal version of eggnog. Get out and experience some of the festive sights and sounds collected in this selective sampling of holiday events.

Parties & Gatherings

Holiday Victorian Tea
You don't have to be British to have a hankering for dainty sandwiches and tea in china cups. The Woman's Club of Petaluma will be transformed into an elegant Christmas setting for a genuine tea with costumed servers as the Museum Association sponsors this annual holiday tradition. Tea will be served at three seatings on Dec. 2 at 11 a.m., and 2 and 5 p.m. 518 B St., Petaluma. $25. 707/778-4247.

Bob Burke's Christmas Party
Do you think the holiday should mean more than an opportunity to stuff yourself with sweets and drown yourself in eggnog? So does Forestville's Bob Burke, the founder of a 28-year-old program that offers free year-round support groups and fun events to children with cancer and other serious illnesses in Sonoma County. Revenues for the program come from donations made during events such as Burke's annual Christmas Party. This year's party, hosted by the Gonnella Family, will be held at the Union Hotel Restaurant in Occidental. Dec. 5, 5 to 9 p.m. Free, but donations appreciated. 707/887-2222.

Santa Sightings

Downtown Santa Parade
Bummer! After 17 years, Santa Rosa's whimsical annual Downtown Santa Parade has been canceled, apparently due to lack of volunteers and funds. We'll miss it! However, Santa Rosa has some other holiday events to get you in the seasonal spirit.

Holiday Open House
Santa Claus rolls into Santa Rosa on a fire truck during an afternoon of holiday festivities on Nov. 24. Other attractions include a merchants' open house, carolers, musicians, food, and children's activities. Santa comes by at 5 p.m., and at 6 p.m. is the VNA Hospice Foundation's annual Lights of Life celebration. Old Courthouse Square, downtown Santa Rosa. 707/523-3728.

Santa & Mrs. Claus in Petaluma
The Jolly Man and his missus give old Rudolph et al. a break and come to Petaluma via water. This year, they will arrive on the deck of their usual decked-out tugboat at high noon on Nov. 24. The cheery couple will then distribute candy canes as they take a ride through downtown Petaluma aboard an antique horse-drawn sleigh. 707/769-0429.

Dickens of a Holiday
Next, Santa swings by Novato for the Dickens of a Holiday event. Stroll down Sherman Avenue in downtown Novato amid live music, carolers, and horse-drawn carriages. Dec. 1, 11 a.m. to 6 p.m. Santa shows up at 5 p.m. 415-892-1516.

Parade of Lights
Carols, candles, and 100,000 pounds of real snow for sledding are the high points of downtown San Rafael's Parade of Lights. Nov. 23. Call for times. Downtown San Rafael. Free. 415/457-2266.

Tinsel & Lights

Light Up a Life
This annual tree lighting--sponsored by Hospice of Petaluma--has become a major focal point of the community over the years, as hundreds gather to cheer on the lighting of the enormous Christmas trees in the old downtown and to remember the dearly departed. Dec. 7, starting at 6:30 p.m. Petaluma Blvd. N. and B St. For information or to sponsor a tree light in the name of a loved one, call 707/778-6242. The Friends of Sonoma Hospice also holds its Light Up a Life celebration Dec. 2 at 6 p.m. Southwest corner of the Plaza in Sonoma. A $10 donation will illuminate a light in honor or remembrance. 707/935-7504.

Flotilla on Parade
Ogle in awe as dozens of lighted and decorated boats transform the Petaluma River Turning Basin into a light show. Visitors can view the boats all evening at the Turning Basin (Petaluma Boulevard North and B streets, behind the Great Petaluma Mill) with local entertainment on the dock. This watery parade sets sail on Dec. 8 at 6:30 p.m. 707/769-0429.

Yountville Festival of Lights
An all-day street fair on Nov. 23 kicks off the month-long Festival of Lights celebration. The party offers food, wine, strolling musicians, entertainment, and a tree- and town-lighting extravaganza that will set the entire town aglow with thousands of lights. Festivities run from 2 to 9 p.m. along Washington Street in Yountville. The always dramatic town lighting is at 5 p.m. Free. 707/944-0904.

Holiday Lights Parade
This parade of lights features more than 100 floats, horses, antique cars, trucks, marching bands, and more--all decked out in Christmas lights. This year's theme is "Candyland Fantasy." Dec. 1 at 7 p.m. Main Street, Guerneville. 887/664-9001.

Community Christmas
What's Christmas without a festive tractor parade? Calistoga has this and more during the Calistoga Community Christmas Bazaar and Parade Celebration. Dec. 1. The fun starts at 9 a.m. with an old-fashioned crafts bazaar in the fairgrounds at 1439 North Oak St. The decorated tractors roll down Lincoln Avenue from 6 to 7 p.m., to be followed by a tree lighting with carols and refreshments at the Washington Street Community Center. 707/942-6333.

Seasonal Tours

Christmas Parlor Tour
Tour four stunningly decorated Victorian parlors in Petaluma, plus the Petaluma Museum, this year for Petaluma's annual Heritage Homes Christmas Parlor Tour. Organizers ask you to dress warmly, wear soft-soled shoes, and bring a flashlight. Dec. 2, 6 to 9 p.m. $10. 707/769-0429.

Candlelight Tour
Wander through nine historic Victorian homes, mingle with costumed docents and strolling carolers, and partake of chocolate delights and more during Napa Landmarks' 13th annual Holiday Candlelight Tour. Dec. 8, 3 to 8 p.m. Fuller Park and Napa Abajo historic districts in Old Town Napa. $22 in advance; $25 on the day of the event. 707/255-1836.

Holiday Crafts

Holiday Fair
Wanna buy presents but sick to death of shopping malls? The 29th annual Gifts 'n' Tyme holiday fair in Napa has tons of booths crammed with arts and crafts that will make great gifts. Find everything from wind chimes to sweatshirts. Food available. Nov. 16-18. Friday, 11 a.m. to 8 p.m.; Saturday, 11 a.m. to 6 p.m.; Sunday 11 a.m. to 5 p.m. Napa Valley Exposition, Chardonnay Hall, 575 Third St., Napa. Free. 707/255-0902.

Dickens Fair
Pick out some unique hand-crafted gifts while immersing yourself in seasonal good cheer. A Dickens of a Holiday Crafts Fair will warm your heart with music, song, crafts, and even roving minstrels. Dec. 1 and 2. Call for times. Finley Community Center, 2060 W. College Ave., Santa Rosa. Free. 707/543-3737.

Spirit of Christmas Crafts Faire
The 25th annual Spirit of Christmas Crafts Faire is the largest holiday gift show in the North Bay, with more than 200 booths offering handmade goodies to delight even the pickiest person on your Christmas list. Minstrels, carolers, and a variety of local bands will be there to spread musical cheer. Among the headliners: the Pulsators serve up Christmas rock on Nov. 23; Sourdough Slim rocks the accordion on Nov. 30; and Grammy-nominated harmonica master Norton Buffalo gets the blues on Dec. 9. The fair is open three weekends: Nov. 23-25, Nov. 30-Dec. 2, and Dec. 7-9. It's open Fridays from noon to 9 p.m., and Saturdays and Sundays from 10 a.m. to 6 p.m. Sonoma County Fairgrounds, 1350 Bennett Valley Road, Santa Rosa. $4. Fridays are half price. 707/575-9355.

Christmas Bazaar
Petaluma United Church of Christ holds an alternative Christmas Bazaar featuring gift ideas from Third World artisans. Nov. 17, 10 a.m. to 4 p.m. 825 Middlefield Drive, Petaluma. Free admission. Proceeds go to artists and charitable organizations. 707/763-2454.

Center Stage

Santa Rosa Symphony
The symphony celebrates the holiday season with a program full of Spanish flair and fire. Guitarist Paul Galbraith will perform Concierto de Aranjuez by Joaquín Rodrigo, and harpist Michael Rado will offer Alberto Ginastera's Concerto for Harp. Debussy's Iberia rounds out the program. Dec. 15 and 17 at 8 p.m.; and Dec. 16 at 3 p.m. Luther Burbank Center, 50 Mark West Springs Road, Santa Rosa. $15-$40. 707/546-8742.

Scrooge: The Musical
The Santa Rosa Junior College Theater Arts department presents an enchanting musical adaptation of this classic tale at the Luther Burbank Center for the Arts. Nov. 16-25. Call for days and times. LBC Main Theatre, 50 Mark West Springs Road, Santa Rosa. $12. 707/527-4263.

Snoopy on Ice
Snoopy and the gang continue with their popular holiday ice show. Get your tickets early, because this show sells out very quickly. The visual feast also stars champion skaters, extravagant costumes, and holiday scenery. Dec. 8-22. Most shows start at 3 and 7 p.m. Redwood Empire Ice Arena, 1667 W. Steele Lane, Santa Rosa. $10-$45. 707/546-3385.

Christmas Comes to Wildwood
The lovable characters from the children's classic The Wind in the Willows come alive when the Cinnabar Theater presents Christmas Comes to Wildwood. For the young and the very young at heart. Nov. 30-Dec. 9. 3333 Petaluma Blvd. N., Petaluma. $10 for adults and $6 for children. Call for times. 707/763-8920.

It's a Wonderful Life
The Cinnabar Theater presents the holiday classic. Dec. 13-22, Thursdays through Saturdays (with one Sunday performance on Dec. 16). 3333 Petaluma Blvd. N., Petaluma. $10 for adults and $6 for children. Call for times. 707/763-8920.

Winnie the Pooh
Sonoma County Repertory Theatre presents kids' favorite honey-lovin' bear in Winnie the Pooh's Christmas Tail. Dec. 1, 8, 15, and 22. Call for times and prices. 707/823-0177.

The Elves and the Shoemaker
California Theater Center presents this adaptation of a classic Brothers Grimm fairy tale at the Luther Burbank Center for the Arts. Following the performance, join the cast for the annual tree-lighting ceremony in the lobby. Dec. 2 at 3 p.m. LBC Main Theatre, 50 Mark West Springs Road, Santa Rosa. $14 for adults and $12 for children and seniors. 707/546-3600.

Dance Dreams

Nutcrackers Galore
Dancing mice, dazzling costumes, fairy-tale kingdoms--The Nutcracker has it all. Indeed, as far as we can tell, this timeless holiday classic has only one drawback. Nearly every dance company in the North Bay stages a version, so it's tough to decide which one to see. We can't make that decision for you, but here are your options.

As usual, Ballet California offers a jam-packed holiday season. First, meet the characters and view a mini-performance at the company's annual Nutcracker breakfast on Dec. 2 from 9:30 a.m. to noon at the Sonoma County Hilton, 3555 Round Barn Blvd., Santa Rosa. Tickets are $22 for adults and $15 for children (aged 10 and under). 707/537-0140.

Then it's on to a full performance as Ballet California offers the only Nutcracker in Sonoma County with a full live orchestra, featuring guest conductor Gabriel Saketeeny of the Cotati Philharmonic Orchestra. Catch the production on Dec. 7 at 8 p.m., Dec. 8 at 2 and 7 p.m., and Dec. 9 at 2 p.m. at the Luther Burbank Center, 50 Mark West Springs Road, Santa Rosa. Tickets are $21-$24 for adults and $16 for children, students, and seniors. 707/546-3600.

Ballet Califa also present Tchaikovsky's classic with choreography by David McNaughton. Dec. 14 at 8 p.m., Dec. 15 at 2:30 and 8 p.m., and Dec. 16 at 2:30 p.m. Codding Theatre, Spreckels Performing Arts Center, 5409 Snyder Lane, Rohnert Park. Tickets $16 for adults and $12 for kids and seniors. 707/588-3400.

The Petaluma City Ballet and the Petaluma School of Ballet team up to present the city's 15th production of The Nutcracker. Dec. 7 at 8 p.m., Dec. 8 at 2 and 8 p.m., Dec. 9 at 2 p.m., and Dec. 11 at 2 and 8 p.m. at the Evert B. Person Theater, Sonoma State University, 1801 E. Cotati Ave., Rohnert Park. Tickets are $17 for adults and $11 for children and seniors. 707/765-2660.

The Marin Ballet presents its 29th seasonal production of the holiday classic, offering the lavish full tale, complete and uncut, followed by a candy cane party. Dec. 8 and 9 at 1 and 4:30 p.m. Marin Memorial Auditorium, Marin Center, Avenue of the Flags, San Rafael. $17-$25 for adults and $14.50 for seniors and youth. 415/472-3500.

Stapleton School also presents a full-length version of this holiday treat, featuring a cast of 5 to 18-year-olds, plus returning alumni. Dec. 21-22 at 3 and 7:30 p.m., and Dec. 23 at 1 p.m. Marin Memorial Auditorium, Marin Center, Avenue of the Flags, San Rafael. $19 for adults and $13.50 for seniors and youth. 415/472-3500.

Uplifting Dance
The NOMAD Dance Company of Sausalito teams with the Alchemia Theater for Life, a performing arts program for adults with developmental disabilities to present Belonging. The uplifting performance will showcase the talents of both groups. Dec. 8 at 7 p.m. The United Methodist Church, 410 D St., Petaluma. Donations of $5 suggested. 707/775-3794.

Ballet Story
Under the direction of Teresa Lubarsky Schork, the students of Healdsburg Ballet perform a full-length Night Before Christmas. The characters in Clement B. Moore's story come to life as they dance to the music of Bizet and Tchaikovsky in this three-act ballet. Dec. 15 at 7:30 p.m., and Dec. 16 at 2:30 p.m. Jackson Theater at Sonoma Country Day School, 4400 Day School Place, Santa Rosa. $10.50 in advance; $15 at the door. 707/431-7617.

Sophie & the Enchanted Toy Shop
Marin Dance Theatre's enchanting ballet, created by two award-winning local choreographers, features a cast of 90 characters. The toys come to life on Dec. 15 at 1 and 5 p.m. Marin Memorial Auditorium, Marin Center, Avenue of the Flags, San Rafael. $25-$20 for adults and $14 for children. 415/499-7687.

World Dance
Cultural music and dance exhibition of many cultures, including Irish, Mexican, Caribbean, and Native American. Nov. 30 at 6 p.m. Guerneville Veterans Hall, Guerneville. Free. 707/869-3533.

Songs of the Season

Carols in the Caves
Multi-talented local musician David Auerbach celebrates his 16th year of performing traditional Christmas music from America and beyond on rare instruments in the cask-lined caves of local wineries. His vast collection includes the Celtic harp, hammer dulcimer, pan pipes, and bowed psaltery (an ancestor of the violin). Auerbach plays on Nov. 24 at 7 p.m. and Nov. 25 at 2 p.m. at the Clos Pegase Winery, 1060 Dunaweal Lane, Calistoga; on Dec. 1-2 at 2 p.m. at the Hans Fahden Vineyards, 4855 Petrified Forest Road, just west of Calistoga; on Dec. 15-16 at 2 p.m. at the Folie à Deux Winery, 3070 St. Helena Hwy. N., St. Helena; and on Dec. 22 at 7 p.m. at RMS Carneros Alambic, 1250 Cuttings Wharf Road, Napa--not a cave, but amid the cognac stills. $35. 925/866-9559.

Chanticleer Christmas
The Chanticleer Men's Chorus performs traditional carols and medieval and Renaissance sacred music that brings the holidays to life. Dec. 18, at 6 and 8:30 p.m. St. Vincent de Paul Church, 35 Liberty St., Petaluma. $32-$22. 415/392-4400.

Winter Concert
The Occidental Community Choir celebrates Christmas, Hanukkah, and the winter solstice at its annual Winter Holiday Concert. Dec. 1 at 8 p.m. at the Church of the Incarnation, 550 Mendocino Ave., Santa Rosa; Dec. 2 at 7 p.m. at the St. Phillips Center, Occidental; Dec. 8 at 8 p.m. at the Sebastopol United Methodist Church, 500 N. Main St., Sebastopol; Dec. 9 at 4 p.m. Clos Pegase Winery, 1060 Dunaweal Lane, Calistoga. Tickets are $7 ($12 for Calistoga). Kids under 18 get in for free. 707/547-0204.

Magical Harp
Napa Valley Museum's Music in the Gallery series continues with a performance of soothing harp music by local harpist Colleen Carter, who has been playing Celtic harp for years but recently added concert harp to her repertoire. Dec. 8, 2 p.m. Napa Valley Museum, 55 Presidents Circle, Yountville. Call for price. 707/944-0500.

Petaluma Sings!
This talented local choir presents the songs of the season in what has become a much-loved holiday tradition. Dec. 15 at 8 p.m. St. Vincent Church, Bassett and Liberty streets, Petaluma. Call for price. 707/763-8920.

'Tis the Season
Choral Singers of Marin will help you catch the spirit of the season and lead you in a rousing burst of caroling. Everyone, even the flat-voiced, can join in! Dec. 16 at 4 p.m. Marin Memorial Auditorium, Marin Center, Avenue of the Flags, San Rafael. $15-$28 for adults or $10 for students and children. 415/472-3500.

Sing-Along Messiah
Join the West Marin Festival Singers and Orchestra in a sing-along of this glorious choral piece. Dec. 16. Call for time and prices. Dance Palace, Fifth and B streets, Point Reyes Station. 415/663-1075.

Dickens Celebration
Step back in time when Falkirk Cultural Center presents a Victorian Holiday Benefit and Dickens Celebration. The evening will spotlight Caroling Kids, the Starlight, characters in Dickens attire, and Father Christmas. Dec. 7, 6 to 9 p.m. 1408 Mission Ave., San Rafael. $8. 415/485-3328.

Vivaldi Sing-Along
Flex those vocal cords when the River Choir--accompanied by the Coffee Concert Chamber Ensemble--hosts the fourth annual Vivaldi's Gloria sing-along Christmas tradition. Dec. 16 at 7 p.m. Newman Auditorium in Elliot Hall, Santa Rosa Junior College campus on Elliot Ave., Santa Rosa. $12. 707/869-0516.

Happy Hanukkah

The North Bay offers a plethora of opportunities to celebrate Hanukkah. Here are a few.

Beth Ami Congregation/Santa Rosa Jewish Community invites families to a dinner, dancing, music, and a play on Dec. 11 at 5:30 p.m. Friedman Center, 4676 Mayette Ave., Santa Rosa. $6 for adults and $4 for kids. 707/545-4334.

Petaluma's Congregation B'nai Israel holds a Hanukkah dinner (chicken or vegetarian) on Dec. 9 at 5:30 p.m. Bring your own menorah and candles for a special lighting ceremony. Call for prices and reservations. 707/762-0340.

Keeping the holiday humming, the River Choir, directed by Sonia Tubridy, performs "O Magnun Mysterium." Dec. 9 at 7 p.m. Guerneville Community Church, 14520 Armstrong Woods Road. Call for prices. 707/869-0516.

Other Traditions

Winter Powwow
The American Indian Cultural Education Committee presents its fourth annual one-day intertribal celebration of American Indian culture. The event features traditional music, drumming, food, arts and crafts, and several kinds of dancing, including Pomo dancers, Aztec dancers, and gourd dancing. Dec. 1, 10 a.m. to 10 p.m. Veterans Building, 1351 Maple Ave., Santa Rosa. Admission is free. 707/869-8233.

Las Posadas
Traditional and classical songs are combined to create an interpretation of old California's culture during Las Posadas. The Mother Lode Musical Theatre presents this bilingual concert version of the traditional early California procession of music and dance. Las Posadas is a holiday ceremony in which local people act out a musical version of the biblical story of Mary and Joseph seeking shelter for the birth of infant Jesus. Dec. 15 (call for time). Dance Palace, Fifth and B streets, Point Reyes Station. Free. 415/663-1075.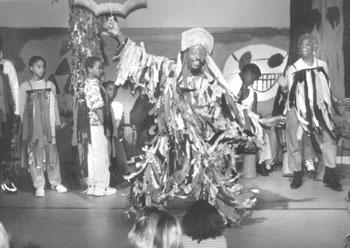 Kwanza Capers: Celebrate African-American heritage in a kid-friendly event on Dec. 16 at the Bay Area Discovery Museum in Sausalito.
Kwanza Celebration
The Bay Area Discovery Museum celebrates African-American heritage in this fourth annual event. Families will make traditional African crafts and watch live entertainment. Dec. 16, 11 a.m. to 4 p.m. Fort Baker, 557 McReynolds Road, Sausalito. Free. 415/487-4398 or 415/289-7266.
Fiesta Navidad
A Mexican Christmas fiesta comes to the Luther Burbank Center for the Arts, complete with colorful regional dances from Ballet Folklórico Mexicano de Carlos Moreno. Dec. 5 at 7 p.m. Luther Burbank Center, 50 Mark West Springs Road, Santa Rosa. $14. 707/546-3600.
Magical Miscellany
Ice Art
Gawk as world-class ice carvers transform up to half a ton of ice into glistening works of art during the Napa Valley Ice Art Championship. This cool event is warm-up competition for the 2001 Ice Art Championship, which is scheduled to be a qualifying event for the 2002 Winter Olympics in Salt Lake City. Nov. 23, 2 to 5 p.m. in downtown Yountville. Free. 707/944-0904.
Chocolate Sampling
Get a massive endorphin fix at this sweet little event, which is part of the Napa Valley Museum's program of events. Among the attractions: learning how chocolate can be made right in our own backyard using 25-year-old recipes. Dec. 14 at 2 p.m. Vintage Sweet Shoppe, Browns Valley, Napa. Call for prices and reservations. 707/944-0500.
New Year's Eve
First Night Santa Rosa
This drug- and alcohol-free New Year's Eve celebration in downtown Santa Rosa is slated to be a bit smaller this year, but it will still feature a myriad of musicians, performance artists, poets, dancers, food vendors, and activities for kids. This year the focus is on interactive projects and venues, including a community sing-along, a journey through a labyrinth, a hands-on art project, and dancing in the streets. Dec. 31, starting at 4 p.m. Entry badges (available at Copperfield's bookstores) are $7 in advance and $10 at the gate. 707/577-6448.
Best of the S.F. Comedy Competition
The long-running standup competition that's discovered the likes of Dana Carvey, Sinbad, and Robin Williams offers a year-end "best of" event featuring performances by four alums of previous contests. Dec. 31 at 9 p.m. $25. Marin Memorial Auditorium, Marin Center, Avenue of the Flags, San Rafael. 415/472-3500.
Comic Relief: Political satirist Will Durst serves up two year-end shows at the Mystic Theatre in Petaluma.

Will Durst
Just before New Year's Eve, the political satirist labeled a "modern-day Will Rogers" by the Los Angeles Times caps off this long, strange year with two performances. Dec. 29 at 7:30 and 10:45 p.m. Mystic Theatre, 23 Petaluma Blvd. N., Petaluma. $17. 707/765-2121.
[ North Bay | Metroactive Central | Archives ]