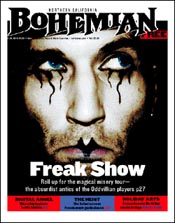 For the Week of
November 16-22, 2000
Cover: Odd Company
The spooky vaudevillians of the Oddvillian Sideshow take center stage.
News: Spray Not
Vine pest control may threaten organic farms.
Newsgrinder: Important events as reported by daily newspapers and summarized by Daedalus Howell.



Digital Angel: Put that micro chip where the sun don't shine.
E2K Breakdown: Unnatural disaster or act of God?
Open Mic: Book Case.
Geek Girl: Logan runs again.



French Twist: Left Bank chef Steven Obranovich keeps things smokin'.
The Wide-Eyed Gourmet: The cool of culinary artistry.
Heard It Through the Grapevine: Get to the root of all things wine.



Rumble in Paris: Classic 'Rififi' returns with style to burn.
True Love: 'You Can Count on Me' earns its intimate warmth.



Two of Us: Jazz greats Herbie Hancock and Wayne Shorter hook up for concert tour.
For the Record: CD box set spotlights Arhoolie label chief Chris Strachwitz.
San Francisco Jazz Festival: The SF Jazz Organization presents this showcase of premiere performances by world-renowned artists in venues all around San Francisco.
SF Club Guide: Disco divas, hip-hop connoisseurs and salsa suaves to flannel-clad pinball players, jazz luminaries and more from the City by the Bay.



Making Merry: Deck the halls, light the menorah, and strike up the mariachi band as we present our selective guide to this season's celebrations in the North Bay.



View to a Kill: 'Three Viewings' gives new life to death biz.



A Friend In Need: T. C. Boyle savages hypocrisy in 'A Friend of the Earth.'



Please don't forget to write! The Northern California Bohemian welcomes letters commenting on our coverage or other topics of local interest. Please keep all letters at 300 words or less (we reserve the right to edit them for length and style) and sign them (unsigned letters will not be published). A local phone number must be included for verification. Postal: Northern California Bohemian Letters, 50 Mark West Springs Road, Santa Rosa, CA 95403. Fax: 707/521-1966. Email: [email protected]. Emailers, please include name, city of residence and phone number. Letters printed will list email address unless otherwise specified. Letters to the editor are not currently published in the online version of this paper.