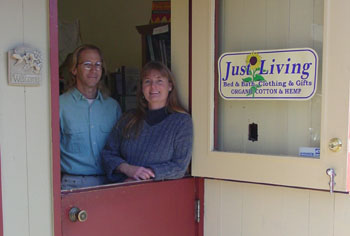 Bedfellows: Eileen and Doug Kearns support sheep ranching, which in turn supports the natural bedding industry.

Counting Sheep

Wool guarantees green sleep for the holidays

By Michael Shapiro

Considering that we spend about a third of our lives in bed, it's surprising that most of us don't give more thought to the place where we lay our body down. Not only do we tolerate lumpy or boatlike mattresses, most of us are sleeping in a bed of chemicals. To give consumers a healthy sleeping option, Eileen and Doug Kearns opened Just Living in downtown Sebastopol in 2002. They sell all-natural foam and innerspring mattresses, made from pure latex, organic cotton and untreated wool.

Conventional mattresses give off toxins that can affect one's immune system. One of the body's goals during sleep is detoxification, and that occurs more naturally on synthetic-free bedding. Among the toxins in conventional beds is the fire retardant PDBE, which will be banned by the state of California in 2008. PDBEs, which have a similar molecular structure to PCBs, can cause memory loss, learning disabilities and decreased sperm count; the chemical is also a suspected carcinogen. And it's just one of many chemicals still being used in most conventional beds.

A typical queen bed from Just Living, replete with a foundation, frame and delivery, retails for about $2,000; the price can be a bit lower during sales. Some consumers balk at the cost, but Eileen Kearns emphasizes that natural materials are worth the investment for the health of the person and the planet. "That's less than $10 a month for a wonderful sleeping environment over the 20-year life of the bed," she says. Furthermore, the store is committed to paying a living wage to its U.S. and overseas manufacturers. "That's one of our selling points when people cry about the price," she says. "We tell them we're making sure workers are getting a fair wage."

Just Living is the sole Sonoma County dealer for Natural Bedroom products; the Green Fusion Design Center (14 Greenfield Ave., San Anselmo, 415.454.0174) serves Marin County. Natural Bedroom is a manufacturer that participates in the trademarked Pure Grow Wool program. Wool, a natural fire retardant, enables these beds to meet the state's fire prevention standards without using synthetic chemicals, says Kearns.

Joe Pozzi, a Valley Ford sheep rancher, was an early member of Pure Grow Wool. He says that the program has opened new markets for his fleece. Before 1993, when Pure Grow Wool started, "we didn't do much with our wool," he says. "Then we found it worked well for the batting in beds, so we came up with a set of standards that we follow."

The program calls for no chemicals, pesticides or artificial materials in the sheep's environment. The pastures where the sheep graze must be free of pesticides for at least two years, and supplemental feeds must be organically based. Inoculations must not contain synthetics or hormones. In the shearing process, ranchers use a clean room and a surface free of dirt, dust and pests.

But the Pure Grow Wool program is not officially certified in the same way as organic food. Instead, it's monitored by its members, and Pozzi says he and others require strict adherence to the program's guidelines. Pure Grow Wool has helped sheep ranchers, who have been threatened by cheap imported wool, to stay in business. There are about 30 members in Sonoma and Marin counties, and more than 100 statewide, Pozzi estimates.

The Natural Bedroom is an essential partner in the Pure Grow Wool program. The bed manufacturer promises to pay above-market prices for wool from producers that adhere to the program's strict guidelines. This gives local ranchers the market they need to survive.

For their part, Eileen and Doug tried to get a Small Business Administration loan to start Just Living; when they were denied, they financed it themselves. "We still haven't put the money back, but we don't regret it at all," Eileen says. "We're doing something worthwhile with our lives."

Though they haven't made a ton of money, Eileen says that's not the point. "We're not out to make a killing; our goal is a just living," she says, riffing on the store's name. "We're just living."
---
Just Living, 137 N. Main St., Sebastopol. 707.823.4499.
---
[ North Bay | Metroactive Central | Archives ]