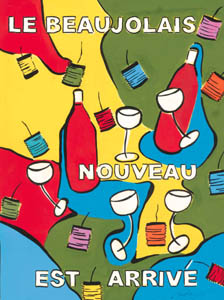 Il est arrivé!: The arrival of Beaujolais Nouveau marks a chance to celebrate the recent harvest.

Young Dead Grape

Beaujolais Nouveau, rushed off the vine and down our gullets

By Ella Lawrence

Do you know where you'll be at the stroke of midnight on Thursday, Nov. 17? I'm going to be sitting in a cafe in Lyon, France, waiting for a horse-drawn carriage to come galloping down from the vineyard bearing the first wine offering of 2005. I'll raise my glass and shout, "Hurra! Il est arrivé!" and take a gulp of the sweetly tart new wine before I begin a week's worth of revelry that will take me from Burgundy to Paris, celebrating the release of the Beaujolais Nouveau.

OK, I'm lying. I'm not going to be in France, I'm going to be at work, in a restaurant, but lots of people in Lyon will be doing exactly this sort of waiting and quaffing that night. The grapes, which until just three months ago still clung to their vines, have been crushed and fermented and barely barreled, and the party can begin. This is the tradition of Beaujolais Nouveau, which originated as a local celebration in the bars and cafes of France's southern region of Burgundy. Locally, Paradise Ridge Winery celebrates youth-in-a-bottle on Nov. 18.

Here's the deal. Take the grapes, crush 'em quick and rush the stuff from the vineyards to the bars via bicycle messenger, carriage, hot-air balloon, car or truck, and the race is on. This light wine, marketed in France and worldwide as the first wine of the new vintage, is moved from vine to bottle through a speedy fermentation in time for the annual release date. Called by some a transition wine, Beaujolais Nouveau is an excuse to party in France that marks the end of crush and harvest and the beginning of the wait for the more expensive Beaujolais wine, which has just gone into the barrel and won't be released until spring or later.

The tradition of drinking Beaujolais Nouveau originally began in Burgundy, where the Beaujolais region sits, but the Parisians eventually caught wind of the wine race, and drinking Beaujolais Nouveau as quickly as it could be made became a national pastime. Shortly after WW II, the wine began to be spirited away from the countryside and into the city, where it was swilled by the bucketful.

It wasn't long before wine fans worldwide heard about the trend of drinking new French vin and wanted to be among the first annually to taste this fresh wine. Beaujolais vintners happily provided wine shops and cafes around the world with the new releases, as long as buyers agreed not to sell the wine before the official release date of the stroke of midnight on the third Thursday in November, a date sanctioned by the French government to ensure that the celebrations would fall late in the work week.

Until 1985, the official release date for Beaujolais Nouveau had been Nov. 15, but as worldwide marketing became an increasingly important factor in the consumption of Beaujolais Nouveau, France's government changed the wine's release date to a Thursday to ensure a busy weekend in restaurants, bars and cafes.

This slightly sweet, slightly tart, low-alcohol quaffer, promoted for its freshness, is best described as fruity and simple. Gamay, the grape varietal used in all Beaujolais wines, lends itself well to the speedy production of Beaujolais Nouveau. The wine is made by a process called carbonic maceration, in which entire bunches of the Gamay grape are allowed to ferment in sealed containers with carbon dioxide gas, which gives the finished product lots of fruit notes and color, and very few tannins. Reminiscent of the summer's rosés, this is a wine best drunk quite cold. All across France and worldwide, wine lovers are raising their glasses to the summer past in anticipation of the cellaring season to come.

Beaujolais Nouveau is less about wine geekdom than it is about fun. It's a perfect match for everything at the holiday table. Light and sweet enough to pair with turkey and cranberry relish, Beaujolais Nouveau is also robust enough to please more discerning palates. It is characterized by some as a full white wine, by others as a pink wine and by optimists as a glass half-full. Considered by none to be a "serious wine," it's made for chugging, not sipping (which is why I like to drink it at family holiday gatherings).

While some curmudgeons call the race to be the first to drink the nouveau Beaujolais a whole lot of marketing hype, it's still fun.
---
The Alliance Française hosts its third annual Beaujolais Nouveau celebration with special guest Michele Anna Jordan on Friday, Nov. 18, at the Paradise Ridge Winery. French singer Joseph Bain performs, food will be abundant and chef Roger Praplan of La Gare presides over the onion soup. 45645 Thomas Lake Harris Drive, Santa Rosa. 6pm to 9pm. $25–$40. 707.543.8151.
---
[ North Bay | Metroactive Central | Archives ]