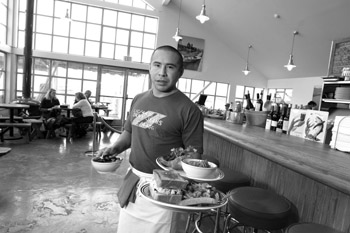 Photograph by Michael Amsler

See Food: A server named Miguel carries such temptations as a Saigon Salmon Sandwich and a Tuna Melt to customers at Fish.

Flopping Fresh

Attack of the 50-foot squid sandwich and other fish tales

By Heather Irwin

Oh, my. There seem to be legs sticking out everywhere from my sandwich. Little pink tentacles, really, as well as heads the length of my index finger. Or are they beaks? I seem to have missed that section of biology.

Whatever the case, I've been repeatedly assured that these little cephalopods are both eco-friendly and spanking fresh. (Whew.) So, with a decided dousing of tartar sauce, I call the whole thing good, guiding the torpedo roll of legs, heads and sauce home with a happy chew. And chew. And chew. Hey, this is squid after all, and requires a solid commitment to thorough mastication. Yet, all I can think about is that old saying "You are what you eat" with a bit of a shudder, before I swallow it, fins and all.

But what I'm eating, despite my own slight squeamishness, isn't a bad thing to be at all. The folks at Fish are fairly fanatical about, well, fish--as well as cephalopods, crustaceans and other sea creatures making their way onto your plate. Chances are that whatever you're eating was swimming happily along, minding its own business rather recently, as in hours ago, not days or weeks. In fact, the restaurant is closed on Monday and Tuesday primarily because the fishing boats don't go out those days, I'm told. So, I suppose if anything, I'm fresh.

Headed up by Masa's former executive chef Chad Callahan, this Sausalito seafood cafe has the benefit of a celeb-status chef deciding what gets breaded, battered and poached each day. Yet despite being the spawn of a culinary star, the six-month-old restaurant has thus far avoided the paparazzi and settled into a simple, order-at-the-counter affair that eschews pretension and fussiness. OK, there's a little fussiness (brown-buttered Brussels sprouts?), and lunch will easily cost you upward of $17. This is Sausalito, after all.

But the food and ambiance make Fish so worth it. A pair of gnarled fishermen fresh from the catch exchange fish stories just outside the restaurant. I'd swear they were planted for atmospheric effect if I were a more jaded person. In a world where seafood is typically something seen through sanitary plastic wrap, neatly filleted and divorced from the sea, it's somehow exciting to move up the supply chain a bit, even if you have no idea how to swab a deck or tow a line. Inside the restaurant, large chunks of tuna belly, tilapia and some sort of flat fish I can't quite identify look out from a bed of ice, decidedly unprocessed and practically flopping around.

See, at Fish the big idea is getting to know the true taste of fish--the inner fishiness of your fish. Which isn't really fishy at all. Suffice to say, there's not much fiddling done with the food. You'll see plenty of whole fish (heads, eyeballs and all), unbreaded calamari (fins intact) and whole shellfish (heads and tails) that show off the beauty of the sea rather than trying to cover up freezer burn or sub-par catches. Picky, possibly to a fault, the cook sniffed each piece of fish (and tossed a few back) as he cooked in the large open-view kitchen. A little too familiar with your food? Possibly, but the results pay off in some of the flakiest, loveliest fish I've ever had the pleasure of eating. I'll handle a little fish-sniffing, thank you.

The menu is straightforward and constant for both lunch and dinner, though a large variety of specials tend to sometimes eclipse the regular plates. That's not a bad thing. The Monterey calamari sandwich ($15) was featured on the ever changing chalkboard on a recent visit. Served with shoestring fries, house-made tartar sauce and an Acme torpedo roll, it spoke to me. Not literally, of course; that was my friend insisting I try it after poking a tentacled mass into his own mouth. I took the bait.

Always on the menu are two chowders: red and white. Now, I'm not about to step onto the minefield of what constitutes a "real" chowder, though if you stand at the counter long enough, you'll undoubtedly hear someone else do just that. There seems to be an ongoing battle between purists for the cream-based white chowder and those for the Portuguese-style red chowder, made with tomatoes, clams, cilantro and wine. I'll simply say this: if you don't order the New England white chowder ($4 cup), you're a damned fool. The unfortunate recipient of one too many nasty, gluey chowders in my life I can say that this is a true chowder. The broth is thin enough to let the little morsels of clams, potatoes, onion and celery swim around happily, yet thick enough to be hearty . . . and buttery . . . creamy . . . drooling . . . aaggghh! Yep, it's that good.

Another sure bet is the halibut fish and chips ($15). The fish is locally caught, battered with Anchor Steam beer and flour, then fried crispy. Not one for an inch-thick coating of greasy glop, these little beauties are delicately handled with just a light windbreaker of batter that lets the fish, rather than the oil and flour, shine through. The house-made tartar sauce is served up generously and gives the fish a soulful baptizing.

Also a solid choice is the fish taco plate ($10), with tasty grilled white fish, corn tortillas and all the fixin's. Important to remember with just about every entrée, however, are the fries. Eschew the salad this one time. Fish's fries are cut thin, fried up fresh and served liberally.

For those who don't like seafood (how very sad for you), there are a handful of items on the menu: salad, a Niman Ranch hamburger and grilled cheese, as well as a peanut butter and jellyfish sandwich (all jelly, no fish) for the kids.

The restaurant itself is situated in a former restaurant that was a former boat shop at the edge of the Sausalito harbor, and Fish perches bayside with huge windows that look onto the marina. With informal picnic benches serving as the only seating both inside and out, there's no need to dress for the occasion, and there are plenty of crayons and stain-proof concrete floors for kids and the otherwise messy.

The daytime crowd is a perfect mix of Chanel-clad lunching ladies, after-work locals and seafood fanatics who have sussed out the signage-free restaurant (quaintly tucked back behind the deli and bait shop). Grab your own napkin and silverware at the little service station and an old National Geographic to read as you munch, breathing in the salty tang of bay air. Evening is pretty much the same scene, only with more beer, served up in jelly jars.

Along with your dinner, you get a healthy dose of ecological information about what you're eating, should you choose to read any of the many pieces of sustainability literature placed around the restaurant. You'll learn that Dungeness crab (the season starts next week!) is a good fish to buy, along with spiny lobster and farmed tilapia. On the "it depends" list of seafood that is sustainable are squid (uh oh), sole and mahi mahi. Wild caviar, Chilean sea bass, monkfish, orange roughy and farm-raised salmon make the "bad" list as seafood that is either overfished or unsustainable. Without being preachy, its nice to be informed when you're being eco-friendly, which of course makes what you eat somehow more palatable, tentacles and all. And that's no fish tale.
---
Fish is located at 350 Harbor Drive, Sausalito. Open Wednesday-Sunday, 11:30am-4:30pm and 5:30-9:30pm. 415.331.FISH.
---
[ North Bay | Metroactive Central | Archives ]