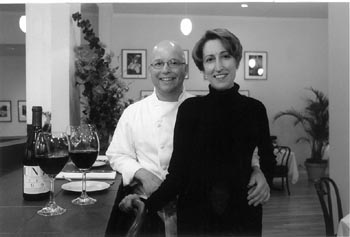 Photograph by Michael Amsler

Cinfully delicious: Chefs John Gillis and Gina Armanini, both of Glen Ellen's Girl and the Fig fame, have moved their culinary expertise to Calistoga, creating the sensational Cin Cin.

Cinsational!

Three cheers for Calistoga's Cin Cin

By Paula Harris

SINCE CALISTOGA is just a hop, skip, and a scenic 18-minute drive on undulating Calistoga Road from Santa Rosa's Rincon Valley, you can almost believe this small country town belongs in Sonoma County. What the heck, let's forget boundary lines and adopt it. On a recent blustery fall evening, we strolled down the Old West-style main street, with its old-fashioned street lamps and warmly glowing shops, and were stopped in our lazy tracks by a chalkboard beckoning from one street corner. "Tonight," it announced in large happy script, "Grilled rabbit--Lamb osso bucco with gnocchi--New wines beaujolais/chablis/zin/syrah!"

We were outside Cin Cin. The chalkboard worked its magic and lured us into the handsome restaurant for dinner. Chefs John Gillis and Gina Armanini, both of Glen Ellen's Girl and the Fig fame, opened the Italian-inspired bistro in neighboring downtown Calistoga this summer, and we were eager to try it.

Cin Cin (pronounced Chin Chin and meaning "cheers" in Italian) has a very architecturally aesthetic dining room. Lots of clean lines but not at all cold or sterile. The walls are a light eggnog color, and incandescent egg-shaped lamps hang from the ceiling. A pair of potted palms stand like leafy sentinels by the door in their terra-cotta urns. The sound system plays tasteful classical and Italian selections.

There are beautiful framed black-and-white photographs depicting Georgia O'Keeffe-type blooms, and outdoor scenes of fields and clouds. The tables are all white and silver (crisp white linens, tea lights in glasses, silvery breadbaskets, white china, and gleaming wine goblets). There are also counter seats by the open kitchen.

The baked goat cheese ($8.50) was soft and luscious. The warm pile of cheese (which had only the softest bite of tanginess) was set on a crispy fig leaf (according to our server) from the owner's garden. The leaf seemed glazed with a slight honey flavor. There were plenty of toast slices on which to smear the chèvre. As a nod to their last employ, the chefs included a handful of sweet, juice-laden black mission figs to the dreamy dish. One quibble: the vinaigrette on the accompanying salad greens was a bit too tart and jarring against the creaminess of the baked cheese.

The warm salad of duck confit ($8.50) may be called "salad" but sure ain't rabbit food and was very welcoming on this autumn evening. It consisted of generous shredded duck, toothy white flageolet beans, French beans, and some feathery frisée greens all dressed in a pancetta-shallot vinaigrette. Highly recommended for its flavor combo, substantial texture, and ability to fill and warm the tummy.

Risotto with roasted wild and cultivated mushrooms and truffle oil ($15.50) boasted outrageously plump and moist grains of rice and a melange of mushrooms that seemed to invoke the smokiness of grilled meat. "It's positively steaklike," announced our vegetarian companion, sporting a silly grin. However, on another visit he was less pleased with a pasta special ($15) containing fava beans, goat cheese, and heirloom tomatoes, because the fettuccine was clumped together.

The grilled quail ($18) was well presented, with two slender birds resting on a bed of delicate butternut-squash risotto. The golden birds were not overcooked and were flavored with a thyme demi-glace.

ONE OF THE MOST outstanding dishes was the lamb osso bucco ($17). Served in an oversize soup bowl, the hearty but highly tender lamb shanks were surrounded by a super-thick rich gravy that begged to be dunked with crusty bread. Airy cushions of house-made gnocchi added soft texture, although their flavor was somewhat lost beneath all the brawny flavors. A marvelous robust dish to come home to after toiling in the fields (or at the computer) all day.

Armanini has created some fine desserts. Gravenstein apple galette ($6.50) was served warm in a pool of brandied caramel sauce and accompanied by vanilla bean ice cream. The shakes of powdered cinnamon around the edge of the plate gave the dish a spicy burst.

The wafer-thin baked cannoli ($7) was filled with sweet fresh ricotta, dark chocolate, and candied orange. Melted chocolate and a variety of candied nuts completed the yummy picture.

Cin Cin has an exciting eclectic wine list, with bottles from France, Spain, Australia, Italy, Sonoma and Napa counties, and California's Central Coast. Many wines are available by the glass. Even so, many patrons bring in their own bottles (there's an $8 corkage fee).

The staff is knowledgeable and caring, and the pace is luxurious and unrushed. But reservations are greatly recommended (the restaurant turned away many who arrived later in the evening without them).

Cheers to Cin Cin--it's definitely worth the short jaunt.
---
Cin Cin
Address: 1440 Lincoln Road, Calistoga; 942-1008
Hours: Wednesday-Monday, 5:30 to 10 p.m.
Food: Italian-inspired bistro
Service: Knowledgeable and professional
Ambiance: Classy
Price: Moderate to expensive
Wine list: Excellent varied selection by the bottle or the glass
Overall: 3 1/2 stars (out of 4)
---
[ Sonoma County | MetroActive Central | Archives ]