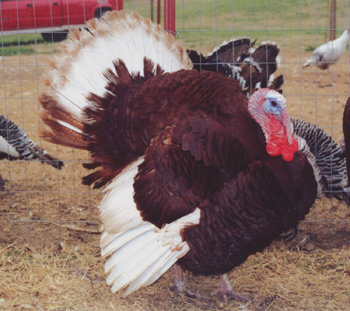 The Proud, The Few, The Turkeys: The bourbon red is a heritage breed turkey that Slow Food is working to preserve.

From Pen to Table

Turkeykind has experienced major changes over the past 50 years

By Sara Bir

Rare. Endangered. Vanishing. Critical. These are not terms commonly associated with turkeys, as 269 million are raised annually in the United States alone. Yet for a handful of breeds--the proud, and, sadly, the few--that is indeed the case. Over the past century, drastic changes in farming, as well as in the American diet, have whittled down to the thousands stocks of turkey breeds such as bourbon red, Narragansett, and American bronze. And the way to save them is by eating them.

That's the theory Slow Food is pushing. The international group, which promotes the preservation of ever disappearing traditions of eating, cooking, and farming, has launched a campaign to bring so-called heritage turkeys--breeds that represent a tiny fraction of the U.S. market--back to the table. The Healdsburg chapter of the group has been promoting two local purveyors of heritage turkeys: Willie Bird and S&B Farms.

The turkey has indeed had a long, strange journey from its Central American origins (when, 11 million years ago, it diverged from the pheasant) to its most common present-day incarnation. One of the first animals in the Americas to be domesticated, turkeys were so important to the Aztecs that they held two religious festivals a year dedicated to the birds. Spanish explorers brought turkeys back to Europe, whose inhabitants quickly took to the exotic bird.

When the Pilgrims came to the New World, they not only brought over domesticated turkeys, they began cross-breeding them with the native, wild species they saw. The noble fowl's dignity has since suffered. Changes in 20th-century farming streamlined poultry production and narrowed down the number of breeds raised. Before the '50s, broad-breasted bronze turkeys were the most common commercial breed. In 1937 a team of researchers discovered methods for artificially inseminating breeding turkeys, which allowed specific traits to be bred into the turkeys raised commercially.

The public's hunger for lean, mild breast meat led to the broad-breasted white, the Anna Nicole Smith of the poultry world. George Nicholas, founder of the Sonoma-based Nicholas Turkey Breeding Farm, played a major role in the development of the broad-breasted white, which dominates today's market. (Nicholas, inducted into the Poultry Industry Hall of Fame in 1983, was recognized in 1998 by the Press Democrat as one of the 50 people who shaped Sonoma County). Also known as large whites, broad-breasted whites cannot run, fly, or reproduce on their own. Because they are all white, they have the advantage of not having dark, inky pinfeathers on their carcasses when plucked as turkeys with darker feathers will.

According to the National Turkey Federation, 2002 per capita consumption of turkey in the United States was 17.7 pounds per person; in 1970, that figure was 8.1 pounds per person. Accordingly, U.S. turkey production has more than tripled in that time.

We consume turkey year-round in many forms, the majority of which are designed not to taste like turkey but other things: turkey ham, turkey burgers, turkey bacon, turkey sausage, that slimy turkey luncheon meat. And then November comes around. Butterball, Perdue, Foster Farms. Frozen turkeys, encased in white plastic like misshapen giant alien eggs, sit unceremoniously dumped into frozen food cases by the dozens.

Considering the brining, trussing, stuffing, basting, and carving devoted to the perfect bird--the centerpiece of the Thanksgiving meal--we seem to care very little about its history before that. There's a discrepancy between the handsome images of full-grown toms strutting with their colorful tails fanned out and the pallid, goose-pimpled carcasses that sit in our refrigerators thawing the few days prior to the big T-day event. Most of us are not even old enough to remember what turkeys tasted like before broad-breasted whites came along.

There are options, though, and this is where the heritage birds come in. Santa Rosa's Willie Bird, whose free-range turkeys have long had a holiday cult following, raised 200 bourbon reds (once an important commercial bird) for this November, and Sylvia Mavawalla's S&B Farms raised 36 Narragansetts. Heritage birds are heartier, have firmer flesh, more dark meat, and a more distinct turkey flavor.

At S&B Farms in east Petaluma, the Narragansetts cluck and titter contentedly in a large pen enclosed by black nylon mesh because Narragansetts like to fly. Named for Narragansett Bay in Rhode Island, the birds are the oldest turkey variety in the United States. Fewer than 1,000 of them are alive today. With their salmon-colored feet standing out against their feathers' speckled black pattern, the Narragansetts have large whites, black Spanish, and standard bronze turkeys to keep them company. The birds get a lot of attention and space, and are raised using what Mavawalla calls "old-time farming methods. We feed them hay--they love grasses and hay."

Mavawalla has about 50 turkeys in all this year on the farm she and her husband, Bajun, have had since 1979, where they raise geese, rabbits, chickens, pigeons, cattle, sheep, pigs, and goats, in addition to turkeys. This year marks the Mavawallas' first go with the Narragansetts, though. It hasn't been very easy so far. The birds can be very sensitive to weather and changes in diet, and Mavawalla lost over half of her Narragansetts when the feed store could not get her regular feed in on time and she had to use a different brand.

Mavawalla dresses each goose and turkey individually. Normally she can do three to four in an hour, but a tricky one can take longer. "What you're getting here is everything that came out of that bird," she says. So you know that the heart, neck, liver, and gizzard came from the turkey you bought--unlike, say, a Butterball, whose giblet sack can sometimes disconcertingly contain two hearts and no liver.

S&B Farms' advertising is all word-of-mouth, though there is a sign at the end of their property that reads "Fresh-Dressed Turkey and Goose." Mavawalla says her customers come early. She's now sold-out of Narragansetts, but has other heritage birds still available. "About half of the ones I've sold are to my regular customers," she says. "We have a walk-in clientele, and most of it is immigrants in the Hispanic trades. They're not into buying something old and dead from the market. They want it fresh--buy it live and take it home and do it themselves. Most of the geese are sold to people with a European-type background, and their tradition is to have a goose for the holidays."

At S&B Farms, you can't just waltz in and ask for a 14-pound heritage turkey on the spot, like you can at the grocery store. "The last hatch that I can get is the end of June. Turkeys, at five months, are enormous. So if you want to butcher it so you get a 10- or 15-pounder, you've got to do it while they are very young," explains Mavawalla. "Plus you're not getting a lot of flavor out of it, and you've got to put it in the freezer and keep it for several months. That's one of the things about the heritage [breeds] having more flavor, because they are older."

Heritage turkeys don't come cheap. Both S&B Farms' and Willie Bird's heritage birds sell at their dressed weight for $4 per pound. If you're buying a 20-pound bird, that's an $80 investment. Compare that to your average Butterball, which will run $1.29 per pound or less.

Mavawalla isn't sure she'll raise the more demanding heritage turkeys next year, but Willie Bird (whose bourbon reds were spoken for months ago) will.

Of course, it's not realistic that all 269 million turkeys raised in 2004 be heritage breeds. In fact, it's just plain impossible, because heritage breeds were not developed to be raised in the numbers that large whites are. But if you want a bird with more history, care, and attention invested in it, your options are either pay the premium or raise your own. For a special holiday meal, a heritage bird may be worth it. "The only way to really guarantee [that they'll still be around]," says Mavawalla, "is to make it worthwhile raising them and to start eating them."
---
Willie Bird is sold-out of bourbon reds, but you can always get your foot in the door. To be placed on the mailing list for next year's heritage turkey project, e-mail your name and contact information to [email protected]. To order a turkey or goose from S&B Farms, call Sylvia Mavawalla at 707.763.4793. Learn more about heritage turkeys from Slow Food's website at slowfoodusa.org.
---
[ North Bay | Metroactive Central | Archives ]