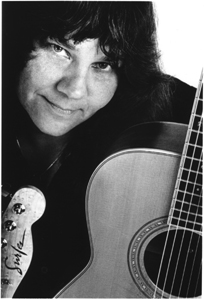 Photograph by Anne Hamersky

Songs of Humility: Nina Gerber has been described by her admirers as 'smoky and soulful.'

Just Plain Folk

In venues big or small, Nina Gerber delights

By Jordan Rosenfeld

The very word "folksinger" is humble--a singer for the folks, real folks like you and me for whom music is often a respite and a balm. Depending on the generation in which you became familiar with the term, you might imagine enormous stadiums swaying to Simon and Garfunkel or an intimate setting where the folksinger, in this case, Nina Gerber, is so close you could see her breath on a cold night.

"I like playing small venues. I do a lot of house concerts. I enjoy the smaller more intimate settings for their informal feeling," says Gerber.

"The thing about folk music is that you don't really expect to make it big," she adds. "So as long as I can keep working, playing good music with good people and can make a comfortable living, I'm happy and fortunate. The business of music is the unfortunate part. I don't like to have to deal with a lot of promoters."

Gerber did respond to one "promoter," Barbara Arhon, the Petaluma music teacher who founded and produces the Petaluma Folk Music Series in which Gerber will be performing with singer-songwriter Kathy Kallick on Nov. 22. The series is housed in equally humble quarters, the cozy and inviting atmosphere of the Petaluma Coffee Cafe.

Arhon notes that "the series itself has done very well; almost all concerts have sold out. It's been a combination of unknown singer-songwriters and very known, like Nina. It draws a nice crowd of people who appreciate music. I ended up at the Coffee Cafe because they are open to new ideas and enrichment of the community. It was like a dare to myself. I thought I could find something, and it just worked out."

Let it be known that Nina Gerber, who has been playing music most of her life, is no stranger to audiences of as many as 20,000. She played with music phenomenon Kate Wolf for years and even arranged and co-produced some of Wolf's albums.

"My folks forced me to take band in elementary school in Sebastopol," says Gerber. "I played clarinet for a couple of years and then switched to French horn. I was really bad at both, and I'm surprised that it didn't sour me on music completely. But it was good for me to learn about music and the musical language at an early age.

"I don't remember exactly when I started playing guitar, but I do remember that I was 15 years old the first time I heard Kate Wolf perform in Sebastopol. At that moment, I knew I wanted to be a professional musician, and more importantly, be in Kate's band. I started taking mandolin lessons with Don Coffin, who was in Kate's band and married to her. I went to every gig I possibly could attend, borrowing my parents' car.

"After a couple of years, Kate asked me to fill in for Don for a few gigs, and by 1978, I was working with her full-time. Most definitely, Kate Wolf was the most influential person in my musical life. She moved me so deeply that I decided to become a musician."

Gerber's newest album is Sweet Dreams: Lullabies for Guitar. She says of this album, "No matter what age, we can always use a little help to relax and unwind, especially in these crazy times. This recording of acoustic guitar instrumentals is an attempt to help calm and soothe."
---
Nina Gerber plays with Kathy Kallick on Nov. 22 at 7:30pm at Petaluma Coffee Cafe, 189 H St., Petaluma. Upcoming performers at the Petaluma Folk Music Concert Series include: SIBL Project Singers ($10), Dec. 6; Steven Seskin ($15), Jan. 31; Brian Joseph ($10), March 27; Dust Bowl Minstrel Singers ($10), April 17; Silk and Steel, and Cindy Kalmenson ($15), May 15. All shows start at 7:30pm at the Petaluma Coffee Cafe. For more information, call Barbara Arhon at 707.781.3272 or visit www.geocities.com/petalumafolk/concerts.
---
[ North Bay | Metroactive Central | Archives ]