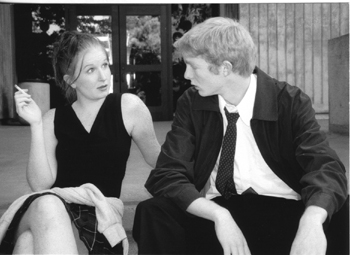 Not That Innocent: Alex (Kelly Campbell) and Reid (Brian Mackey) struggle with power and sexuality.

Behind Closed Doors

'No. 11 (Blue and White)' depicts a dark side of high school life

By R. V. Scheide

In the foyer of Sonoma State University's Evert B. Person Theatre, where No. 11 (Blue and White) is now playing, various fliers on the wall provide the cold, hard statistics on rape in the United States. The numbers that grabbed my attention were these: the average age of a rape victim in the United States is about 14; the average age of a perpetrator is slightly over 16.

If those figures can be believed, then clearly there are some things we're not doing right when it comes to educating teens, male and female, about proper sexual conduct. No. 11 (Blue and White), by up-and-coming playwright Alexandra Cunningham, is a grim, sometimes darkly humorous look at just how far the situation has deteriorated.

"How far will you go to protect the devil you know?" the playbill teases, and in this case the devil is Reid, star of a private East Coast prep school's lacrosse team and a player in every sense of the word. As his mother (Deah James) informs us, the girls have been knocking on his door since he was in grade school. Now a spoiled, indifferent senior, Reid is one of those guys who's always gotten what he wanted--with the exception of his first girlfriend, Alex, who broke up with him during his freshman year but remains his best friend and confidante.

Tall, blond, and handsome, Brian Mackey is perfectly cast as the selfish and defiant Reid. Kelly Campbell plays the role of Alex, the ex-girlfriend, who relishes in reminding Reid with flirtatious aplomb that there's one thing he can't have.

The drama unfolds against a simple, effective set designed by Elizabeth Langley featuring graffiti-covered walls, some lockers, and a disc jockey who spins the play's hip-hop soundtrack (compiled by sound designer Brooks Werner) without ever directly entering the action. Movable metal tables serve as useful props for creating, say, the dining room at high school for one scene, a teenager's bedroom the next.

The 13 members of the Sonoma State Center for Performing Arts student cast frequently pair off and take turns standing and delivering simultaneous, seemingly unrelated monologues in rectangles of light projected on either side of the stage. For instance, as Reid's mother speaks to the PTA about protecting our kids, a girl explains how she lost her virginity after getting drunk at a party.

The play--directed by Paul Draper--is heavily dependent on rhythmic timing, and when cast and crew hit on all cylinders (which isn't all the time), the overall look and feel is not unlike Rent as layers of dialogue, sound, and imagery build upon one another in a sort of collage/homage to teenage angst.

When Reid's current girlfriend, Paige (Jennifer Luker), leaves town days before the season's final lacrosse game, the coach (Damian Sagastume) advises Reid, "While the cat's away . . ." First Tammy (Catherine Morse) makes a play for him, but Reid, after shoving her hard against the lockers, says without conviction that he's determined to be faithful. At a party, he ends up offering Lindsay (Kelly Rose Anderson) a ride home. A shy but attractive wallflower, she's flattered by the high school star's attention. On the way home, he rapes her.

The audience never sees the rape, just Lindsay's disheveled appearance as she tries to explain to her clueless father (Matt Farrell) what happened. Anderson's gutsy portrayal of the just-raped Lindsay is utterly convincing and is the standout performance of the play. She can't bring herself to report the crime, even to her own father, and we feel the pain of her dilemma.

Meanwhile, Reid is relishing his power and next sexually assaults Tammy. Tammy fights back and finds the whole school aligned against her, especially Alex, who unflinchingly backs her ex-beau. How far will Alex go to protect the devil she knows? All the way, it turns out.

The most disconcerting aspect of No. 11 (Blue and White) is this blind devotion that Alex and the rest of the in-crowd bestow upon the alleged rapist--even in the face of overwhelming evidence against him. I'm not so sure that's the way the real world works, but if Cunningham is right, we're in a lot deeper trouble than I imagined.
---
'No. 11 (Blue and White)' plays Nov. 21 at 8pm and Nov. 23 at 2pm. Sonoma State University, 1801 E. Cotati Ave., Rohnert Park. $12 general; $10 faculty and administration; $8 students and seniors. 707.664.2353.
---
[ North Bay | Metroactive Central | Archives ]