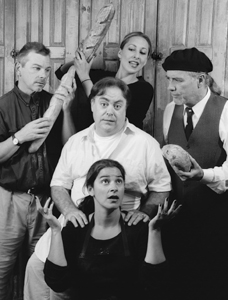 Rising Talents: The cast of 'Bread!' takes its kneading and rising seriously.





Bread Fever

Renowned bread builder Joe Ortiz bakes up a yeasty musical

By Sara Bir

Bakers know that rye breads are tricky; the doughs are sticky and slow to rise, and the dense, complex, almost sour loaves they produce are not for everyone. The quest for the perfect rye loaf can consume a baker's mind like ergot, a toxic fungus found as a parasite on grains of rye.

Joe Ortiz understands this. As founder and co-owner of Gayle's Bakery and Rosticceria in Capitola and renowned author of The Village Baker (nominated for an International Association of Culinary Professionals award) and co-author of The Village Baker's Wife, Ortiz has spent a year or two--or 20--around bread, living firsthand the obsession that baking can implant in a fermenting mind. If anyone is qualified to write a musical in which a secret loaf of rye bread is a central character, Ortiz is the man. Pooling his experience as a baker, musician, and writer, he wrote Bread!, a musical ode to the staff of life making its North Bay debut Nov. 23 at the American Center for Wine, Food, and the Arts.

From his home in Capitola, Ortiz summarized the whimsical plot, which takes place in present day in a small coastal California town: "It's about a crazy baker who moves with his wife from France to America to make his fortune. Because he's sleep-deprived and inattentive to his wife's needs, his wife is very fed up with him. He's dumped, has to get his wife back, deal with some nagging issues about his father--who comes to him in dream sequences, trying to give him these clues about this secret loaf of bread, which his father never taught him because he knew that it was dangerous.

"In the end, the baker realizes the errors of his ways, and instead of trying to make this secret loaf of bread, he decides to make a simple loaf to nourish people. His wife comes back . . . and they live happily ever after."

It's not all that simple. A vital plot twist to the baker's preoccupation with creating the perfect loaf of rye bread is that the story takes place in the middle of a rye epidemic that's causing people to hallucinate and fall into comas.

"I'd say it's a dramatic comedy, because it has dramatic parts as well," Ortiz says. "The baker has to do some soul-searching to solve his problems. He's one of these men who's obsessed with his work, and he thinks that this perfect loaf of bread that he can discover will make his reputation and give him fame and fortune. There's some tragedy in that. I think the combination between the two helps to make it so that it's not just a bit of fluff."

Despite similarities between the fictional baker and Ortiz the baker, Ortiz says Bread! is only quasi autobiographical. "I have been very obsessed about bread myself. That's part of the message: People have a tendency to get lost in their work and neglect the everyday beauties of life.

"The other thing that's oddly autobiographical," Ortiz continues, "is that my wife [Gayle Ortiz, co-owner of Gayle's] is now the mayor of Capitola, and there's a woman mayor in the show. When I did the show a couple years ago, my then director noticed that the cast was five men and two women, and she said, 'Why don't we turn the mayor into a woman so that we have another female voice in the chorus?'"

This present production of Bread! began with three dinner-theater performances in Santa Cruz in the beginning of October. "We did dinner theater to get it warmed up, and then we took it to Murphys, Calif., where I have some friends in a theater group called the Murphys Creek Players, and then we performed at the California Performing Arts Festival in Carmel.

Ortiz first struck upon the idea to write a musical about five years ago at the Maui Writers Conference, where he goes every year to teach book-writing seminars. "Being at the conference, I've had the chance to go to screenwriting seminars and playwriting seminars, and at one point I decided to write a story with some of the songs I had already written at the time. Then I figured I'd write the story and the extra songs, and turn the story into a musical.

"Some of the songs I wrote back in the 1970s before we opened our bakery. Before that I was a musician and I had written songs, and some of them made it into the show."

Because of baking's singular, focused nature, none of the songs that found their way into Bread! came to Ortiz during the actual act of baking. "I think you've got to put yourself in a position for songwriting," he says. "When I was actively baking, I had gone away from music and so I was not in the musical mode. Melodies kind of just inhabit your skull, but I think it usually happens when you're involved and listen to or play a lot of music."

Ortiz had been in a Top 40 band and a country band, and then began studying jazz about 15 years ago. "There's a lot of feeling in the show that's jazz-based. It's kind of a jazz musical. And also the idea that it's drawn from this French couple." The musical's current incarnation has three musicians playing accordion, bass, and guitar. "I call it a 'French bistro' sound," Ortiz says.

Fresh-baked songs from Bread! include "The Bread Baker's Song," "Toast," "Please Come Away with Me to Watsonville" ("It gets a lot of laughs--it even plays well up in Murphys, 150 miles up from Santa Cruz"), and the grand finale, "Bread," a be-bop tune the entire cast sings to convince the baker to come back and bake again. Like all big-time musicals, Bread! will have an original cast album. "We're working on it right now. We have several tunes that have been recorded, and there are a few others we're working on," Ortiz says.

All in all, Bread! is still, er, rising. "It's not done yet," Ortiz says with a laugh. "The thing is that every step of the way you learn something new. And the only way you can really get it up and running is to workshop it or put it into production because you learn so much. It's getting really close now. It's starting to look and sound like a show and people are really responding to it. I've been working on it for about four years and getting closer all of the time."

Busy enough with his and Gayle's other endeavors, Ortiz has no plans for future musical productions in mind. "I think if I have the energy, I'd like to just keep working on this one until I get it right. I've tried to make it so that it's a traveling show, more of a cabaret-type thing. There are really simple sets I can throw into the back of a truck and take to different places."

Ortiz is himself not one of the six cast members of Bread! "No, thank God," he says. "It's just enough to try to write it, to write the lyrics, and to produce it. I've been setting up all the shows. I hired everybody. When it's on the road, I feed people, so it's a traveling minstrel show. It's pretty tough to keep your wits about you and be in the show."

Being central to the musical's theme, it's only natural that many scenes involve bread or dough. "They're constantly putting bread in the oven. I think people will really like the idea of a food musical. Everybody has some relationship to food, and especially bread. It's kind of a universal subject matter. Using it as a symbol of life, passion, the simple life--it's kind of fun. People are really craving bread because they hear about it, spoken and sung about."
---
Joe Ortiz's 'Bread!' will be performed Saturday, Nov. 23, at 8pm. COPIA 500 First St., Napa. $20 (general admission not required). 707.259.1600 or www.copia.org.
---
[ North Bay | Metroactive Central | Archives ]