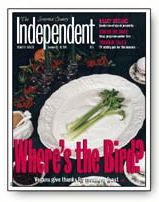 For the Week of
November 21-27
Cover: Where's the Bird?
Vegetarian chefs and devout vegans demonstrate their culinary prowess in creating meatless Turkey-Day feasts.
News: Truth or D.A.R.E
California schools are adding the D.A.R.E. anti-drug program at a rapid rate, even as parents and law enforcement officials across the nation are beginning to turn their backs on it. Is drug education failing our kids in the public schools?
Shook Out: Californians who scramble for earthquake insurance are in for a surprise.



Trek Tales: Everything you need to know about life you can learn on 'Star Trek' -- or at least that's what therapist Meg Pierce likes to tell her clients.



Honest Blues: Kelly Joe Phelps is a seeker with a bottleneck slide.



Talking Pictures: Bard-busting comedian Reed Martin experiences the souped-up new film 'William Shakespeare's Romeo + Juliet.'