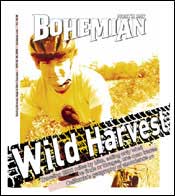 For the Week of
November 24-30, 2004
Cover Story: Geography of Abundance:
One man's two-month quest to travel the state of California by bike, eating only what he can find or forage. He learns to really, really love the lowly fig.
News: Talking Trash
Environmentalists claim proposed landfill expansion threatens wetlands.
The Byrne Report: Bennett Valley apartment complex residents displaced by high rents.
Briefs: Sonoma County code enforcement officials canceling 2 Live Crew concerts at the Rios nightclub.



Rev: Hyper Drive: Is the Dark Knight the only superhero encased in steel?



Critic's Picks: A guide to the week's best arts, theater and music events.



Xmas Exit: 'Kranks' remind that the holidays are a feeling.



Sonic Ephemera: Wilco plugs in on 'A Ghost Is Born.'
Wake-Up Call: Three-disc set sheds light on Mark Sandman.
So Your Kid Likes Avril: All is not lost! Avril Lavigne is the gateway drug of the new generation!
The World Isn't Ready: From Sri Lanka to London to your headphones, meet M.I.A.



Sunnyside Up: Cheap eats you've got to drive to imbibe.
Swirl 'n' Spit: Bella Vineyards.



Please don't forget to write! The North Bay Bohemian welcomes letters commenting on our coverage or other topics of local interest. Please keep all letters at 300 words or less (we reserve the right to edit them for length and style) and sign them (unsigned letters will not be published). A local phone number must be included for verification. Postal: North Bay Bohemian Letters, 216 E Street, Santa Rosa, CA 95404. Fax: 707/527-1288. . Emailers, please include name, city of residence and phone number. Letters printed will list email address unless otherwise specified. Letters to the editor are not currently published in the online version of this paper.