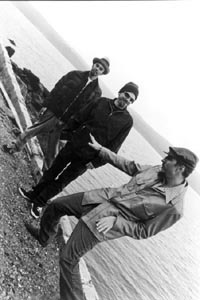 Primus time: Les Claypool and company return with Antipop.





Rock-o-Rama

New CDs by Primus, RATM, & more

Rage Against the Machine
The Battle of Los Angeles
Epic

IT'S EASY to imagine that Rage Against the Machine have painted themselves into a corner with their scathing rap-metal political thunder, but it's a tremendous corner to be in. The huge, heavy, hip-hop-informed aggro-funk hybrid they pioneered on their 1992 debut is now the given modus operandi for chart-making hard rock, and their third disc, The Battle of Los Angeles, proves they're still the best--best because their mammoth riffs are an explosive groove of Zeppelin/Sabbath stomp, because singer Zack De La Rocha's sharp and topical lyrics are the equal of his rap hero Chuck D (of Public Enemy), and because they play, not with angst-ridden style but with revolutionary conviction. Tom Morello's guitar palette has expanded further into abrasive sound effects and blues innuendoes, marking him as a pre-millennial guitarist in the textural mode of U2's The Edge. Indeed, Rage have picked up the torch of revolutionary heroism that U2 have abandoned. De La Rocha echoes that fervor on the disc's closer, "War within a Breath," as he growls, "Everything can change on a New Year's Day."
Karl Byrn
---
Primus
Antipop
Interscope
YOU CAN TELL that Primus head honcho Les Claypool is an avid fisherman because he never lets his fans off the hook. On this outing, the Forestville bassist casts, gulp, hook-heavy thrash-funk tunes bolstered by the addition of new drummer Brain and a host of big-name underground rock stars, including guitarist Tom Morello of Rage Against the Machine and Tom Waits. The result is rock with a vengeance--there's no catch-and-release policy for the perennially strange Claypool as he handles the mavens of his skewed world while canonizing an easygoing Petaluma buddy ("Natural Joe") or eulogizing a lacquer-finish-sniffin' teen ("Lacquer Head"). Triple bass drumbeats, laser-sharp guitar riffs, and thumping bass lines all the way.
Greg Cahill
---
Go Kart Go
Run for Tin
PopSmear
The Slow Poisoners
Great Spiders and Diamond Powder
PopSmear
THERE ARE NO fading embers of alt-rock for San Francisco's Go Kart Go (heard here on Santa Rosa's PopSmear label). In fact, on their debut Run for Tin, the band steps back a few years for a yearning guitar/vocal drive that recalls the Replacements and Sebadoh. The band succeeds in earnest rocking and catchy songcraft, and tracks like "Nirvana (The State)" and "Ending My 20s" provide an offhanded anthemic quality that's still radio-friendly. On the other hand, it's almost refreshing to see San Francisco's Slow Poisoners adopt an old-fashioned brand of psychedelia. Rather than using current neopsych models like post-rock instrumental improv or hip-hop pastiche, the Slow Poisoners make their multimedia CD debut an echo of classic British chamber-rock à la the Beatles' Sgt. Pepper's, the Who's Tommy, and Syd Barrett--era Pink Floyd. But, for all the effort, their weirdness and cellos don't equal great rock.
K. B.
---
Picks of the Week
The Who
Live at Leeds and Who's Next
MCA/Mobile Fidelity
THIS PAIR of newly reissued, audiophile-quality CDs from the Sebastopol-based Mobile Fidelity showcase the quintessential British power-pop band. 1970's Live at Leeds is an electrifying rock tour de force that surges with such classic teen anthems as rockabilly legend Eddie Cochran's "Summertime Blues" and the Who's own "My Generation." The band can offer up a hippie jam that wanders into the 14-plus-minute range, but also stay true to their pop roots with a curt 2:07 version of "Substitute." Who's Next, first released in 1971, was meant to be songwriter and guitarist Pete Townshend's masterwork, Lifehouse. The Who gave up on that ambitious follow-up to Tommy and later released some of the tracks as the truncated Who's Next--still one of the best '70s rock albums, thanks to introspective rockers like "Bargain" and the anti-counterculture anthem "Won't Get Fooled Again" (check out Keith Moon's creaking drumming stool on this stunningly remastered rendering). This 16-song CD includes several added tracks (first released in 1995) that loosely replicate the intended Lifehouse album.
G.C.
---
[ Sonoma County | MetroActive Central | Archives ]