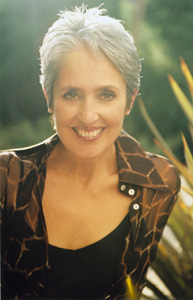 Redemption Songs: Who needs record sales when you can affect history?

Arc of Joan

Baez's folk artistry spans the decades

By Bruce Robinson

It's hard to believe--now that she is such an icon, a steadfast figure in progressive political circles and a recurring presence in the ongoing revelations of Bob Dylan's idiosyncratic personal history--but there was a time when Joan Baez was on the verge of becoming a has-been, at least as a recording artist.

And she knew it.

"Rippin' along toward middle age / And my music career kinda missed a page / Record sales began to drop / The management all began to hop / îNot to worry,' they said, îyou'll see / what you need is some fresh publicity'. . ."

These opening lines come from the autobiographical song "Time Rag" on her widely ignored 1977 major label debut, Blowin' Away (an album that also features Baez as a latter-day Amelia Earhart replete with a leather helmet and odd silver space suit--one of the worst cover photos in history). But that's probably not why her subsequent recordings were infrequent and uneven for the next 15 years.

Still, those were hardly idle years, as Baez focused on international activism, singing and speaking out from Moscow to Vietnam, Cambodia to France. In 1981, banned from performing in Argentina, Chile and Brazil, she documented her other Latin American dates in a PBS documentary. Later in the decade, she toured for Amnesty International, sang for the residents of Israel, Gaza and the West Bank, met with Poland's Lech Walesa, and was credited by Czech president Václav Havel with influencing his country's nonviolent anti-Communist revolution. Who needs record sales when you can affect history?

Through those years, Baez began to put out scattered live recordings, although only a few were officially released in the United States. Her most recent release, Bowery Songs (Koch) is at least her eighth domestic live album, which puts her in the rarified company of such other enduring performers as the Rolling Stones and that Zimmerman guy.

Like her two previous studio records, Gone from Danger and Dark Chords on a Big Guitar, Bowery Songs has no Baez compositions, as she chooses instead to showcase material from such contemporary songwriters as Greg Brown, Natalie Merchant and especially Steve Earle, whose powerful "Christmas in Washington" lies at the new album's heart.

This is consistent with Baez's long history of championing emerging writers. Her role in bringing attention to the young Dylan has been, perhaps, too well documented, but she remains one of the most prolific and persuasive of his interpreters. But the list of other artists she has covered over the years is lengthy and impressive, and includes Phil Ochs, Mickey Newberry, Janis Ian, Tim Hardin and Gram Parsons. More recently, her recordings have prominently featured songs by Dar Williams, Gillian Welch and David Rawlings, Richard Shindell and Sinead Lohan.

While her choice of material from other writers is generally impeccable, Baez's subtle flair for illuminating their songs is easily overlooked. She is not given to fancy vocal embellishments, and her phrasing is so natural and versatile that it rarely draws attention. Often favoring slower tempos, she uses that additional time (and her precise but natural diction) to open up and clarify the lyrics, a trait particularly helpful with Dylan's songs.

Still, it is clear that her vocal instrument, a pure, ringing soprano that breathed fresh life into the musical antiquities she performed in her early days, has changed, even ripened over the years. Baez can still leap into that beautifully soaring upper register now and then, as she demonstrates in the a cappella version of "Finlandia" that opens Bowery Songs, but she finds greater depth of expression in a rich middle register that has grown in warmth and complexity over the years.

"Finlandia" is one of four songs from the new CD that Baez has never before recorded; another is "Seven Curses," an obscure Dylan rewrite of a traditional ballad from his Freewheelin' days. In between, interspersed with the contemporary tunes, are songs she has been singing forever: "Silver Dagger," Woody Guthrie's "Deportee" and "Joe Hill," the union ballad she performed at Woodstock.

Before the term was coined, Baez was an "album artist," placing half a dozen LPs in Billboard's top 20 from 1961 to 1967. Bowery Songs shows that she still knows how to structure a satisfying long-form program, regardless of commercial considerations.
---
Joan Baez performs a sold-out concert on Sunday, Dec. 4, at the LBC. Rhythm Village open. 50 Mark West Springs Road, Santa Rosa. 8pm. 707.546.3600.
---
[ North Bay | Metroactive Central | Archives ]