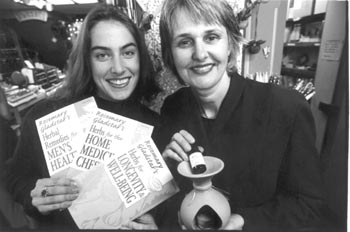 Photograph by Michael Amsler

Natural high: Rosemary's Garden assistant manager Annalisa Ruff and owner Lena Shaboon offer soothing herbal treatments that make great gifts.

Made in Sonoma

Our fifth annual guide to great gifts created close to home

THINK GLOBALLY, shop locally--and support the artists, designers, craftspeople, and manufacturers who share this patch of paradise. From fanciful ceramic art for the kids to cushy handmade moccasins, handcrafted couches to electric scooters, there's something for everyone under the Sonoma sun. Here is a selective guide to help your holiday shopping. Listings contributed by Greg Cahill, Paula Harris, David Templeton, and Marina Wolf.

Art for Life

Bells and Whistles
Art and All That Jazz on the Healdsburg Plaza has always been a reliable repository of wearable art. This season, owner-jeweler Jessica Felix is filling her cases with her new lines of musical trinkets, such as sterling silver whistles with totemic imagery from Pacific Northwest and Alaskan Indian cultures. My favorite is the lean, sly, toothy wolf that emits a low, haunting howl ($150). Another new contrivance of Felix's is her African-inspired bells, just right as a melodious accent to your favorite ethno-funky outfit. Sounds good to us! 119 Plaza St., Healdsburg. Her website: www.artandallthatjazz.com. For details, call 433-7900.--M.W.

Ceramic Critters
Petaluma sculptor David Furger has created a fanciful world filled with ceramic critters that act as tiny ocarinas. Brightly glazed and wonderfully whimsical, these affordable (mostly $20)--and interactive--sculptures are a real hit with kids. A great way to buy your children one-of-a-kind knick-knacks while teaching them that fine art can be fun. For adults, Furger also offers a variety of sculptures--including clay, metals, wood, and stone--and custom pieces. 762-8916.--G.C.

Body & Soul

Rosemary's Garden
When you're shopping for stocking stuffers, remember this fragrant little store, which is packed with herbal goodies from talented herb workers around the county. Owner Lena Shaboon mentions a lavender-scented wrist rest from Sonoma Lavender Barn ($18) and Sailor's Salve from Annalisa's Herbals ($11). While the new website will show you a lot, we recommend an in-person visit. A picture may be worth a thousand words, but it doesn't come close to one good sniff. Hours: Monday through Saturday, 10 a.m. to 6 p.m.; call for special hours in December. 132 N. Main, Sebastopol. 829-2539.--M.W.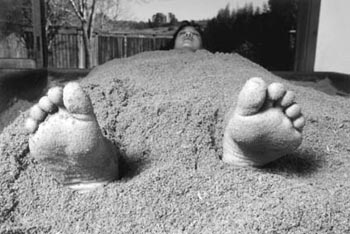 Photograph by Michael Amsler
Snug and warm: Osmosis spa will bury you in warm wood enzymes.
Osmosis
Some folks just relish being packed up to their chins in hot wood chips and enzymes. This unique Japanese heat treatment offered at Osmosis keeps 'em rushing back for more. The relaxing dry bath uses fragrant cedar fiber, rice bran, and enzymes. The unusual body treatment may be just what your boss needs to unwind. Osmosis--which Travel & Leisure magazine recently named one of the best day spas in America--also offers full-body massages, either indoors or outside in Japanese-style pagodas at the facility's location in Freestone. It's like receiving a massage--Swedish/Esalen, shiatsu, polarity, acupressure, or deep-tissue massage--in your own private greenhouse. The 75-minute outdoor massage takes place in one of two fully enclosed light-filled pagodas. An enzyme bath and outdoor pagoda massage is $140. Gift certificates are available for individual treatments and combinations. 209 Bohemian Hwy., Freestone. 823-8231.--P.H.
B&B Guide
In harried times that can turn cell phones and celibacy into a way of life, the gift of getting away is sometimes the most valued of all. If you're short of ideas, here's a tip: the Valley of the Moon region, one of the most popular tourist areas in the county, becomes much more affordable during the winter months. Some 70 bed & breakfasts, inns, motels, and hotels are participating in the Sonoma Valley Visitors Bureau's Super Saver program. Among the participating establishments are the tony Sonoma Mission Inn, the historic Jack London Lodge, and the charming Victorian Garden Inn. Lodgings may also include discounted activity packages. For more information, a free 57-page Visitor's Guide, and Super Saver rates, call 996-1090.--P.H.
Fashion
Knee Highs
You've seen them on well-clad legs at the Ren Faire. You've admired the flames of red leather, the lovingly polished metal fasteners, the rippling fringe that makes that software engineer look so damn rugged. The fee starts at $600 for the ones up to your Robin Hood-to-be's knobby little knees. But remember, these are custom-made boots, with the sole--conveyer belt rubber, hiking soles, or a Birkie footbed-being just the first of many choices recipients need to make when they go into the Forestville storefront (6450 First St., #J) to get measured. There is no catalog; everything is made for your legs only. Call to find out how and why. 887-1167.--M.W.
Mishi Apparel
Is there a woman on your gift list who loves warm, comfortable cotton clothing that feels good, looks stylish, and wears well? Silly question. So, get thee to Petaluma's Mishi Apparel, the local outlet with the great window displays that is still producing the simple, well-priced natural cotton garments that have earned the store a nationwide reputation. Mishi Apparel started with a simple "Field of Dreams"-type idea in 1981: create comfortable women's cotton clothing with a stylish edge and buyers will follow. They sure did. All of Mishi's cotton clothing, including jackets, pants, tops, and dresses, is designed and hand-dyed in an abundance of colors in Petaluma. Designs are cut from shrink-to-fit patterns. Most of Mishi's clothing is sewn locally in Sonoma County. The local outlet features the latest designs plus past-season discounted merchandise. Mishi is also a terrific place to pick up accessories--the selection of earrings alone is worth the trip. 201 Western Ave., Petaluma. 778-1441.--P.H.
Comfort
Basso
If you harbor visions of sinking into a plump, inviting custom-made chair as a comforting antidote to holiday mania, read on. At R.S. Basso you can order an overstuffed chair or sofa for yourself or a loved one for half of what you'd normally pay elsewhere in the Bay Area. Founded by the husband-and-wife team of Mary Li and Ron Basso, the showcase stores are filled with handsome finished furniture in all styles. It's all here: resplendent throw pillows, lush fabrics, and elegant living-room fixtures. With stores in Sebastopol (186 N. Main St.) and Healdsburg (115 Plaza St.)--along with others in St. Helena, Corte Madera, and Palo Alto--Basso's has come a long way from its simple beginnings as a reupholstering business. A sofa has a base price of $1,500, and customers pick the fabric, modify the depth and height, and vary the firmness with the amount of down and feathers they choose. 829-1373.--P.H.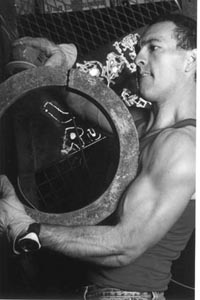 Industrial-sized: Rich Anderson of Urban Rubble hoists a recycled steel fitting destined for one of his furniture creations.

Scrapulence
Some end tables look as though they couldn't support more than a half-empty wine glass. But a structure from Urban Rubble appears as if it could hold up an entire cocktail party. Rich Anderson uses new rock and recycled rusty girders (begged from construction sites) to make what might understatedly be called "sturdy" tables of all sizes; a few can be seen at A'Roma Roasters and Sonoma Coffee Co. Prize for missing the point: people who ask him to make stuff out of wood. "We don't need to be cutting down trees," Anderson says. "We can make our furniture from what's already here." Custom-designed Urban Rubble tables cost $300 and up, not counting any retrofitting of your floor. Anderson's workshop at 9482 Lazy Creek Drive in Windsor is so small that he's appreciate your scheduling a viewing by calling 837-9025.--M.W.
Randolph Johnson Designs
Forestville artist and designer Randolph Johnson and a cadre of skilled workers and local artisans have converted a vacant storefront in downtown Santa Rosa into a spectacular interior-design studio and gift emporium. Browse and see. It's a unique source for anyone looking for fine gifts from handmade heirloom furniture to fine decorative objects and artwork. The most affordable gift ideas include handblown glass vessels, bronze sculptures, rugs, handcrafted wooden lamps, and a variety of other handmade items and antiquities from around the world. 608 Fifth St., Santa Rosa.
577 8196. --P.H.
Wild and Wooly
Eliana Jantz has moved her natural bedding showroom away from Sebastopol, but she's still making her lightweight, snuggly warm bedwear from pure-grown Sonoma County wool. Of course, wool is perfect for winter, but since it breathes well and doesn't overheat like down, wool is actually a great year-round bedding material. Hendriksen Natürlich Flooring and Interiors stocks a full line of Jantz's pillows, comforters, and mattress toppers. And the cream-colored, unbleached muslin covers make you feel so, well, natürlich. Comforters and toppers range in price from approximately $200 to $375, while the standard-size pillows are $36. 7120 Keating Ave., Sebastopol. 829-3959.--M.W.
Twisted Logic
There is more than one way to enter a yard. You can walk through a plain, bare hole in the fence, or you can have Stephen Fitz-Gerald wring art out of cool, heavy steel rods for a gate that you'll never forget. Fitz-Gerald's custom metalwork frames entryways all over the Bay Area, while his home furnishings truly "transcend their function." Whether your whim is a Celtic knot candlestick or a shallow, simply polished bowl (around $350), a glass-topped coffee table (starting at $500), or a sea-swirl fantasy of bed frames (approximately $2,000), Fitz-Gerald is the one to bend metal to your will. To schedule a viewing at Fitz-Gerald's Rohnert Park studio, call 584-0182.--M.W.
Just for Kids
Cubbyhouse
Former Healdsburg Mayor Carla Howell, longtime owner of Cubbyhouse children's store in Healdsburg, opened her second Cubbyhouse (this time in Santa Rosa) last year. The stores serve as unofficial outlets for handmade baby quilts. The heirloom-quality embroidered, pieced, or tied quilts, backed with cotton flannel, are a must for that special infant on your holiday gift list. Prices range from $50 for a wall hanging quilt on up. Call ahead for availability. Cubbyhouse also offers a selection of baby blankets, bibs, festive kid's clothing for the holidays and baby's first Christmas ornament. Stores are at 107 Plaza St., Healdsburg (433-6861); and 2410 Magowan Drive, Santa Rosa (568-6568).--P.H.
Whimsy
Elizabeth Flynn of Whimsy imports from China strong, durable, and supple white silk, which she then dyes to make children's dress-up clothes and other comforting, imaginative items. Kids love to swathe themselves in her capes and fantasy skirts--and adults love that the silk is machine-washable. Flynn also designs headbands and silk gauze hair veils for mini brides and angels. For adults there are solid and hand-painted scarves ($8 to $10); and silky eye pillows filled with soothing aromatic herbs for pooped peepers. Capes run $14-$18; headbands, $6-$8; play skirts, $10-$12. Flynn does a thriving mail-order business. To arrange an appointment, call 829-8446.--P.H.
Pipsqueaks
Why make your kids wait until their student loans are paid off to get their own set of decent furniture? Get them hooked on the habit now with Pipsqueaks' line of children's furniture. Pipsqueakers Eric and Tina Marston now have an outlet store in Petaluma at 260 Water St., where they sell such items as their car-themed, chalkboard-finished Beep Beep table and matching chair ($299), and a Little Miss Eva vanity and chair ($399)--much sturdier than any Barbie play set, and not at all froufrou, says Tina Marston. "We don't paint for adults, we paint for children." 766-9373.--M.W.
Food Stuff
Fun with Fungi
Sure, you can wrap up shiny, store-bought gewgaws and stick them under a tree, but the little gifts that appear magically under trees in the forest are far more fun to find. Take it from local mushroom expert Charmoon Richardson, whose Wild About Mushrooms field trips are an adventure for any gourmet. Richardson offers private forays to edible wild mushroom sites around the county for a mere $15 per person ($75 minimum), and an introduction to the fungi in your backyard for $75. Check out the web site at http://trruw21.metro.net/~charmoon/home.html, or call 887-1888. For something tamer, but still tasty, order a gift basket from Gourmet Mushrooms Inc., in Sebastopol. The folks who gave North America its first commercially grown shiitake gather some of their finest cultivated mushrooms into one big basket for holiday gift-giving. The selection includes your basic shiitake, oyster, and clamshell mushroom, as well as certain wild varieties in season. The baskets come in two- and four-pound versions for $45.85 and $67.85, respectively, or you can save $20 in overnight shipping charges by arranging to pick up the basket yourself by calling 823-1743.--M.W.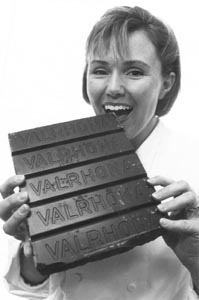 Scrumptious: Veronica Bowers crafts fine handmade confections at La Dolce V Fine Chocolates.
Photograph by Michael Amsler

La Dolce V Fine Chocolates
"These aren't hulking great truffles that you need a knife and fork to eat, but petite, demure European chocolates," says Veronica Bowers of her exquisite confections. The owner and artisan chocolatier at La Dolce V calls herself "a one-woman show" that creates and markets Harvest Fair double gold-medal winners such as hazelnut pralines and vanilla bean caramels. She uses all natural flavorings and infusions that include many local ingredients. Some holiday delights: chocolate angels, chocolate ginger people, and assorted gift boxes wrapped in sage green and gold with ivory ribbons. Prices range from $2 for a chocolate bar to $48.50 for a pound of sweet decadence. Mail-order or come to her Santa Rosa salesroom (by appointment only). Visit the website at www.ladolcev.com or call 781-9866.--P.H.
You Say Tomato . . .
. . . I say Timber Crest Farms for some of the tastiest tomato tidbits--unsalted, unsulfured, and sometimes organic--on the market. You could put together a fine gift basket of your own from Sonoma-brand dried and canned goods, but if you're short on time, the Timber Crest ready-made gift packs are a real bargain. A pack of dried-tomato pesto, salsa, and chutney is about $19, while an assortment of fruit butters is about $22, and a box of marinated dried tomatoes, pesto, tapenade, and caponata is an easy choice at $26. Fill your shopping cart at the website at www.timbercrest.com, or call 433-8251.--M.W.
Gourmet Goat
What else embodies Sonoma County better than a festive gift basket full of local organic packaged foodstuffs and beverages? Not much, we think. At Gourmet Goat (a small retail biz run by the Bodega Goat Cheese clan) you can pick up a gift basket and fill it to the brim with such tasty local items as Rainbow's End Jam, Affi's Aubergine eggplant pesto, Bustelo's Backyard hot sauces, Taylor Maid teas, Papa Gonis' garlic dip, and, of course, Bodega Goat Cheese mellow Peruvian-style cheeses. You may want to round out your selection by tucking in a bottle of organic wine or beer from the small but carefully chosen collection. Gourmet Goat will add the raffia, wrapping, and card. Prices are $20 and up. 17190 Bodega Hwy., Bodega. Call 876-3483.--P.H.
Cap'n Mike's Holy Smoke
"Captain Mike" is Cotati businessman Michael Hiebert, and "Holy Smoke" refers jointly to the fact that he used to be a Methodist minister and is now a purveyor of smoked fish. In his Cotati shop, Hiebert smokes his succulent salmon over alderwood coals in true Northwest tradition without chemicals and preservatives. Selections include the original recipe; smoked salmon with black pepper and garlic; honey-basted smoked salmon; cold-smoked lox; smoked salmon "candy" (a traditional Native American recipe in which strips of salmon are cured in honey and smoked for three days); smoked salmon sticks (like pepperoni); and other seasonal smoked fish. Gift boxes, featuring a good selection of the items, are available from $35 to $150. 442B Houser St., Cotati. Call for an appointment at 792-0531.--P.H.
Home Cookin'
Sure, those big holiday banquets are nice. But what happens to hot meals the rest of the year? If your friends run out of steam easily, maybe you should get them a gift certificate from Santa Rosa's Sundance Pantry. The weekly dinner delivery service emphasizes organic and/or range-fed food, from meaty meats to very vegan, with a contemporary-casual flavor: salmon with mustard and tarragon, North African vegetable stew with couscous, and even comfort foods such as meat loaf and pot roast. Entrées range from $9.50 to $13.50 per generous portion; senior prices are slightly less. To put a little sun in somebody else's kitchen, call 523-9006.--M.W.
Miscellany
Mesa Boogie
Since 1971, Petaluma-based Mesa Boogie/Mesa Engineering has been producing some of the finest guitar amplifiers around. Mesa/Boogie's niche is vacuum-tube amps. The company never wavered from this fundamental technology as solid-state electronics became standard in the amplifier industry. The reason is pure sound. Tube amps deliver a full-'n'-fat sonic texture that is unmatched, say fans. Mesa Boogie users range from big stars to amateurs. Entry-level amplifiers from Mesa/Boogie start at $400, and full-on, blasting, professional-level amplifiers available at $1,600. If you're on a budget, the company also has Mesa/Boogie logo hats at $19, T-shirts at $18, sweatshirts at $35, and leather jackets at $299. Mesa/Boogie amplifiers and garments are available in Sonoma County at Zone Music in Cotati. Mesa Engineering is located at 1317 Ross St., Petaluma. 778-6565.--P.H.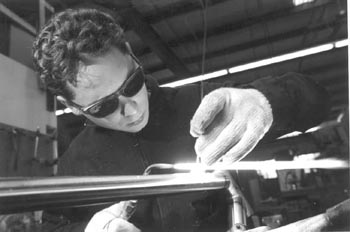 Photograph by Michael Amsler
Feeling the heat: Leo Autori welds a new Ibis Cycle at the Santa Rosa workshop.
Ibis Cycles Inc.
This Santa Rosa operation is a veritable Santa's workshop for cycling fanatics. It's here that a team of seven manufacture about 1,500 steel- or titanium-framed road and mountain bicycles per year. But not just any old bikes, mind you: these are sexy, high-tech, lightweight dreams on wheels that are "beyond Ferraris." Ibis bikes are not cheap, but they're known as some of the very best machines you can ride. Prices range from $1,600 to $8,000 for the titanium Bow-Ti, a mountain two-wheeler that's been featured (inside an SUV) in the Lexus catalog and in the TV show Once and Again. Customers for the 125 built last year range from regular riders to movies stars. A more realistic choice for mountain-bike fans is the steel-framed Ibis Mojo ($2,200). A new model called Silk-Ti ($4,000) will debut in January. Ibis Cycles are available in Santa Rosa at Dave's Bike-Sport (353 College Ave.) and at the Bike Peddler (605 College Ave.). 523-1919.--P.H.
Get Zapped
Fan the flames of obsession for the Star Wars freak on your list with ZAPWORLD.COM's newest scooter, a sleek little job that was designed under special license from LucasFilms to resemble the Battle Droid STAP (Single Troop Aerial Platform) scooter from The Phantom Menace. Visit the F.A.O. Schwarz website at www.faoschwarz.com to see what you'll be getting for $999. A plain scooter--it goes just as fast!--is $599, or you can get your gearhead a kit for $359 that will electrify a non-wired bike. Visit the Zap Power System, the electric-vehicle maker formerly known as Zap, at 117 Morris St., in Sebastopol, or at www.zapbikes.com; or call 800/251-4555.--M.W.
Right-on Women
Since its inception in 1980, the National Women's History Project in Windsor has helped establish women's history programs in every state and in countries around the world. All that good work--or 90 percent of it--is funded with the proceeds from sales out of its holiday catalog, which is an outstanding source of inspirational books, posters, and other products celebrating women's history. Many items are produced in Sonoma County, including some awesome Rosie the Riveter propaganda pieces that every girl needs on her bedroom wall. Order from the NWHP website at www.nwhp.org; or call 838-6000 to request a catalog.--M.W.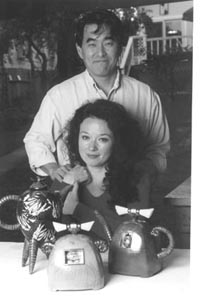 Ancient future: Petaluma ceramicists Gerald and Kelly Hong.
Photograph by Michael Amsler

Modern Artifacts
ARTIST GERALD HONG, asked to describe the work for which he and wife Kelly have received worldwide, somewhat awestruck acclaim, is left more or less speechless. "I should be able to answer that question," he says, with a disarming chuckle, "but our work is, um, a bit tough to describe."
So how would others describe it?
"Others might say our pieces are thrown and hand-built sculptural vessels and wall pieces, with aesthetic influences taken from the natural world and from classical Asian art."
To those who've seen Hong's work--created in Kelly and Gerald Hong's spacious backyard studio in west Petaluma--such a description doesn't begin to reflect the startling beauty and intricate craft of their luminous, justifiably pricey (between $200 and $1,000) inventions, from Kelly's ornate, sought-after teapots bedecked with flowers, fish, lizards, and the like, to Gerald's stunning "ceremonial vessels," which look like something Star Trek's Mr. Spock would have in his home on the planet Vulcan.
Speaking of Star Trek, one of Hong's creations--a rounded, gold-leaf-covered ceramic geode with multiple spikes that he calls Gold Mines--was featured in a recent episode of Star Trek Voyager. "It was a strange cultural artifact that Neelix [one of the show's characters] had just acquired. Unfortunately, he was rather disappointed with it," Hong says with a laugh.
It is certain that no one on your gift list will be disappointed to unwrap one of Hong's magnificent works of art.
To arrange a visit to the Hong studio at 716 Keokuk St. in Petaluma, call 765-1637.--David Templeton
[ Sonoma County | MetroActive Central | Archives ]