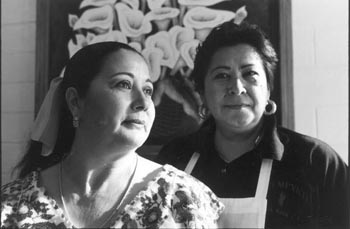 Photograph by Michael Amsler

Martha y Martha: Martha Lobato and Martha Lopez are cousins now having success with Martha's Old Mexico.

Family Affair

New Sebastopol Mexican restaurant fast becoming a family favorite

By Paula Harris

"CHEE-LAY," the young jean-clad mom at the next table carefully enunciates, attempting to instruct her young daughter on the intricacies of authentic Mexican cuisine. "Chee-lay!" She repeats the word louder, pinching a whole pickled jalapeño between her thumb and forefinger like a dripping green minnow. She dangles it in front of the child's face and waits. She continues to wait.

The kid, a blonde, moon-faced toddler, who looks barely old enough to lisp "Pokémon," is duly unimpressed. She merely grunts before slamming a small fistful of crumbling tortilla chips into her tiny mouth. Avocado sauce dribbles down her chin. The jean-clad mom shrugs wearily, exchanges an eyes-to-heaven look across the table with the jean-clad dad and continues assembling her chicken fajita.

Welcome to Martha's Old Mexico, a recently opened restaurant in downtown Sebastopol. It's a bright, bustling place with a row of pale wooden tables opposite a noisy open-kitchen area. The dining room is crowded with families.

The place really seems to be a bit of a kid magnet, with its carved wooden chairs painted in primary colors and brightly decorated with flowers, toucans, and suns, and its walls filled with framed posters of colorful chili peppers. The sound system emits middle-of-the-road Latino pop music, the type with that happy, repetitive, cantering beat.

The kids love it.

The extensive menu, billed as "gourmet Mexican cuisine," features familiar favorites, such as enchiladas and chimichangas, along with regional house specialties like the carnitas Michoacanas (pork marinated in fresh orange juice and spices) and the mouth-searing "Demon Delight" (prawns, steak, pork, or chicken cooked with red chilies, herbs, peanuts, pistachios, and cashew nuts.)

Appetizers include black bean and cheese taquitos ($5.95)--warm greaseless rolls filled with whole beans and topped with strong-tasting grated Cotija cheese, which resembles Parmesan. A satisfying lentil soup, with whole lentils and pieces of carrot in a rich broth, is included with the entrées.

At one point, the dining experience became a little confusing. The elegant woman who showed us to our table (a Chanel-type figure in her black velvet hair band and gold earrings) came by, and we asked whether she was "the Martha" of the restaurant's moniker. She replied that indeed she was. But moments later another woman appeared from the kitchen and introduced herself as Martha. Huh? What's going on here? we wondered. Staff identity crisis? Consumer fraud?

Turns out the two woman are business partners, cousins, and yes, both are named Martha.

MARTHA'S OLD MEXICO is an offshoot of the Old Mexico restaurant, a longtime family business in Santa Rosa, where the two cousins worked for many years before deciding to branch out into their own place. Both women are relaxed and friendly, quick with a wink and smile for dinner patrons even as the pace grew more rushed as the evening wore on and customers crowded into the small dining room waiting for vacant tables.

Martha Two rushed back to the kitchen and brought out bowls of her pickled jalapeños, house-made mole sauce, and a seriously hot chile paste for us to sample. The mole was an especially pleasing accompaniment to the chunks of pork in the carnitas dish, since the meat tended to be tender and flavorful but a bit dry.

Vegetarians will be more than satisfied with the enormous gourmet veggie burrito ($6.95), a fat monster crammed with black beans, broccoli, carrots, tomatoes, and sweet corn. Another veggie choice is the al pastor filling, a creamy sauce made from soybean curd,. for enchiladas or tostadas,

The restaurant offered only one dessert on the night we visited: a house-made flan ($2.25) that we thought was a very good value for this smooth sweet in its pool of caramel sauce.

The restaurant's hidden attraction is a gorgeous tiered outdoor patio in the back of the building. It was completely deserted at this time of year, but it holds the promise of wonderful al fresco summertime meals under the looming trees. Downtown Sebastopol seemed a world away from this quiet oasis.

For their summertime customers, the Marthas say they plan to concoct huge bowls of sangria, to be shared with several straws, and may also offer a selection of margaritas. Right now, the restaurant offers only a small selection of beers and wines.

All in all, a well-received addition to Sebastopol's restaurant scene with prices, service, and atmosphere that attract families.
---
Martha's Old Mexico Restaurant
Address: 305 N. Main St., Sebastopol; 823-4458
Hours: Wednesday through Monday, 11 a.m. to 3 p.m.; and 5 to 9 p.m.; Saturday and Sunday, dinner only
Food: Freshly prepared Mexican
Service: They make you feel at home
Ambiance: Lively, family-style inside; rustic patio out back
Price: Moderate
Wine list: Minimal
Overall: 3 stars (out of 4)
---
[ Sonoma County | MetroActive Central | Archives ]