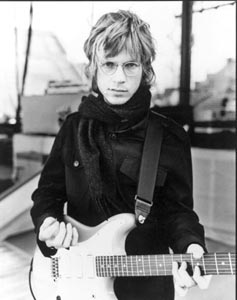 Midnite mover: Beck Hansen.

In the Mix

Postmodern pastiche reigns on new CDs

Beck
Midnite Vultures
DGC

HE'S BIG. He's bad. He's back. He's Beck. Over the past decade, singer/songwriter Beck Hansen, 29, earned his rep as a major celebrant of junk culture. Armed with a portastudio, drum machine, keyboard, guitar, and a suitcase filled with samples, Beck has drawn from hip-hop, folk, experimental rock, psychedelia, rock and roll, and soul to create what the All Music Guide has aptly dubbed "a colorful, messy, and willfully diverse brand of post-modern rock filled with warped satiric imagery and clumsy poetry."

His ironic 1994 hit "Loser" vaulted him out of the underground and onto MTV, and last year's highly accessible acoustic-oriented Mutations made him a worldwide critics darling. The newly released follow-up, Midnite Vultures, is a hi-tech, beat-heavy, horn-laden dance extravaganza that owes a debt to the artist formerly known as The Artist Formerly Known as Prince.

The new disc is rife with the trashy, disposable quality--hey, he's even recycling his own songs, or does "Broken Train" not sound like "New Pollution"?--that inhabits so much of Beck's previous work. And that's exactly what gives it so much charm.

All in all, this is a mixmaster's wet dream, veering wildly from Parliament-style R&B to country-flavored pedal steel guitar to cheesy pocket calculators.

Korn, Limp Bizket, and Rage Against the Machine may be re-establishing the dominance of guitar rock on the cusp of the 21st century, but Beck continues to make a strong case for the viability of the postmodern pastiche.

The trashman cometh . . .
Greg Cahill
---
Material
Intonarumori
Palm/Rykodisc
STYLISTICALLY, Material take a similar approach to Beck, but with far less rewarding results. Ubiquitous producer/bassist Bill Laswell (doesn't this guy ever sleep?) anchors this loose-knit, long-lived coalition of rappers and beat gurus that once featured the debut recording by a young songstress named Whitney Houston.
This time out, the perennially strange Kool Keith teams up with Kut Masta Kurt to set the tone with "Conspiracies," an apocalyptic vision of environmental disaster bolstered by eerie sci-fi sound effects, assorted samples, and brain-searing guitar feedback.
Unfortunately, Laswell and his crew take themselves entirely too seriously; material that would be funny or ironic in Beck's hands simply comes across as cliché and glib here. Other tracks feature Flavor Flav of Public Enemy (who delivers some of the most lame-o lines in recording history), Parliament/Funkadelic keyboardist Bernie Worrell, rappers Ramm Ell Zee, and the Ghetto Prophets.
This Material is severely lacking in substance.
G.C.
---
Breakbeat Era
Ultra-Obscene
XL/1500/A&M
TALK ABOUT hyphenated genres: the only accurate category for Breakbeat Era's Ultra-Obscene is drum 'n' bass/Euro-pop/techno-jazz/punk-funk/ambient-rock. Acclaimed British DJ Roni Size steered the nascent drum-'n'-bass genre into jazz on his aptly titled 1997 debut New Forms, and his new project again jumps where no electronica has gone before.
Jazz touches like vibraphone abound, but the focus is split between a dense barrage of ultramodern hyper rhythms and the icy Bjork-like vocals of Leonie Laws. The idea of a frontperson for a techno act is novel, and Size stretches the drum-'n'-bass model--snare and cymbal skittering double-time over dublike bass--into more conventional beats and riffs.
Despite the aggressive clutter, Ultra-Obscene is cerebrally reflective, with barely an ounce of memorable melody or lyric but tons of a striking sonic whole opening the door to pop's future.
Karl Byrn
---
[ Sonoma County | MetroActive Central | Archives ]