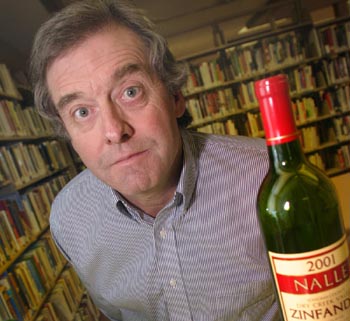 Photograph by Rory McNamara

Bo Knows: Bo Simons, the librarian at the Sonoma County Wine Library, oversees a vast repository of enological information.

Drinking in Knowledge

The Sonoma County Wine Library is a veritable cellar of information

By Sara Bir

If you want to know about Lithuania or Zoroastrianism or dollhouses or black holes, you go to a library. Most any well-stocked public library will do. In the North Bay, at least, there are no Lithuanian- or Zoroastrian- or dollhouse-specific libraries. Should you want to know about wine, though, you can go to the wine library--the Sonoma County Wine Library--which has been edifying enologists for 15 years. Anything that 99.9 percent of nonsuperhumans might want to know about wine, they could find here.

Open since 1988, the Sonoma County Wine Library stands in a wing of the Healdsburg Regional Library. At first glance, it looks exactly like most public libraries: fluorescent lights, shelves of books, shelves of periodicals. But in these books, it's all wine, all the time.

"At first when I came here, it was like, 'Fill up the shelves, fill up the shelves'--which is a librarian's dream. But now we've reached capacity, so now you've got to manage the collection," says Bo Simons, who's been librarian since the library's official inception 15 years ago, with the exception of a three-year period in the mid-'90s when Zita Eastman was librarian (Eastman, who has since retired, still works as a substitute librarian).

While you can find broad and sweeping information at the Wine Library, there's also a plethora of items offering highly specific single-subject details--The Yeasts: A Taxonomic Study, anyone? And if you really want to get into the nitty-gritty of wine history in California, this is the place to find old newspaper articles, pamphlets, press releases, maps, and wine labels. It's like stumbling across a long-lost trunk full of scrapbooks, only much more organized.

The more rare and valuable segment of the collection is kept locked in a glass case. On these shelves, you can find everything from a slender, fanciful wine popup book, circa 1995, to a set of eight thick leather-bound volumes, circa 1900. Simons retrieves one of these from the case, his manner revealing both the reverence of a bibliophile and the practicality of a librarian.

"I've seen it in bookstores' catalogues--and not as nice a set as we've got--for $18,000," says Simons. For books that have been around for a hundred years, they're still pretty useful. "It's got good information. When Rhone varietals became a hot thing and everybody wanted to know about Viognier and Cinsault and Syrah, this was the best thing I could find."

One of the oldest items in the shelf isn't really a book, but a printed law that was later bound. "It was passed in 1656 and printed in 1657 in England," says Simons. "'Enacted by his highness lord and protector'--that's Oliver Cromwell."

But it's no longer the granddaddy of the collection. "Since then we've bought this book, which is now the oldest book in the collection. Libri de Re Rustica, published by Aldus Manitius, a famous Venetian printer, in 1514. So this thing is 10 years shy of being half a millennium old. It's in Latin, with four authors, the third of which writes about how the Romans grew grapes and made wine.

"[Manitius] was writing in the first century A.D., and he talks about a bunch of people who make a pile of money in Rome, come out, buy a villa in the country, plant the wrong things in the wrong place, harvest at the wrong time, and wonder why their wines don't sell. The more it changes, the more it stays the same."

Less glamorous but equally evocative are the Wine Library's oral histories. Though some came from outside sources--UC Berkeley's Bancroft Library and the Napa Valley Wine Library--the Sonoma County Wine Library has been compiling its own since 1988, shortly after the building opened. Two oral histories published late this summer featured retired grape, prune, and apple grower George Greeott (who, at 93, is still an avid horseshoe pitcher) and Bob Sisson, UC Farm Adviser for Sonoma County and an important force in the development of Sonoma County's winemaking industry.

To date, the Sonoma County Wine Library has produced 36 oral histories. "There's people going all the time, and they've all got a piece of the story, and we're lucky to collect the memories of folks around here who built this wine industry," says Simons.

Many of the Wine Library's patrons don't even set foot in the library itself, but call or e-mail (if you type "wine library" into Google, the Sonoma County Wine Library's site is the first one that comes up). Recently, a woman who works for one of the Sonoma County's larger wineries wanted information on enzymatic hydrolysis. Simons saw a reference to an article, but it was contained in a 50-year-old transcript of conference proceedings in the former Soviet Socialist Republic of Georgia.

"No library in the known universe had this thing," Simons says. So he e-mailed a professor at Davis, who e-mailed his friend in Moscow, who e-mailed his friend in Georgia, who then e-mailed Simons. "So we go to the ends of the earth to find this stuff."

The idea for the Sonoma County Wine Library started when the Russian River Wine Road, a group of wineries that got together and decided to do some co-op advertising, formed in the early '70s. "None of our wineries alone could afford to have a big, full-blown library, but together they could fund one," Simons says.

The Wine Library found its champion in Millie Howie, who worked as a publicist at Geyser Peak Winery. She convinced the industry that it was a good idea to partner with the public library. "Then she went out trying to get the library to buy into that, and that was a tougher sell," Simons says.

David Sabsay, director of the Sonoma County Library at the time, at first laughed at Howie: a collection based on alcohol in a public library? "But it's not a collection on alcohol," says Simons, "it's a collection on microbiology, on viticulture, on the economics and marketing associated with selling grapes and wine, the history of wine."

Eventually Sabsay came around, and he came up with a system of subscriptions to enable wineries and growers to partially fund the Wine Library. "It's kind of like dues," Simons explains. "Wineries have a sliding scale based on case production; growers, based on acreage. [Sabsay] kind of said to the wine industry, 'Put your money where your mouth is.' They went around and got about half the wineries in the county to support it."

Today, roughly one-third of the library's funding comes from these subscriptions. Another third comes from the Wine Library Associates (a support organization similar to Friends of the Library), and the final third is through public funding.

Exposing new patrons to the library's resources has been an important part of the Wine Library's mission. "I've been trying to figure out for years how to make this place appealing to the pickers, to the pruning crews, to the vineyard workers who power the thing," says Simons. With Santa Rosa Junior College head viticulture instructor Daniel Robledo, the Wine Library conducted a series of Spanish-language viticulture workshops.

"I'd give them a tour of the library, and these guys were starting to open up," Simons continues. "I bought a lot of Spanish-language books on enology and stuff, trying to make this attractive as someplace where, if they like what they are doing and they want to stay there, fine, but if they want to get inside the winery and become a supervisor or something like that, that path is at least open to them more."

The program has since spawned others; there will be another Spanish-language viticulture seminar with Luis Sanchez from the Sonoma County Employee Development Alliance coming up at the Sonoma County Wine Library on Dec. 13.

Despite the obvious vinicultural slant to our own local history, not many other topics call for an entire collection of information so diverse and yet so specialized. "I've been trying to think of another agricultural crop that would sustain this kind of thing," muses Simons. "Tobacco? Beets? Potatoes? There's a lot of history in tobacco, cotton, things like that, but I can't see a lot of little farmers who are interested in making better cotton or potatoes or beets to the point where they'll study up on it in a library.

"When the Sonoma County wine industry boomed in the past, this library's been no small part of it. I see people coming in here, and making better wines and selling more of it because this library exists."
---
The Sonoma County Wine Library is located at the Healdsburg Regional Library, Piper and Center streets, Healdsburg. 707.433.3772.
---
[ North Bay | Metroactive Central | Archives ]