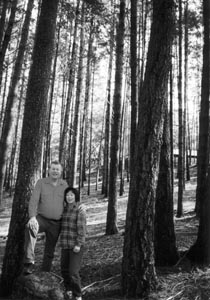 Photograph by Betty Doerksen

Branching Out: Jim and Betty Doerksen's land management practices have gained widespread respect.

Stewards of the Land

The Doerksen ranch is a shining example of land management

By Ellen Bicheler

We've done a lot towards lowering global warming with our forest," Jim Doerksen points out. "We've planted over a million trees since we bought this property in 1967. The trees, particularly the young ones, absorb the carbon dioxide and put out oxygen. We need a lot more properties like ours."

Jim and Betty Doerksen's bucolic 122-acre property, Ranchero Mark West, sits five miles east of Santa Rosa on St. Helena Road. It's an award-winning sustainable Douglas fir and redwood forest, Christmas tree farm, and conservation easement.

The public is invited to a LandPaths outing on Saturday, Dec. 13, from 8:30am to 2:30pm. Doerksen will lead the group on a hike and discuss his challenges with and successful management strategy used for the forest, as well as provide a glimpse into the forest's historical past.

The acreage was formerly inhabited by Coast Miwok and inland Pomo Native Americans and has yielded many treasures: a vast collection of arrowheads, scrapers, and the latest student find, a pestle. In 1834 General Mariano Guadalupe Vallejo purchased the property as part of his vast ranchero. The barn and blacksmith shop were built in 1834. The house, erected in the 1850s, is one of the oldest wood houses remaining in Northern California. The red barn was host to square dancers before the depression and still has the corner stage and ticket window intact.

LandPaths director Craig Anderson says, "Jim and Betty manage their property the way most of us clean our desks. If you see the section of Mark West Creek their property abuts, you start getting a feel for how someone can raise and cut timber and simultaneously have crystal-clear water flowing. The roads are cared for; a fully forested buffer is maintained along the creek; the exotic plants are removed, many hand-picked."

Doerksen's management of the land includes thinning the trees; pruning branches up to 25 feet; caring for wildlife; and providing watershed, soil, and fire protection. A UC Berkeley School of Forestry study showed a growth of more than 1,000 percent on the property, and the foresters were astounded by the trees' growth of an inch in diameter per year. In 1999 Doerksen was honored as California Tree Farmer of the Year and the Western Regional Outstanding Tree Farmer.

A three-year study by the California Department of Fish and Game and the Sonoma County Water Agency deemed the Mark West Creek one of the best habitats for coho salmon, and Doerksen's maintenance of the creek was cited as exemplary. Doerksen has pictures from the 1970s with 27 fish in one spot. Now he only sees a few a year. He attributes the decline to the runoffs from the vineyards and new subdivisions.

Doerksen has identified over 150 different species of birds on his property. "That's a canyon wren," he tells me as we look out at the creek. "He's so nosy. I can be running a chain saw and he'll come right up to me." Doerksen shows me where the snowy owls live and talks about the pair of great horned owls that visit him at his hot tub each evening. There are white crowned sparrows, yellow vireos, and red-tailed hawks. He's kept large areas of native plants and brush for the wildlife. "I'd never take out a toyon," he confides. "The
birds love them."

On a one-mile trail, Doerksen reports, the Sonoma Wildflower Society found over 50 different wildflowers, including the rare Calypso borealis (redwood orchid) and redwood lily.

The sociable Doerksens enjoyed the over 4,000 visitors to their property this year. They participated in many of the outings to educate the public about their timber and share their visitors' enjoyment of the property.

They are the kind of stewards that LandPaths likes to work with. "Jim's got a stewardship perspective that doesn't necessarily come from his taking an environmental position," Anderson says. "It simply comes from being on, and caring for, his land. To be honest, it's much the same as for a number of ranchers, farmers, and vintners that we too seldom hear about in Sonoma County."

The Doerksen property is one of more than 25 properties that LandPaths works with. Operating since 1996, LandPaths' mission is "to foster a love of the land through public access, environmental education, and land stewardship."

Andrea Mackenzie, director of the Agricultural Preservation and Open Space District says, "LandPaths and the Open Space District have a tremendous partnership. They get Sonoma County residents out on farmlands and wild lands protected by the Open Space District. Their outings tend to showcase the natural and cultural values of the county, and through these outings we learn about longtime farming and ranching families who have been great stewards for generations.

"Both by design and necessity, local communities are going to play an increasingly greater role in the future in open space parks and trails, and that's where LandPaths comes in. . . . If people are involved and invested in the place, they'll want to preserve it."

Both the Doerksens and LandPaths are in agreement about preserving Sonoma County's rich agricultural heritage. The Doerksens obtained a conservation easement in 1993 to ensure that no subdividing could take place in the future on their land. They've been able to maintain a balance with economy and ecology, no simple task. Doerksen says he paid $35,000 for his last timber harvest plan. A neighbor of his recently converted his timber to grapes because of all the regulations and expense with the timber.

Steve Smith, division chief of the Permit and Resource Management Department for Sonoma, Lake, and Napa counties, says, "It's difficult to comply with regulations and turn a profit. The Doerksens run such a quality operation. They are a beacon for foresters. It would be nice if everyone ran their properties like them."

The Doerksens are emphatic about how perfect Sonoma County is for growing timber. "We have the ideal weather conditions and soil. We could grow more timber here than a tropical rain forest."

Doerksen is certain that they will continue to steward their land, provide abundant habitats for wildlife, and offer the flocks of visitors access to a beautiful forest. Both he and LandPaths hinted about future expansion with LandPaths, but nothing has been agreed to yet.
---
Come for the LandPaths outing on Dec. 13 from 8:30am to 2:30pm. For more information on LandPaths, go to www.landpaths.org or call 707.544.7284. You can purchase Christmas trees at the Doerksen Tree Farm at 7125 St. Helena Road in Santa Rosa. Call 707.539.7004 for more information.
---
[ North Bay | Metroactive Central | Archives ]