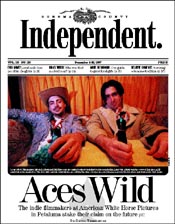 For the Week of
Dec. 4-10
Cover: Aces Wild
The indie filmmakers at American White Horse Pictures in Petaluma stake their claim on the future.
News: They Shoot (Sea) Horses, Don't They?
Where motorists at Jenner see cuddly seals basking in the sand, a new federal wildlife report depicts only a wily predator ripe for slaughter.
The Scoop: Inglorious rev's unbelievable 'Insight.'
Climbing Up on Capitol Hill: Check up on the your Congressional Representatives and U.S. Senators--where they stand, how they voted.



Made in Sonoma: The Independent's guide to locally grown goodies for the holidays.



Mystery Dance: New CDs spotlight the erotic magic of the tango, and more.
Kid Sister Act: Indie rock's favorite kid sis, Juliana Hatfield, grows up on Please Do Not Disturb.



Relative Comfort: Well-bred and well-fed at the General's Daughter.
Heard It Through the Grapevine: Get to the root of all things wine.



Talking Pictures: Best-selling bio-weapons spookmeister Richard Preston takes aim at The Jackal.
Ripley's Believe It or Not: Alien Resurrection an FX dream for Weaver fans.



Gawdawful: River Rep's Godspell brings out the atheist in all of us.



Downsizing Dilbert: Why Scott Adams isn't the working-man's friend after all.



Please don't forget to write! The Sonoma County Independent welcomes letters commenting on our coverage or other topics of local interest. Please keep all letters at 300 words or less (we reserve the right to edit them for length and style) and sign them (unsigned letters will not be published). A local phone number must be included for verification. Postal: Sonoma County Independent Letters, 540 Mendocino Ave., Santa Rosa, CA 95401. Fax: 707/527-1288. Email: [email protected]. Emailers, please include name, city of residence and phone number. Letters printed will list email address unless otherwise specified. Letters to the editor are not currently published in the online version of this paper.