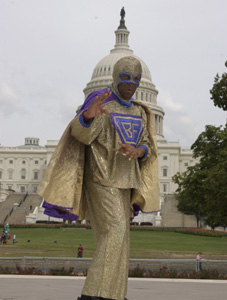 Super 'Fly:Clarence Reid, aka Blowfly, has 3,800 songs registered with BMI and written hits for more mainstream acts. He is shown here during his brief presidential campaign.

Wash His Mouth Out

Is Blowfly more than just a loosely handled firework of filth?

By Gabe Meline
---
Editor's note: Due to the proclivities of this particular artist, the following interview is a fairly sturdy romp through foul and sexual language. Reader beware.
---
It's a quiet, beautiful Sunday morning just after Thanksgiving when the phone rings for my interview with Blowfly. He's calling from a pay phone somewhere on the streets of Miami, and he wastes no time. Right off the bat he calls me "motherfucker" and predicts that Santa's reindeer "really know how" to excel at acts of fellatio.
I thought I knew what I was in for by interviewing Blowfly. I thought that age would have slightly mellowed the 60-year-old Original Dirty Rapper responsible for such stag-party classics as "Shittin' on the Dock of the Bay" and "My Baby Keeps Farting in My Face." I was dead wrong. Blowfly, who appears Dec. 15 at Michele's Restaurant, is even more out of his mind than ever.
"Jesse Jackson, I hate his ass, 'cause he always comes to the rescue," Blowfly tells me out of the blue. "We got some of the most successful blacks in the world that fuck it up. Like Kobe Bryant, he won't date nothin' but white girls!"
Blowfly then begins to sing his own crazed version of Bobby Brown's "My Prerogative" into the phone, assuming the roles of Kobe Bryant, Whitney Houston, Martha Stewart and President Bush. I can hear pedestrians in the background, on the street, shouting and laughing.
Yes, Blowfly is coming to the North Bay, and we may never be the same again. It's not the filthy mouth or sex-crazed songs that define his personality so much as his sheer and total unpredictability. While dirty-rapping disciples of Blowfly such as Ol' Dirty Bastard and the 2 Live Crew pinpoint their targets and strike with intent, Blowfly's nastiness is more like a loosely handled firework of filth exploding in every direction.
During our conversation, Blowfly calls MC Hammer "one of the biggest crackheads ever," offers Martha Stewart "a real deep douche" and declares that Prince had oral sex with a young boy while his aunt was in the shower with his backup singer. He's talking a mile a minute, and it's hard to keep up with allegation after allegation. The one thing that he conspicuously does not claim is that he is responsible for inventing rap music.
"Rap goes back to the '30s," he says dismissively, citing Tex Williams' country-swing hit "Smoke! Smoke! Smoke That Cigarette!" as an example of rhythmic talking in popular music. "It was the good ol' hillbilly boys that started that rap shit," he advises.
This could be seen as Blowfly's own form of genteel humility. His groundbreaking 1965 song "Rapp Dirty" predates the crop of routinely cited hip-hop pioneers such as Grandmaster Caz or the Last Poets by several important years--and yet Blowfly rarely gets credit for it.
The phenomenon known as Blowfly started out as Clarence Reid, who at the age of seven was forced to quit school and start working for the family. He soon found that he could earn money by singing his own dirty lyrics to popular songs. "I loved to get in people's heads, so I would take Ernest Tubb's 'I'm walking the floor over you' and change it around. I'd wind up with about 20 dollars. A nigger wasn't makin' but 10 dollars a week there!"
Reid eventually signed with local record producer Henry Stone, and in the 1960s could be relied on as a dependable soul songwriter; he's responsible for both Betty Wright's "Clean Up Woman" and Gwen McCrae's "Rockin Chair." He now has 3,800 songs registered with BMI, but the most sorely overlooked credit for Reid lies in writing the Isley Brothers' biggest hit.
I have a 45 of Reid's great 1964 recording "Nobody But You Babe," and a home analysis shows that Reid's grooves contain the same guitar-and-horn riff later used in the Isley Brothers' No. 1 party anthem "It's Your Thing." It's a note-for-note ripoff, plain and simple. I ask him about it. "I recorded it in 1964. I was ahead of myself," he explains. "So when the Isley Brothers came out with 'It's Your Thing,' Isley and them tried to sue me!"
"They say, 'It's Your Thing.' I say, 'Fuckface bitches!'"
Indeed. Which returns us to Blowfly, Reid's caped, masked and sequined alter ego who effectively ended Reid's straight career with the overwhelming success of such records as "Funky in the Hole" and "Porno Freak." Blowfly records were being listened to all across the country at stag parties and dorm rooms, so much so that the government took notice and began busting record stores for selling his LPs.
Undeterred by controversy, Blowfly plunged on, nastier than ever. His album covers featured uncensored orgies and contained songs with lyrics more outrageous than anything Redd Foxx or Richard Pryor were doing at the time. With each new album, it seemed that Blowfly had further secured his place in puritan hell.
Then in the 1980s and 1990s, he disappeared completely.
It is amazing that Blowfly is still alive, but the greater miracle is that he is on tour. He has been off stage for 20 years, living modestly in Miami and paying the bills with royalty checks from Ice Cube, Puff Daddy and Jurassic 5 samples. But today, on the phone, as Blowfly spouts off about putting Dick Clark's member in a meat grinder, it's easy to see that Blowfly never really went away.
Toward the end of the interview, I ask if there's anything he wants to say to prepare people for his appearance in Santa Rosa. "Yes," he says, taking on a low, measured tone. "Get ready for the ride of your motherfucking life!" he insanely rambles. "I'll leave with tits in my little fish-smellin', well-wishin', no-douchin' . . . ."--his thin voice trails off as he slowly pulls the phone away--". . . no-bra-wearin', fragin-nabbin', actchin'-bargen, argkkin . . . blrrgn . . ."
The line goes dead, and I realize that the interview is over.
---
Blowfly appears with HugeLarge and DJ Max Wordlow on Thursday, Dec. 15, at Michele's Restaurant. 521 Adams St., Santa Rosa. 10pm; 21 and over (doh!). $10. 707.542.2577.
---
[ North Bay | Metroactive Central | Archives ]