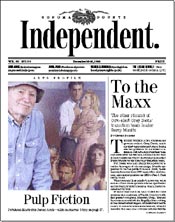 For the Week of
December 10-16, 1998
Cover: Pulp Fiction
From Pearl Buck to J. D. Salinger, local illustrator James Avati's vision has enlivened the written word.
News: Chainsaw Chancellor
The real résumé of Gray Davis appointee Barry Munitz.
House of Cards: Credit card pushers plunder for profit.
The Scoop: Risky sex, Dr. Laura, abstinence, TV habits and other thoughts.
Up to the Task?: See how your kids' school did in the state Standardized Testing and Reporting program.
Climbing Up on Capitol Hill: Check up on the your Congressional Representatives and U.S. Senators--where they stand, how they voted.



Presents of Mind: Our annual guide to clutterless gifts.



All That Jazz: Plenty to cheer about in 1998 jazz CDs.
Industrial Revolution: German rockers Einstürzende Neubauten rev up their postmodern sound.
Parker Rising: Nicky Baxter reviews Awakening, the new album by percussionist Leon Parker.



Talking Pictures: David Templeton attends the animated The Rugrats Movie, along with a pair of highly experienced Rugrats "experts"--his two daughters, Amber and Jenna.
Twisted Sister: Vince Vaughn ill-stars in Gus Van Sant's Psycho remake.



Grape Gifts: Holiday items for that wine enthusiast in your life.
Heard It Through the Grapevine: Get to the root of all things wine.



Love Story: Santa Rosa Players deliver a red-hot West Side Story.



Crimson Memories: Red Star Sister serves up honest view of the '60s.
They Got the Beat: Brenda Knight's book recalls bohemian days--women during the beat era.
The Duke and the Dandy: Hunter S. Thompson and Tom Wolfe helped create the New Journalism, but their new novels--The Rum Diary and A Man in Full--point in opposite directions.
Could Moore Be Merrier, Please?: Lorrie Moore's short fiction collection depresses and thrills millions.
A Price Worth Paying: Richard Powers charts the power of business in all corners of life and death.
Deep in Life's Well: In Haruki Murakami's world, people must touch bottom before they can find salvation.
Mighty Muse: In which David Eggers takes the pretensions of the little literary magazine are taken for a ride.



Please don't forget to write! The Sonoma County Independent welcomes letters commenting on our coverage or other topics of local interest. Please keep all letters at 300 words or less (we reserve the right to edit them for length and style) and sign them (unsigned letters will not be published). A local phone number must be included for verification. Postal: Sonoma County Independent Letters, 540 Mendocino Ave., Santa Rosa, CA 95401. Fax: 707/527-1288. Email: [email protected]. Emailers, please include name, city of residence and phone number. Letters printed will list email address unless otherwise specified. Letters to the editor are not currently published in the online version of this paper.