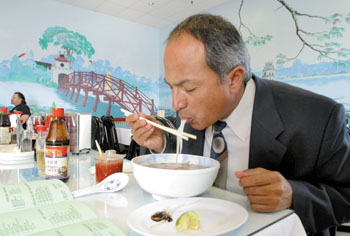 Photograph by Michael Amsler

Pho-To Finish: Thang Long's steaming bowls of pho heal what ails you.

Let It Pho, Let It Pho, Let It Pho

The importance of beef noodle soup

By Sara Bir

Beef soup--as in beef in soup, as in beef vegetable soup--is bad, conjuring up unpleasant memories of globs of concentrated canned goo. Pho is not; pho is sublime and powerful. In seasons hot and cold, the body's craving for an aromatic, steaming bowl of pho, its exotic, spiced fragrance a mélange of clove, cinnamon, and anise, can pull down a mind like a mighty undertow; the pho jones can be very distracting.

Pho--or, more precisely, pho bo, the Vietnamese beef noodle soup--packs a triple punch of goodness in that it is wholesome, inexpensive, and immensely nourishing. The soup's exact origins are contested, but it did gain rise in the early 1900s in Vietnam, possibly developed as a way to use leftover beef from Vietnamese New Year (Tet) celebrations.

There must be two kinds of pho eaters: those who have had the real stuff from a vender in Hanoi, the cultural epicenter of pho, and those who have not. Probably most of us fall in the latter category, but for those lucky ones in the former, the flash points of pho include what cuts of beef best belong in the stock; what amounts of which spices go in there; if extraneous garnishes such as bean sprouts and cilantro belong in there in the first place; and how to best methodically attack the bowl in order to extract the maximum amount of pleasure from the experience.

You can pronounce pho like "faux," and while the pronunciation will be off, the people at the restaurant will still know what you want. Or you can say pho correctly, like "fur" without the r, though I'm sometimes afraid if this is geeky. One fail-safe method is to point to the menu and say, "Number 33, please."

It's possible to make your own pho at home, though unless you are a person who's enamored with the process of things, there's really no point. Pho requires the gathering of all sorts of difficult-to-procure cuts of meat (oxtail, beef shin, pork and beef collar bones, and beef cartilage) and the very smoky charring of dry spices and a whole onion with the skin on.

It takes a mighty dedication to superior beef stock to wrestle with that amount of protein matter for a good day or so, blanching and reblanching bones, skimming scum, skimming fat, skimming more fat, and skimming yet more fat. This is best left to restaurant owners, who are delighted to sell you an inhumanly large helping of pho for less than $5.

Unlike, say, beef vegetable soup from the deli around the corner, pho's components are carefully arranged in the bowl before serving: noodles first, meat next, then scallions and thinly sliced raw onion. With the addition of steaming broth, the meat and greens float to the top and create a picture of textures and colors.

A pho place always has a "House Special" all-out beef-o-rama pho with lean, rare steak, brisket, well-done meat, flank steak, tendon, and tripe, making the meal an adventure in beef eating. The ultrathin slices of rare steak are placed atop the noodles, bright red and raw, and the heat from the broth cooks them in no time flat. It's like magic. When the bowl arrives at the table, the soup should look like a composition, with the pink meat under the purple of the onion, and the green of the scallions glistening brightly; it should smile prettily at you.

About all those odd bits of beef threading in and out of the rice noodles: if you don't like fat or weird chewy things, stick to the rare steak. Everything else is one of those textural experiences that, depending on your point of view, is either a guilty pleasure or an intimate run-in with things that humans should not consume--the at-turns fatty, crunchy, and tender tendon (just where in the cow this comes from, who's to say) literally dissolves in the mouth; the tripe, in weblike strands studded with tiny bumps, chews and tastes like an edible rubber band. Pho can also be made with chicken or seafood, but to me that's missing the point.

The best thing about going out for pho is that even when it's just OK, pho is really good. So even if some places are better than others, it's almost always safe to order pho. There are more than a few trusty places up here to get that vital pho fix. One of the newer ones is Thang Long in the big, crummy shopping plaza in Petaluma that has a Trader Joe's. Thang Long itself, however, is not crummy, and it's worth braving the Trader Joe's-mad denizens for.

Thang Long's pho ($4.25 small; $4.95 large; $5.95 extra large) is some of the cheapest around. Its broth, dark and on the salty side, tastes oddly more of chicken stock than beef stock. Thang Long garnishes their pho with scallions and thinly sliced red onion; the rest--mung bean sprouts, basil leaves, sliced green chilies, lime wedges, and assorted sauces--is served on the side.

The rice vermicelli has a pleasing, slightly chewy texture that plays well off the beef. I ordered eye-round steak, which was lean and sliced microthin, and beef balls. The beef balls were interesting--more like slices of mild sausage or mini meatloaf than meatballs. For those who squirm at the notion of knocking back a bowl of tripe and tendon, this combo presents a tasty and less daring alternative.

Thang Long has a nicer, newer, and brighter dining room than other pho places. It also has those colorful and sweet tapioca drinks that trendy kids like. I can vouch that Thang Long's spring rolls ($3.95 for three) boast the tastiest dipping sauce I've had--thick, smooth, and more sweet than nutty. The spring rolls themselves (boiled shrimp, pork, rice vermicelli, lettuce, and basil leaves) were crisp and blandly refreshing, just like spring rolls are supposed to be.

Up in Santa Rosa, the shopping plaza that Vy Vy Vietnamese Restaurant calls home is not nearly as grandiose, but it's a shopping plaza nonetheless. At the intersection of Dutton and Sebastopol roads, Vy Vy is indeed inexpensive, and it does serve mighty large bowls of pho in its many incarnations ($4.95 small; $5.50 large; $6.50 extra large).

With cloves and cinnamon, the broth of Vy Vy's pho is more aromatic than Thang Long's, though its body in the mouth lacks punch; it's greasier, lighter-colored, and less salty, making the most mediocre pho I've ever had. The noodles were also a bit too tender, as if they had been hanging out in the stock too long.

Just for the fun of it, we tried bun bo hue, the house special spicy noodle soup, which is priced exactly like the pho. The surface shined with bright red-orange chili oil, and it packed a mountingly hot punch. Bun bo hue came with egg noodles and tendon-laden slices of beef. The spring rolls at Vy Vy ($4.25 for four) are larger than Thang Long's, and their peanut dipping sauce carries both an orange hue and an odd grittiness.

Overall, Vy Vy was disappointing. Our service was slow, and they don't have any special fancy drinks except for iced coffee with condensed milk. But it's a passable place that's reasonably priced, and they offer fresh mint leaves with their garnishes, which Thang Long does not.

Both Thang Long (which has a vegetarian section on its menu) and Vy Vy (which has hot pots) offer much more than pho and spring rolls for those whose devotion to Vietnamese cuisine is not so single-minded. Universally, though, the obsession with pho is growing. Somewhere I heard that Campbell's was looking into making a version of pho. Pshaw! Good luck, I say. You can't can the interplay of steaming deeply flavored broth with the crisp freshness of mint, basil, and cilantro--and you sure as hell can't put lean, rare beef in a can.

Campbells' should know better, and so should you. Soup is good phood.
---
Vy Vy Vietnamese Restaurant, 443 Dutton Ave., Suite 2. Monday-Sunday, 10am-9pm.
Eat-in or takeout. 707.528.9988.
---
---
Thang Long Vietnamese Restaurant, 175 N. McDowell Blvd., Petaluma. Monday-Saturday, 11am-9pm.
Eat-in or takeout. 707.778.8851.
---
[ North Bay | Metroactive Central | Archives ]