[ MetroActive Central | Archives ]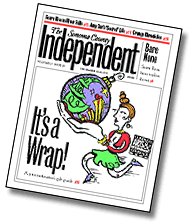 December 14-20, 1995
Frontlines
No Nudes: The California Hardbodies hot oil wrestling act may challenge new Santa Rosa law.

Public Eye: Election tango; time of the sign; mixed media.

News Briefs: Hell and high water; property values slip; convention center vote.
Arts &amp Entertainment
Books
Amy Tan stumps next week for local public school libraries.

Movies
Movies: Our new and archived movie reviews

Music
Shuggie Otis is anxious to get it goin'.
---
This page was designed and created by the Boulevards team.
Copyright &copy 1995 Metro Publishing and Virtual Valley, Inc.