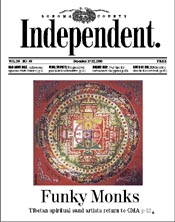 For the Week of
December 17-23, 1998
Cover: Funky Monks
Tibetan sand artists return to the Sonoma Museum of Visual Art.
News: Cash Cow
Arizona dairymen make a moo-ve on California milk market.
The Scoop: British nobles get the royal shaft.
Cyber Furby: Nuke a furball in virtual space.
Up to the Task?: See how your kids' school did in the state Standardized Testing and Reporting program.
Climbing Up on Capitol Hill: Check up on the your Congressional Representatives and U.S. Senators--where they stand, how they voted.



Gift Options: Our tips for pleasing those hard-to-please loved ones.
Holiday Hell: Surviving the last-minute shopping frenzy.
Echo & the Music Machine: The Horrible Smiths treated their son like one of their wrecking yard projects--until a bit of silvery magic came into Echo's life. An original Christmas story by David Templeton.



Southern Man: Alt-rocker Vic Chesnutt's latest CD lets light shine on dark lyrics.
Rolling on the River: New Smithsonian/Folkways CD anthology is a River of Song.
They've Got Issues: The Offspring veer to the puritanical and cautionary on new album, Americana.
Audiofile: Reviews of the latest CDs by True to Form, Chris Cain and Tiger Okoshi.



Talking Pictures: Cyber-sexpert Deb Levine chats up You've Got Mail.
'Evil' Ways: Orson Welles' 1958 film classic Touch of Evil gets redeemed.



Best Brews: Taste testers sample seasonal suds.
Heard It Through the Grapevine: Get to the root of all things wine.



Tap Tap Tap Dogs: It's not easy being a novelist, says Frederick Busch in A Dangerous Profession, his new look at writers' lives and hard times.



Please don't forget to write! The Sonoma County Independent welcomes letters commenting on our coverage or other topics of local interest. Please keep all letters at 300 words or less (we reserve the right to edit them for length and style) and sign them (unsigned letters will not be published). A local phone number must be included for verification. Postal: Sonoma County Independent Letters, 540 Mendocino Ave., Santa Rosa, CA 95401. Fax: 707/527-1288. Email: [email protected]. Emailers, please include name, city of residence and phone number. Letters printed will list email address unless otherwise specified. Letters to the editor are not currently published in the online version of this paper.