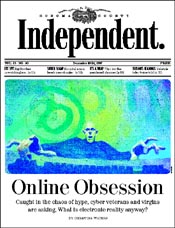 For the Week of
Dec. 18-24
Cover: Online Obsession
Caught in the chaos of hype, cyber veterans and virgins are asking, What is electronic reality anyway?
News: Eye of the Storm
Controversy surrounds installation of surveillance cameras in the county.
Capital Crimes: As the Unabomber trial struggles to take its first breath, Marc Herman reports, the media encampment busies itself with minutiae that make the Manifesto seem almost sane.
The Scoop: Exploring Meriwether Lewis.
Climbing Up on Capitol Hill: Check up on the your Congressional Representatives and U.S. Senators--where they stand, how they voted.



Holiday Hell: Last-minute gift tips for the perpetually perplexed. Plus, clutter-free gifts.



The Toughest: New CDs celebrate reggae great Peter Tosh.
Spins: Editor's choice of the year in sound.



Rosicrucian Red: The Rosicrucian Order, the granddaddy of metaphysical science and secret religious tenets, should be flying high in the New Age. But instead they're sitting cross-legged on the floor. What happened and why these ordinary folks don't mind.



Talking Pictures: Award-winning German author Bernhard Schlink dives into a discussion of the epic film Titanic.
To Die For: We like our Bond shaken and stirred in Tomorrow Never Dies.



Udder Confidence: Clover Stornetta dairy follows the wine industry.
Heard It Through the Grapevine: Get to the root of all things wine.



Warm and Fuzzy: Our sweet tribute to the tradition of holiday reading.
After the Fall: New book captures the last days of the Vietnam War.



Please don't forget to write! The Sonoma County Independent welcomes letters commenting on our coverage or other topics of local interest. Please keep all letters at 300 words or less (we reserve the right to edit them for length and style) and sign them (unsigned letters will not be published). A local phone number must be included for verification. Postal: Sonoma County Independent Letters, 540 Mendocino Ave., Santa Rosa, CA 95401. Fax: 707/527-1288. Email: [email protected]. Emailers, please include name, city of residence and phone number. Letters printed will list email address unless otherwise specified. Letters to the editor are not currently published in the online version of this paper.