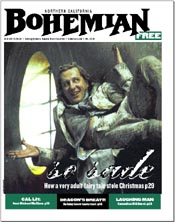 For the Week of
December 21-27, 2000
Cover: De Sade Story
The real hit of the season ought to be 'Quills,' Philip Kaufman's smart bio-fairy-tale about the infamous proto-pornographer.
News: Civil Wars
Opposition mounts against forced pest spraying.
Newsgrinder: Important events as reported by daily newspapers and summarized by Daedalus Howell.



Gaga over Gadgets: Culinary doodads all the rage.
Open Mic: Off the Wall.
Geek Girl: Even for the young, retirement not as much fun as it's cracked up to be.



Buy the Bottle: Wine gifts for discriminating tastes.
Reality Bites: Surviving dysfunctional family holiday meals.
The Wide-Eyed Gourmet: Munching on McMuffins and vending-machine cuisine.
Heard It Through the Grapevine: Get to the root of all things wine.



Tiger, Tiger, Burning Bright: Michelle Yeoh and Chow Yun-Fat light up the screen in Ang Lee's sweeping martial arts tale, 'Crouching Tiger, Hidden Dragon.'
Lost at Sea: Empty-headed 'Cast Away' unwittingly delivers.
Digital Delights: A potpourri of new DVDs.
Supersurprise: Training a b.s. detector on 'Unbreakable.'



Pop Life: Old farts top year in review.
Rage On! Aggro-funk heavyweights issue best sides.
SF Club Guide: Disco divas, hip-hop connoisseurs and salsa suaves to flannel-clad pinball players, jazz luminaries and more from the City by the Bay.



The Short Answer: Three story collections will have 'em beggin' Santa for more.
Way of the Gun: Fresh perspective on our love affair with firearms.
Best of the West: New literature collection declares California's cultural independence.



Please don't forget to write! The Northern California Bohemian welcomes letters commenting on our coverage or other topics of local interest. Please keep all letters at 300 words or less (we reserve the right to edit them for length and style) and sign them (unsigned letters will not be published). A local phone number must be included for verification. Postal: Northern California Bohemian Letters, 50 Mark West Springs Road, Santa Rosa, CA 95403. Fax: 707/521-1966. Email: [email protected]. Emailers, please include name, city of residence and phone number. Letters printed will list email address unless otherwise specified. Letters to the editor are not currently published in the online version of this paper.