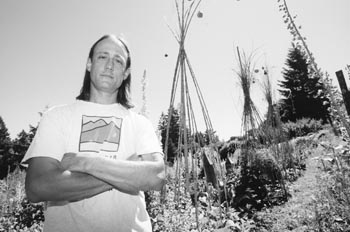 Photograph by Michael Amsler

Bucolic battleground: Dave Henson, director of the Occidental Arts and Ecology Center, fears that pesticide use around vineyards in the area will contaminate the center's extensive organic gardens. Henson plans to resist attempts to enforce ground spraying.

Civil Wars

Opposition mounts against forced pest spraying

By Shepherd Bliss

A TEMPORARY ban imposed last week by Sonoma County agricultural officials on a powerful pesticide that caused the recent death of hundreds of birds has underscored mounting opposition to a controversial forced-spraying program designed to battle a tiny vineyard bug.

Defiant supporters of the No Spray Action Network met this week and on Dec. 11 at a barn near the Santa Rosa Creek to forge plans to fight forced spraying to combat the glassy-winged sharpshooter, an insect that can spread bacterial Pierce's disease and threatens grapevines. Both meetings were called in response to the Dec. 5 decision by the county Board of Supervisors to authorize spraying against people's will to protect the region's $2 billion wine industry--a decision that has led some to pledge civil disobedience.

"We have spent over 20 years working on our 80-acre organic farm, and we are not about to let anyone spray it with deadly pesticides," says Dave Henson, director of the Occidental Arts and Ecology Center.

The No Spray group is developing rapid response teams to help people defend their homes from spraying in the event that the county declares an infestation.

The state defines an "infestation" as five bugs, which can trigger spraying for a mile surrounding the insect. Sonoma County Agriculture Commissioner John Westoby has the power to authorize the spraying. Nonviolent training sessions will begin in January to educate residents about their rights and how to effectively resist.

Kurt Erickson of the Rural Alliance was buoyed by the cooperative tone of the barn meeting, which he characterized as "determined, firm, unswerving resolve, but not harsh or rude. It was clear-eyed and focused."

Meanwhile, the statewide Pesticide Action Network--a coalition of over 140 environmental groups--on Dec. 12 sent a strongly worded letter to California Secretary of Food and Agriculture Bill Lyons signed by local farmers, and by health, community, and environmental groups opposed to the spraying. In the letter, PAN cited the president of the California Certified Organic Farmers, wine-grape grower Phil La Rocca: "History has shown that wholesale applications of broad-spectrum pesticides to control pests is not effective."

"This runaway spray program threatens the health of California's communities, ecosystems, and organic farms," notes PAN spokesperson Jessica Hamburger.

Glassy-winged sharpshooters hitchhike on landscaping plants, like the single one that arrived in a Healdsburg nursery earlier this year and the egg casings that were discovered as well. They feed on ornamental plants, citrus, and grapevines. Harmless to people, they can transmit Pierce's disease to some plants. Under the plan adopted by the supervisors, city residences are more likely to be sprayed first. Thus far, forced spraying has been used in residential areas in Fresno, Tulare, Sacramento, Contra Costa, and Butte counties rather than in the countryside.

"They are willing to spray our yards with [the pesticide] carbaryl," observes No Spray leader Mari Russell, a cancer survivor. "The Environmental Protection Agency considers carbaryl (sold under the brand name Sevin) to be a possible carcinogen. We are the expendable front line [of their battle against the bug].

"Carbaryl is a suspected endocrine disrupter, interfering with the hormones that control growth and reproduction. It contaminates ground water and is toxic to beneficial insects like bees and ladybugs. Nontoxic and noninvasive solutions must be implemented [instead]."

Pesticides used against the sharpshooter elsewhere in California are nerve toxins, such as the Nemacur that recently killed hundreds of birds in Alexander Valley and injured frogs elsewhere. Like canaries in a coal mine, critics say, these animals indicate the potential threat of pesticides to human health.

Activists led by the Town Hall Coalition, a west county organization that has fought vineyard expansions and related issues, scored a major victory last week when county agricultural officials suspended the use of Nemacur. More than 400 birds died after its use by the Klein Family Vintners. Nemacur bears a warning label with skull and crossbones and the words "Poison, Danger, Peligro." The small print reads, "This pesticide is toxic to fish and wildlife. Birds feeding on treated areas may be killed."

Critics contend that, like Nemacur, carbaryl poses too high a risk to people living near sprayed areas. It's time we learn from history, they say. "Many chemicals have been used in the past when manufacturers claimed they were safe, only to be banned after they were discovered to be harmful--DDT, Lindane, Dursban, and, recently, Diazinon, just to name a few," contends No Spray's research committee co-coordinator Rosemarie MacDowell. "They are used, harm is done, then they are banned."

Tara Treasurefield of the Town Hall Coalition, adds, "Why wait until carbaryl damages wildlife? Its use should be suspended now, since we know that it will be deadly." That belief is echoed by other local activists. "It defies logic to believe that chemicals that kill bugs are not going to have a negative effect on human health," comments No Spray leader Helen Kochenderfer of Sonoma County's Peace and Justice Center, who advocates civil disobedience if the forced spraying begins. "It's a personal affront to people who spend years minimizing their exposure to toxics for the county to plan to leave their yards dripping with chemicals.

"People have to act; nobody is going to save us but ourselves. "

Will Shonbrun of Sonoma Valley notes, "Our government must put the health of people and our environment first, not the economic interests of one industry. Who is willing to risk the health of his/her child from pesticide poisoning so that a wine grower may profit? Certainly not I."

Organic farmers and gardeners, local officials, teachers, parents, students, physicians, and others attended the Dec. 11 gathering at the Summerfield Waldorf School barn. Sebastopol Mayor Larry Robinson, Sebastopol City Councilmember Craig Litwin, and Sonoma Vice-Mayor Ken Brown were among two dozen speakers.

Sebastopol, Sonoma, and Cotati city councils all have passed resolutions opposing the forced spraying plan.

"The motivations for our actions are as important as the actions themselves. Love for this land and the resolve to protect it can be a sustaining energy which endures and leads to the best possible outcome," says Robinson. "Love of this land will, ultimately, be far more effective than anger against those who would destroy it."

Yet the No Spray group does not oppose all pesticide use, only that which infringes on nonvineyard areas. "If grape growers use pesticides on their own land, that is their legal choice," says Shonbrun, "but they do not have the right to subject others to chemical poisoning."

But, critics point out, when authorities spray at private homes and public properties, including schools, roadsides, and parks, they have crossed the line. "Forced spraying is an in-your-face violation of constitutional rights," says Christine Walker. "I would defend my family and my neighbors' property against toxic chemicals."

Vicki Oldham of the Mendocino Environmental Center--whose timber-war veterans have attended Sonoma meetings--adds, "A farmer's'right to spray ends at his property, and chemical drift will not be tolerated."
---
The No Spray Action Network will hold its next public meeting Tuesday, Jan. l6, at 7 p.m., at Summerfield Waldorf School, 655 Willowside Road, Santa Rosa. For details, contact [email protected] or 707/874-3119.
---
[ North Bay | MetroActive Central | Archives ]