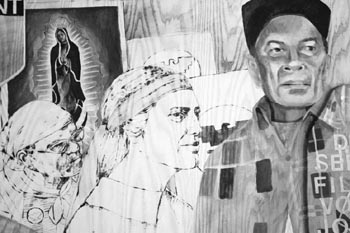 Open Mic
Off the Wall
By Jacques Levy
No university wants to be caught promoting revisionist history. Nor should Sonoma State students be subjected to such history at the entrance to their new Information Center. Unfortunately, that is just what the new Cesar Chavez mural promotes, as we learned from the artist herself at the mural's recent dedication. Philippine-born Johanna Poethig pointed to two tall Filipino farmworkers towering above a huddled figure of Cesar Chavez at the center of the mural. She said: "Delano, California, Sept. 8, 1965. Filipino workers vote to strike. Joined by Mexican workers, they formed the United Farm Workers."
This is a "little-known fact," Poethig said proudly. Students and others, she said, would learn the truth and give the Filipinos proper credit. Unfortunately, the facts are quite different.
In 1959, the AFL-CIO chartered the Agricultural Workers Organizing Committee and assigned a seasoned white organizer as director, who was later replaced with another white organizer. By September 1965, on the eve of the grape strike, the AWOC still had no genuine membership base nor a single contract with a grower. Most of its members were Filipinos. Chavez, on the other hand, had quit his job and brought his family to Delano in 1962 to found a farmworkers' union. He met with workers in the fields and vineyards throughout the state and enlisted them in a new, independent organization he called the National Farm Workers Association, which he had patiently built up by 1965. When the AWOC strike reached Delano, he faced a dilemma. He had planned to avoid strikes until his organization was far stronger, but he believed in union solidarity. He called for an NFWA meeting in Delano for Sept. 16, and 1,200 workers voted to strike for union recognition as well as a union contract and pledged to remain nonviolent.
The AWOC provided its members with an AFL-CIO strike fund. The Chavez group was on its own. The strike lasted five years, culminating in signed contracts and union recognition.
The great achievements of Cesar Chavez could be recognized if a plaque correcting the mural's deceptive history were placed next to the mural.
--Santa Rosa
---
Jacques Levy, author of 'Cesar Chavez, Autobiography of La Causa,' was a member of the advisory board set up for the Cesar Chavez Memorial Mural Project at SSU.
---
[ North Bay | MetroActive Central | Archives ]