[ MetroActive Central | Archives ]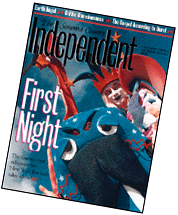 December 21-27, 1995
FrontlinesArts &amp Entertainment

Events
First Night: A sober New Year's Eve, brimming with local art and good cheer.

Not So Silent Night: A selection of New Year's Eve events around Sonoma County.

Movies
Movies: Our new and archived movie reviews

Comedy
Will Durst: Literate political satire for those who read, or know someone who does.

Music
John Allair: The boogie-woogie pianist goes for baroque.
---
This page was designed and created by the Boulevards team.
Copyright &copy 1995 Metro Publishing and Virtual Valley, Inc.