Arts
Alan Rath Retrospective at SJICA
Bay Area artist demonstrates a knack for learning machines
in new career-spanning show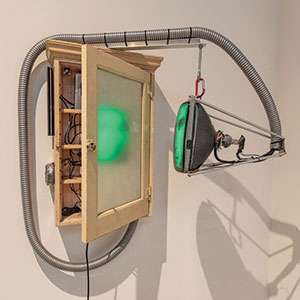 Among the many discarded objects, scattered tools and works in progress secreted away in Alan Rath's Oakland studio, a poster loosely splayed out on top of a box grabbed my attention. It read, "I Pity Inanimate Objects" and was used to announce a 2018 talk the artist gave at San Jose State University's Art Department.
The title is Rath's reference to a Godley & Creme song, off of their 1979 prog rock album Freeze Frame. After walking through "Virtual Unreality," his current career retrospective at the San Jose Institute of Contemporary Art, the song's lyrics indicate, if not the only theme, then a schematic for viewers unfamiliar with his work: "I feel sorry for them all/What are they thinking/When they arrive at a place/Do they sigh with disappointment/And when they leave/Do they have regrets?"
Rath calls the variety of whirring, clicking machines in "Virtual Unreality" sculptures. Most of them call robots to mind. Vaguely humanoid in shape, whether tall or squat, most pieces include imagery culled from the body. Enlarged neon green eyes stare at you mutely, almost reproachfully, from behind the walls of their plexiglas containers. An open mouth, divorced from its face, opens and closes on a video screen that's attached to cords and plugs and wires. It hangs on the wall like a mobile extracted from an electrician's bad dream. Five yellow hands, each on its own screen, wave at half mast to some unseen thing. And each one of them is quietly, in its own way, flickering with life.
"They're hibernating if nobody is around," Rath says. The red and white dots are sensors that wake them up so that the sculpture can spend time sleeping, thereby extending its artificial existence. But having to turn something on was a conceptual problem for him. "I don't want to force anybody to have to turn something on to demonstrate something. It somehow breaks the whole experience."
With nearly 40 sculptures on display, and each one an animate object, it's surprising that the galleries aren't booming, crashing and thudding with harsh, metallic sounds. When an array of long, pink feathers mechanically opens and closes toward you like an embrace, all you hear is the easy movement of the down as it whispers through the air.
Rath believes that the drive behind technology is comfort. "You think of all these great things like clothing, and being inside when it's raining out. It's nice to be protected from the elements, and warm." The strident, intrusive strain of technology, such as the ubiquity of mobile devices, he feels is an aberration, one that he's hopeful will sort itself out in time.
He began to sculpt in the 1980s, after securing his electrical engineering degree from MIT. He never considered making anything static "because, in my head, everything should move." When he looked at traditional sculptures, he felt like that was a compromise. "Every person who ever made a static sculpture was trying to imply motion, but they couldn't make it move." Rath then mentions another rock song, Jefferson Airplane's "Crown of Creation," to amplify what he means: "Life is change/How it differs from the rocks." "Everything that's interesting moves and changes," he says.
With a major retrospective like this that stretches back several decades, I asked Rath what he sees when he looks at the exhibit. "I see that over time, I actually did manage to build some stuff. I talk about how it seems so laborious, and it takes forever, but somehow I did complete some pieces. É I did pick up those skills that I didn't have any idea how to do."
There's a piece on the wall that he'd been wanting to make for 30 years but only recently finished. Its arms move gently, up and down, as if they're waving goodbye. "It's just holding that idea in my head for 30 years while I worked on every single element of every system that's needed," he explains. He asks himself, "Why did it take so long?" But comes to the satisfactory conclusion that, "On the other hand, okay, I finally did it."
Alan Rath: Virtual Unreality
Thru Jun 2
San Jose Institute of Contemporary Art
sjica.org