Arts
Review: 'Archduke'
TheatreWorks Silicon Valley ponders the origins of the boys who started World War I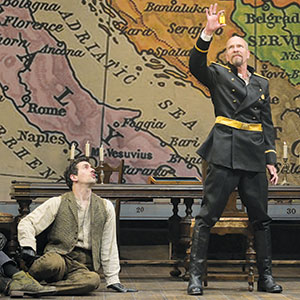 When the second act of Archduke opens, 19-year-old Gavrilo (Stephen Stocking) is nursing a broken arm. He's fitfully dreaming on a leather chaise longue. The stage is cast in darkness except for the large Géricault painting illuminated behind him. The painter depicts a society that's at war with itself. Enraged bodies commit acts of war against each other in roiling, tormented colors.
While Gavrilo tries to rest, lighting designer Dawn Chiang projects white light against two tall columns that frame the scene. If you concentrate on her imagery, you can see dozens of distorted skulls interconnected inside the projection. Rajiv Joseph's play is set in 1914 on the eve of World War I. Without descending into a didactic history lesson, this allusive production finds subtle ways to remind the audience of the millions who died in that conflict.
Gavrilo is also suffering from consumption. It's the perfect word to describe his state of mind. The disease is consuming his body along with his soul. After he receives his diagnosis, a death sentence, Gavrilo fixates on a woman's skeleton that was on display in his doctor's office. He projects his conscience onto it and even gives those bones a name, Dubravka.
Contemplating suicide, he hears her voice whispering to him, "Don't do it." Her bones later appear behind the Géricault, telling him again not to do it. But this time she's referring to something else. Gavrilo, along with two other young men dying of consumption, have been recruited by a colonel Apis (Scott Coopwood). He wants them to kill the archduke of the Austro-Hungarian empire, Franz Ferdinand.
Archduke is more than a blend of speculative fiction and the re-creation of anecdotal information from history. Like Don DeLillo's portrait of Lee Harvey Oswald in Libra, Joseph searches for and finds the reasons why Gavrilo, Nedeljko (Adam Shonkwiler) and Trifko (Jeremy Kahn) fall prey to the charismatic Apis. The colonel strikes a paternal pose, seducing these stray, penniless orphans with promises of glory, and, most important of all, his approbation. When we meet these young men in the opening scene, they're like characters out of Victor Hugo's Les Misérables—hungry, isolated and vulnerable.
After they've eaten a desperately needed full meal at Apis' house, the colonel begins his careful instruction about the Austro-Hungarian threat to Serbian self-rule, and indoctrination to his cause. As the Mephistophelean Apis, Coopwood wholly embodies the playwright's black comic tone. Joseph's great sleight of hand in the first act is to mislead the audience into thinking that they're watching a slapstick comedy. When Gavrilo picks up one of Trifko's handmade bombs and then accidentally drops it, the actors hop about the stage like vaudevillians in a silent film.
Gavrilo and Nedeljko have a fraternal rapport that manifests itself in scufflings, abrupt mood changes and meaningless quarrels. They're still adolescent boys, and lost ones at that. In spite of the early 20th-century European setting, the dialogue is contemporary, quick and witty. Gavrilo refers to the skeleton as "ladybones." But Joseph always fills out his funny asides with darker undertones that foreshadow the characters' troubling ends. Gavrilo wants to know if Nedeljko has found meaning in his life. It's Apis who provides them with the purpose they've been searching for.
In real life, it was only Gavrilo who assassinated Ferdinand. Archduke charts his transformation from the uncertain foundling we first encounter to his dawning, yet artificial, sense of self-determination. There's an insightful exchange between Apis and Sladjana (Luisa Sermol), his cook and servant. Before Gavrilo's arm is broken, he hesitated at the idea of becoming an assassin. When his bone snaps, so does his fragile psyche. He picks up an imaginary gun and shoots it. Apis tells Sladjana that something wonderful has happened. He says that Gavrilo has become a man. Sladjana pauses then calmly asserts that no, in fact, nothing's changed. He's still a boy. Boys are taught by father figures like Apis that the only way to become a man is by serving your country and killing for it. Sladjana suggests that Gavrilo disembark before the train reaches its final destination. In hindsight, we know that he didn't take her good advice.
Archduke
Thru June 30, $40+
TheatreWorks Silicon Valley
theatreworks.org