Arts
Stronger Vessel
San Jose Museum of Art hosts Woody De Othello solo show, 'Breathing Room'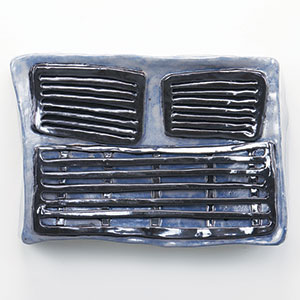 The electric light switches and sockets on the gallery walls are ceramic trompe l'oeils. Woody De Othello glazed them to catch and then trick the eye.
Up close, you can see that they're misshapen. Like the other sculptures in "Breathing Room," his solo show at the San Jose Museum of Art, De Othello's work suggests the presence of a real-world object. But the final product, whether it recalls a radiator or an air conditioning unit, is deliberately cast to appear off-kilter. He animates the inanimate, capturing things in the act of inhaling, exhaling or holding their breath.
A few museum-goers scribbled their impressions of his work down on special notepads offering low-tech feedback to the artist. One anonymous visitor wrote, "Some of your work is nightmare-ish. I love it! Then I read about your intent and saw it in a totally different light." I met with the artist in his El Cerrito studio to talk about his intentions, "nightmare-ish" or otherwise.
"There are two different things that are apparent in the show," De Othello says. "One of them is riffing off of this anthropomorphic type of domestic object that breathes." He's referring to an AC unit, a space heater and an air purifier. These machines control the temperature and the environment by circulating air. The artist is meditating on the way we breathe inside the controlled environments of our homes and public spaces.
But in a piece like Passive Prayer Inverse, the human body is contorted to form tortuous poses. Arms and hands twist unnaturally behind a head or cover up a face to hide an expression of shame or anguish. "You turn on the news and listen to something traumatic and sad," he explains, "and then you might have something heavy in your personal life on top of that." De Othello believes that this "vessel" work, which isn't based on a representational object, contains "the sediment of those negative feelings."
He believes that these distorted sculptures of the human form come from a more intuitive place than the breathing machines. De Othello also says that the terms "vessel" and "figure" are becoming more interchangeable for him. In fact, his works look like a cross between the two concepts, as if a figurative sculpture had devolved and become an odd vase.
The center of gravity in Getting In My Own Way, Self-Imposed Blockades is a giant red foot. De Othello drapes an elongated arm and hand over the single leg, adding in an enormous ear that blooms just above the ankle. He might have melted down a caryatid's face and torso to create it. But the artist has blasted away any suggestion of a coherent human soul. Instead, he extracts a traumatic moment from the subject's psychic life and freezes it in place. Still, he maintains, it's "the material that dictates what it wants me to do."
Sometimes the original idea starts with a drawing. But once he starts to shape it, "the clay wants to do something else." De Othello says he opens up "to this communication with the clay."
"Breathing Room" also includes three of his gorgeous acrylic and gouache paintings. Their melting interiors are clearly connected to the sculptures, but the stories they tell can stand on their own. The vivid oranges, reds and pinks complete the psychological profile of the sculptures. They give us a glimpse of the daydream, or the vision, behind all of those unhappy, mangled limbs.
You can draw a quavering, emotional line from the tangled flesh in Self Image to the oozing black viscera of Defeated, depleted. Neither the painting nor the sculpture depicts an intact face. The painter of the self portrait is kinder to his subject. He includes a vase of flowers in order to soften the blow of the distress we're seeing. The body lacks any bone structure. It coils around itself like a sleeping salamander.
De Othello acknowledges that Defeated, depleted is an expression of feeling overwhelmed. But he banishes the feeling into a vessel. "Breathing Room" contains many of his anxieties. The exhibit is also a reminder of how he contends with them.
"You can't really control when your body and your mind is low," he says. "But to be aware of it, and pause, that's the only way to get through it."
Breathing Room
Thru April 5, 2020, $10
San Jose Museum of Art
sjmusart.org