Arts
Comic Relief
Times change, but for the Capitol Steps, it's the same old song and dance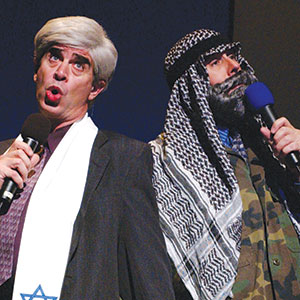 After the election of 2016, Elaina Newport and the rest of the Capitol Steps team were concerned. The founder of the long-running musical comedy troupe had lampooned presidents, senators and congressional representatives for more than three decades—from the Reagan era through the Obama years—but she was still worried.
"It was so contentious and so partisan," she remembers. "There was a little hesitation: Can I laugh?"
Newport was concerned that the Capitol Steps brand of equal-opportunity political satire—set to arrangements of popular music and show tunes—would rub both Republicans and Democrats the wrong way, leaving her and the players without an audience.
Still, they pressed on.
"The best comment that we got is that people would come to the show and say 'I didn't know if I could laugh, but I did, and I feel better.'"
When it comes to skewering the likes of Donald Trump, Mitch McConnel, Nancy Pelosi and Adam Schiff, the cast of Saturday Night Live may be the most nationally recognized. However, the folks at Capitol Steps have been at it for almost as long as the NBC sketch comedy show—and, what's more, the troupe is composed largely of performers who actually worked on Capitol Hill.
"For the first 15 years, we insisted that you couldn't even audition unless you used to work on the hill," Newport says of her company, which she founded with two other former Republican staffers back in 1981. They've since dispensed with the requirement, but former political aides still comprise about half of the Capitol Steps.
Plenty has remained the same since the early days of the project, Newport says. Politicians are as reliably flawed, hypocritical and gaffe-prone as ever. And, she says, punching up at the party in power is still likely to draw more laughs.
What's different now, however, is how fast she the rest of the comedy writers at Capitol Hill need to move in order to keep up.
"The news cycle being so fast has presented some new challenges," Newport says. "But also, this particular presidentÉ" she trails off into laugher. Just when she and the rest of the group think they've got a hot new number, capitalizing on the latest scandal, Trump starts tweeting about something completely different and the national political narrative pivots.
They deal with the president's ever-evolving feed with a specific tune—"Tweet It," set to the accompaniment of Michael Jackson's "Beat It." This allows for the troupe to make adjustments on the fly without throwing out an entire sketch.
But still, they often have to think quite quickly at Capitol Steps. "I've been known to text jokes to people as they're standing backstage," Newport says.
This non-stop, always changing show creates plenty of anxiety and tension for the performers, but it almost always rewards the audience—even when someone flubs a line, it often makes for a good laugh.
Over the course of her 38 years at Capitol Steps, Newport and her partners have built what was initially a hobby into a full-blown enterprise. They have about seven people working full-time, she says, and when I call—just a few days after Christmas—a man answers the phone at Capitol Steps' Washington, D.C. office ("world headquarters," Newport calls it), before placing me on a brief hold.
In addition to their performers, they have bookkeepers, travel managers and other administrative staff. But the hardest working team member in the Capitol Steps organization is the head of the props department, Newport says. The job requires sourcing obscure items and getting them delivered quickly—sometimes the day of the show.
Wigs are a common line item, Newport notes. "Boris Johnson was a particular challenge."
As it turns out, poking fun at politicos is a full time job, and Newport is happy to serve. "That's why we're here," she says. "We're the comic relief."
Capitol Steps
Jan 9, 7:30, $65
Oshman Family JCC, Palo Alto
paloaltojcc.org/capitolsteps