Arts
Dia De Los Muertos
San Jose honors the ancestors this weekend with multiple Day of the Dead events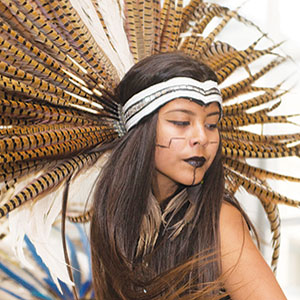 Aztec Dance
Nov 1, 4pm, Free
School of Arts & Culture, San Jose
As day moves into night, more than 100 dancers from local Aztec dance troupe Calpulli Tonalehqueh will descend on the Mexican Heritage Plaza's main square, performing ceremonial music and dance from Mexico's indigenous peoples for the school's annual celebration of the dearly departed. Like the festival itself, the troupe (whose name means "community of guardians who accompany the sun") connect tradition to modernity in striking fashion.
Avenida de Altares
Nov 2, 6pm, Free
School of Arts & Culture, San Jose
The celebration of Dia de los Muertos continues on Friday at the School of Arts & Culture with Avenida de Altares. This ancestral commemoration expands out from the Mexican Heritage Plaza to surrounding businesses exhibiting art and installations. Following the altar walk, the plaza hosts a cumbia dance party with live music, arts, crafts, vendors and more.
Dia Community Day
Nov 3, 11am, Free
San Jose Museum of Art
This Sunday, the museum hosts live folklorico performances, sugar skull decorating and more. At this free, family-friendly event, local culture and Dia celebrations happen among the museum's current exhibits, creating a space where art, tradition and community naturally combine.
Food & Art Walk
Nov 3, 10am, Free+
The Alameda-Rose Garden, San Jose
At the end of the weekend's festivities comes a leisurely event along one of San Jose's most historic streets: The Alameda. During the Dia de los Muertos Food & Food Walk, the street is transformed into a giant ofrenda, packed with food, drink and entertainment. Most participating businesses are open to all, but a few more exclusive areas are only accessible to those with Gold ($40) and Silver ($25) tickets. Brunch at Zona Rosa, paper flower-making workshops at the School of Visual Philosophy, and afternoon vino at Wine Affairs are on the menu for ticket holders.