Arts
Dia de los Muertos in San Jose
A guide to local events featuring live music, food, drink and culture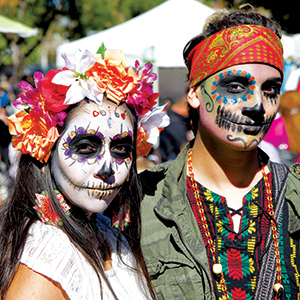 El Dia de Los Muertos, the traditional Mexican holiday celebrating life by remembering and honoring the dearly departed, will be observed in a variety of ways in San Jose this year. Enjoy tasty Mexican food, cold drinks, live music and cultural activities—like decorating a sugar skull, contributing to community altars and dancing.
Día San José
Oct 20, 11am-8pm, $5
Plaza De Cesar Chavez Park, San Jose
Celebrate Día de Los Muertos with the ninth annual Día San José. Catch musical performances from Casa De Calacas, Matamoska, Almas Fronterizas, Tortilla Soup and more. Watch live mural paintings and meet more than 30 different Chicano artists during a pop-up showcase. Drink Modelo in the beer garden, grab delicious traditional Mexican food to rival tia's and cheer on your favorite luchadores as they go head to head during real-time wrestling matches.
Día de los Muertos Procession and Festival
Oct 21, 11am-4pm, Free
City View Plaza, San Jose
For more than 20 years, this Día de los Muertos celebration has brought together a striking display of dancers, costumes and intricate makeup to honor the dead. Catch the 21st annual ceremonial walk in Downtown San Jose and stick around for the after-party.
Día de Los Muertos at the Cemetery
Oct 28. 11am-8pm, Free
Calvary Catholic Cemetery, San Jose.
Celebrate the day with a reunion of sorts. It is said that during El Dia de los Muertos, the veil between the living and the dead disappears. Observe the spiritual side of the tradition at Calvary Catholic Cemetery.
Community Day: El Día de los Muertos
Nov 3, 11am-5pm, Free
San Jose Museum of Art
Celebrate art and the dead. Check out a traditional altar by artist Lissa Jones and "larger than life" Cartina or sugar skull sculptures. Take pictures with roaming skeleton performers and decorate your own sugar skull.
Children's Museum: Día de los Muertos
Nov. 3, Noon-4pm, Free-$15
Children's Discovery Museum of San Jose
Take the kids out to the children's museum for special activities, performances and puppets from Teatro Familia Aztlan. Contributions to the museum's community altar are welcome.