Arts
'Here Today' at Stanford Art Gallery
Exhibit showcases graphic design promoting shows at L.A. gallery, 1301PE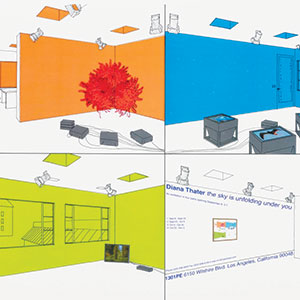 There's an art to creating an exhibition poster for a gallery show. The graphic designer assigned to the task has to balance practical information—the who, what, where and when—while also repurposing a compelling image from the show so that it will entice the viewer to make a trip into the gallery.
As most corporate illustrators and designers can attest, bold design work is sometimes compromised or sacrificed for the sake of perfect legibility. Or to please a demanding client. A common dictum repeated in the trade is, "Make the logo bigger."
"Here Today: Posters from 1301PE, Los Angeles" (at the Stanford Art Gallery through Aug 30) dispenses with that approach of appealing to the lowest common denominator. Curated by Jennie Waldow and Jon Davies, PhD candidates in art history at Stanford—and facilitated by D. Vanessa Kam, Head of the Bowes Art & Architecture Library of the Stanford Libraries—this survey of archival posters grabs your attention with imagery. Making sense of what you're looking at, or not being able to make sense of it, is part of the fun.
Some of the posters from 1301PE, a contemporary art gallery in Los Angeles, are as eye-catching as DIY streetlight fliers for local bands. Others tell sophisticated stories in the same way their close cousins, classic vinyl record covers, used to do. But a few of them are so abstract that they only exist as private references or inside jokes from the artist's mind that can't be explained or retold. The collected works here date back to the gallery's opening date in 1992. Since that time, Brian Butler, founder of 1301PE, has represented and championed artists who are now known well beyond the confines of one Southern California art gallery.
Several names recur on the wall, including Jack Goldstein, Sarah Seager, Jessica Stockholder, Pae White and Kerry Tribe. If some of these artists are unfamiliar to you, you're in luck. Tribe's film Afasia is playing at the Cantor Arts Center through Sep 30 (she's a visiting artist at Stanford this year). And Pae White has a mobile-like sculpture and giant tapestry on display at the San Jose Museum of Art. In fact, the show takes its name from a poster made in support of White's 2011 show, her sixth solo exhibit at 1301PE.
From a distance, the image in White's original "Here Today" poster looks like the skin of an exploded orange, with the white pith expanding into an arc of billowy white clouds. Up close, it's simply an enlarged kernel of popped corn. On the "Past Exhibitions" link of the 1301PE website, you can find images of two popcorn sculptures that White made. But the poster differs from that work, as someone's drawn in a pair of ballet dancers pirouetting on the rounded edge of soft, white corn.
All of the posters were designed by the artists themselves or in collaboration with Butler. They vary thematically, representing different ideas and personal obsessions. Or they're devoid of any visual clue whatsoever. Kirsten Everberg's poster from 2013 includes her name, printed in a large black font, with the exhibition dates printed underneath in red. While the "g" in her last name covers part of the opening night's hours written below it, there's nothing that indicates the style or content of her accomplished still life paintings of empty rooms. As a strategy to drum up interest, it suggests that for the initiated, recognizing her name would be enough of a draw.
Paul Winstanley's name also appears on the walls more than once, with imagery that's consistently intriguing. His poster from 2010 displays a section of his oil on linen Evergreen in the Grounds. His painting of a tree calls to mind an overexposed photograph. The evergreen's branches replicate themselves upward into bleached-out grays and shadowy whites. He sandwiches the tree between the corners of two buildings. Companion paintings depict the interiors of those buildings, part of a public institution that opened in South London after World War II.
"Here Today" doesn't just amplify the self-sustaining mythology of one specific gallery in Los Angeles. The posters introduce us to painters, sculptors, video and conceptual artists we might otherwise have never discovered. That's why the second half of the expression referenced in the exhibit's title—"Gone Tomorrow"—doesn't apply.
Here Today: Posters from 1301PE, Los Angeles
Thru Aug 30, Free
Stanford Art Gallery, Stanford
art.stanford.edu