Arts
'Gender Bent Broadway'
at City Lights
Local theater company flips the script on show tunes favorites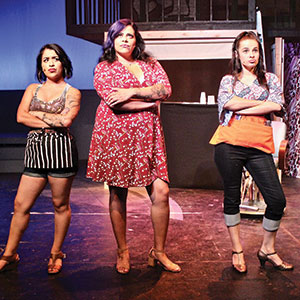 City Lights Theater Company's latest production—a partnership with B.A.D. Theatre Company—is flipping the script. Gender Bent Broadway is a fun and flamboyant journey through a litany of classic show tunes, both old and new. The key difference in this revue: the male actors will be inhabiting characters traditionally played by women and vice versa.
For this unique show, City Lights Theatre Company has enlisted top South Bay thespian talent to take on hits from musicals such as Little Shop of Horrors, Phantom of the Opera, Heathers and more.
City Lights regulars include Nick Rodrigues, Brian Palac, Alycia Adame, Stephanie Baumann and Chloë Angst.
For her part, actor Adame sees great potential in this unique show. "'Traditional casting' limits the potential of incredible actors, and I'm ready to be a part of turning that on it's head," Adame says.
After Angst played the beloved emcee role—a traditionally male part—in Cabaret last year with the Sunnyvale Community Players, she realized how liberating it was to play any gender other than her own.
"It made me realize that born gender should not limit an actor in the roles open to them," Angst says. "If an actor has the right talent and is capable of portraying a role of another gender, casting should be gender-blind."
Angst saw an opportunity to approach theater in a way that almost no company or troupe seemed to be doing, and B.A.D. Theatre Company was born. Gender Bent Broadway is the first production for the company—"B.A.D." stands for Bay Area Diversity—which is sponsoring the one-night only performance.
Rodrigues is looking forward to the chance to take on a role in which he normally wouldn't be cast. "I rarely get to be feminine onstage," he says. "There are so few featured roles written for gay men in musical theater other than side characters and [typically 'queer' shows]. It's nice to be able to be the ingenue, villain, love interest while expressing my feminine side."
With the express purpose of transcending the traditional constructs of theater—and more importantly, gender—Gender Bent Broadway seeks to entertain while simultaneously pushing back against societal conventions, with the long-term goal of making the status quo of old seem as strange as the trans community once appeared to cisgendered normies.
Gender Bent Broadway
Jun 2, 7pm, $25
City Lights Theater Company, San Jose
cltc.org