Arts
Heather Wilcoxon Explores Uncharted Waters
New SJICA exhibit 'At Sea' finds the artist inventing a new genre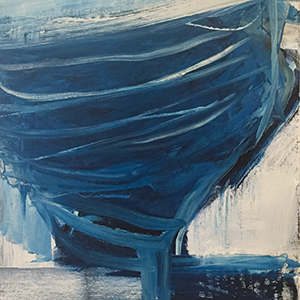 Klea McKenna and Nikki Grattan made a short, intimate profile of the artist Heather Wilcoxon on their website inthemake.com. The camera moves around her studio like a curious eye that takes in her work and the clutter on every available surface.
As they narrow their focus to the artist's active hands, she imprints an inky black creature onto a white canvas, a headless possum-dog, a hybrid with two opposing tails.
At the time, this alien animal, along with a universe of misshapen, corporeal forms, represented the artist's concerns with the neurotic id. Where cartoonists like Roz Chast and Aline Kominsky-Crumb keep their phobias and obsessions in (mostly) human form, Wilcoxon made a practice out of turning them into Tim Burton-like monsters. But, as she notes in the video, her imagery combined the sweetness of pretty colors and that notable sourness.
Wilcoxon also made a surprising admission to McKenna and Grattan: "I have wanted to take all of my art and put it in the garbage and burn it and say, 'Fuck this!' many, many times, and then I don't." In the three years since that studio visit, figuratively speaking, Wilcoxon appears to have done exactly that. In At Sea, her new solo show at the San Jose Institute of Contemporary Art (SJICA), the artist has made an evolutionary leap forward. She's invented a new genre I'll call the Sublime Marine. It's as if all those niggling neuroses had been swallowed by a whale.
Wilcoxon's home is a Sausalito houseboat, built in 1910, named the Delta Queen. Like her studio, it's a place where the peaceful spirit of art collides with the brute force of anarchy. It's reminiscent of the Canadian artist Maud Lewis' house, which is still preserved at the Art Gallery of Nova Scotia. Both artists were able to confer an original, organic life of its own to their homes. It's surprising, then, that Wilcoxon, who has lived on her boat for the past 25 years, has only recently started to bring this aquatic life into her paintings.
At Sea features a series of boats that are atypical of the nautical genre. No grand mast stands at attention in some 19th century shipping fleet or armada. There isn't a hint of cloying, pastel sweetness or any calm harbor. The hulls are skeletal, in various stages of decomposition. Water is midnight blue, maroon or ravaged. The world depicted here cannot recover from the aftermath of a terrible storm. In their inexactitude, the ships of Alfred Wallis, the Cornish painter, come to mind. But even his muted tones look optimistic in comparison.
A more accurate reference point is a musical one: "The Sinking of the Titanic" by the British composer Gavin Bryars. The piece was inspired by the now mythical story that musicians continued to play on deck as the great ship sank. If the overhead lights in the SJICA gallery had suddenly dimmed, and the other visitors had absented themselves, you would have heard Bryars' dirge playing on the psychic soundtrack inside of your skull.
Wilcoxon's paintings also speak to some great monument breaking apart. They're warnings that come from deep inside the sea. With titles like "Ribs", "Divided", and "Wave of Hope", these canvases are records of our human achievements. For this artist though, they're all about to be set adrift as if they had been made only for drowning.
Heather Wilcoxon: At Sea
Thru Sep 12, Free
San Jose Institute of Contemporary Art
Sanjoseica.weebly.com